Posts

27

Joined

Last visited

Feedback

100%
Miscellaneous
Handgun Carry Permit
Law Enforcement
Military
Recent Profile Visitors
The recent visitors block is disabled and is not being shown to other users.
manegarm's Achievements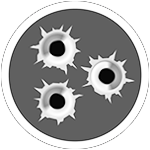 Just Getting Started (2/5)
Sweet stick, those cheese grater hand guards are sweet.

For that price range I'd recommend a Dan Wesson as well. I've owned pretty much every brand of high end 1911 at some point or another and I found the DW to be one of the best values in that price range. The trigger is awesome from the factory and the fit & finish is excellent, especially for a production gun. If you don't mind the matte stainless, it's usually $300 less than the black ceramic duty coat. Another thing I really liked were the Heinie straight eight night sights. It's just a clean, simple and classy looking gun. Oh yea, dead on accurate too.

I'm originally from Massachusetts and they already have something like this in place (they still go by the '94 AWB if that tells you anything). Every gun sale is recorded on a form made by the commonwealth of Massachusetts and sent to an office which is supposed to keep them all on file and enter them into a database. Private sales don't have the background check, but you were still required to record the sale on the form and mail it in. You're supposed to have it post marked within 7 days of the sale or you supposedly face fines, etc. You're only allowed (4) person-to-person transfers per calendar year and then you must go through an FFL and go through the background check just like a new gun purchase (at $50 each time). If that's not bad enough, you must have a license for firearms and there's 2 types - one for rifles/long guns and one for pistols (which is your LTC and it covers all the other firearms). Without the pistol permit, you CANNOT purchase a handgun - new or used - in the state of Massachusetts. The licenses are given out at the discretion of your local police chief and he/she doesn't have to approve it even if you pass the background check. So, if you're in a town where the police chief hates giving out the licenses, you can't purchase firearms. Unfortunately, there are quite a few of those towns there. I moved to TN for a reason and definitely don't want to go back to that kind of system.

+1 for Ed Brown parts. Also, stick with the GI guide rod setup, I know you didn't mention changing it out. IMO, a full length guide rod isn't really necessary. I don't buy into the added muzzle weight argument.

It's on the way to DW so I can't take pics, but it's the matte stainless. I couldn't justify the $300 + to get the duty finish over the matte stainless. You could see the difference clear as day between the slide and frame - it looked faintly stained, that's the best way to describe it.

HK already makes a polymer 1911 - it's called the USP45. It's the closest polymer gun conceptually to a 1911 without bastardizing the 1911 platform.

I have a Dan Wesson Valor I picked up in early January and I'm already sending it back to the factory to be refinshed on their dime. The stainless finish is blotchy and almost looks dirty, but it hasn't been handled much. I've put a whopping 50 rounds through it. I must've picked up a defect, but it didn't have the upside down "Y" in the serial # denoting that. Just wondering if this is an anomally.

I changed the email associated with my TGO account and I'm not receiving the validation emails - I've tried 3 different ones to see if it was a certain one and I'm not getting it under any of them (checked junk/spam, etc.) I even did the resend validation next to the sign out. Right now it's a Gmail - I can go to a Comcast email if need be. Thanks.

I'm new to TN and I figured this is the best spot to find out where are the rifle ranges, if any, around Nashville?