Posts

1,057

Joined

Last visited

Days Won

3

Feedback

100%
About tartanphantom

Profile Information
Location
Gender
Interests

Guitars, Guns, Dames, Classified Documents, Moonshine, Scotch, Transcendental ice hockey

Occupation
Miscellaneous
Handgun Carry Permit
Law Enforcement
Military
NRA
Carry Weapon #1
Carry Weapon #2
tartanphantom's Achievements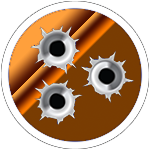 Prolific Contributor (4/5)
1
Community Answers
My part of Murfreesboro got some stiff wind and a good bit of rain... not much else, thankfully.

I'm a little different from most, in that while I gig and record with tube amps, they're not the usual suspect Fenders or Marshalls. I use mainly two different amps depending on the application and venue size-- and neither of these amps are currently in production, nor are they easy to come by. For larger venues I use a Kustom 72 Coupe-- (4 x 6L6), 2-channel 72 watt 2x12 combo. For smaller venues, I use a Kustom Defender 15 watt (2 x EL84) single channel class AB head with a 1x12 cab. The 15 watt has a more Vox-like character, while the 72 watter is more of a hybrid Fender/Vox sound. I have other amps as well, but I have used these amps for at least 10 years and I know how to easily dial in my sound on either one. If I were choosing between an AC15 and a Blues Jr., I'd probably go with the Jr.-- I Do love AC15 tones, but if you're doing any gigging, I think the Jr. is slightly more versatile and less of a 1-trick pony, and the Jr. is MUCH lighter (17 lbs lighter) than the AC15.

Yeah, but you're in Memphis, where not being able to get tickets to a Grizzlies game qualifies as a "family emergency". I used to live there back in the '80's... Memphis is its own thing.

Fortunately, it was NOT a member of this forum. And yeah, while it sucks, the buyer actually had a legitimate reason in the shape of an unexpected family emergency.

SOLD CZ 75 SP-01 Tactical, with 4 OEM 18-round mags & holster. Factory-installed glow-sights. Well-cared for with no issues, no heavy wear and no major dings. Pistol is stock with no modifications. $600 cash, FTF in middle TN (I am in Murfreesboro). TN DL or HCP (preferred) required. I also require a written bill of sale, which I will provide. Not interested in trades.

I've got pretty standard .22 stuff... Henry H001 standard lever action Henry AR-7 Ruger 10/22 Take-down All pretty much stock w/ no mods... but with the 25-rnd mags the 10/22 is a ton of fun. I got the Henry lever action as a companion to my Ruger Single Six "baby hogleg".

I've added a few more Gretsch instruments to the stable since my previous post-- First, a 1942 Gretsch Synchromatic 100. All original except for the replacement tailpiece (I still have the original broken tailpiece). This thing just sings. Next, a Gretsch G9241 A/E biscuit-bridge Resonator-- I love my Gretsch Park Avenue mandolin so much that I hunted down another one as a "back-up". (older one is lighter sunburst, newer one is darker sunburst)-- Also added another Gretsch mandolin-- an A-body this time-- Gretsch New Yorker A/E Deluxe-- And finally, A Gretsch 5622 centerblock (semi-hollow) model. And a few more action shots from the last couple of years--

Ok in this part of the 'Boro as well.

All excellent recommendations for scotch novices. When I am introducing folks to single malts, I usually start with these, and a couple of lowland malts. Smooth, consistent, no surprises. The quickest way to turn off someone curious about scotch is to start them with Islay and Campbeltown malts. Those iterations have no training wheels.

I used to open tuna cans at lunchtime this way back when I did construction work. Like you said, works on most any can with a rolled or crimped lid.

Going back a bit tonight... scotch in hand, laid back on a late Friday.