Posts

1,259

Joined

Last visited

Days Won

1

Feedback

100%
Miscellaneous
Handgun Carry Permit
Law Enforcement
Military
NRA
Monkeyman2500's Achievements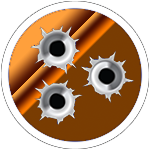 Prolific Contributor (4/5)
Whew! I thought this was going to be about puppies.

I want to say thanks to everyone who put this together. It was an absolutely great time! Everybody was really great and the selection of full auto guns was awesome. Although the mini gun was really cool I think my favorite was the PKM. Also glad to see Kahrman there, made it even better.

I prefer Patek Philippe. Just saying.

Willis is awesome to deal with and can put a heck of an edge on a blade as well! Between Willis and our other resident knife makers, TGO has every type of knife covered. Buy from him with the utmost confidence.

Great find! I love old vintage stuff like that. You did a really good job restoring it.

Me and MrsMonkey will definitely be there. We really look forward to meeting you guys. I love all the awesome hardware you post and go ahead and put us down for some minigun ammo!

David, thanks for all you and our mods do. It's the best forum on the web. I hope there was not a hacking attempt. Recently cummins diesel forum had a huge breech and it caused a lot of havoc to member accounts. Keep up the good work!

Well just deleted that app. Hate it because I liked it for my ride to work. Going to try the Spotify I guess.

Very nice! Great shape to that blade too.

Ha! I bet. Watching your work progress is one of my favorite things on TGO. That knife shows your reaching a new level my friend.

Oh heck No! You are not allowed to post something like that and then tell us there will be no more. That thing is magnificent!! You may as well start coming up with a figure because I'm betting your going to be getting some pm's on that one. The fact you did it all by hand is what makes it so special. I absolutely love all my blades from you your craftsmanship is excellent!

I have had one of these for about a year. It's a great belt if you find one on sale cheep but I'm going to replace mine due to wear. I am rough on clothes and am about a 4xl so it took a beating, but after having a decent gun belt I will be investing in a better one.

Ah, I feel ya. I find most logo shirts never come in a tall. I've got a 3x coming and will post how it fits when I get it. Never had this brand but will let you know how they fit. Gildan is one I know has a great big guy fit and I'm hoping the AA brand is the same.

When will you be doing the TGO Strider knives?

Bassoneer I am so sorry to hear this. I hope that there is a treatment that can let him have a normal life. Me and the Misses can relate to exactly what your going through. It all comes down to quality of life. The money sucks and can play a huge factor in the treatment but how he will live is the big factor. Let the vet get all the results in and see what they tell you. We currently have our oldest at the vets now waiting for tests and overnight progress, it's terrifying. I really hope they can give you some good news soon.