Posts

1,579

Joined

Last visited

Days Won

12

Feedback

100%
About Pete123

Profile Information
Location
Gender
Interests

Vintage military weapons, handguns

Occupation

Technology Solutions Entrepreneur
Miscellaneous
Handgun Carry Permit
Law Enforcement
Military
NRA
Carry Weapon #1
Carry Weapon #2
Pete123's Achievements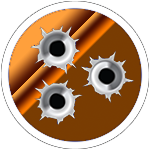 Prolific Contributor (4/5)
No, this is not a 5 gauge shotgun. This is a China Lake Grenade Launcher from the Vietnam era. Think single shot shotgun moving to a pump shotgun.

Police: Man shot while retrieving gun from inside oven WARREN, Ohio (Meredith/AP) — Police say they've solved a shooting in Ohio that left a man wounded. The oven did it. The Vindicator in Youngstown reports 44-year-old Robin Garlock received wounds to both shoulders while trying to retrieve a handgun he'd hidden inside the broiler unit of his oven. Warren police say Garlock put the gun in the broiler because children were coming over. His girlfriend, unaware of the gun's presence, turned on the oven Sunday to bake. Police say she called out to Garlock when she thought she heard a gunshot fired outside. Police say Garlock was struck by bullets or bullet fragments when they exploded inside the gun. Warren is 60 miles (97 kilometers) southeast of Cleveland. No charges have been filed against the oven.

Yeah, one thing I forgot to mention. The Model 1919 they used was being used as a defensive weapon in Bombers. A lot of them broke down, so they took the 1919 out of scrap planes.

Below is a Stinger Machine Gun. What makes this cool is that WW2 Marines developed it in the filed on the pacific front. This bad boy clocks in at 1200 rounds per minute and was needed as they invaded islands. They made it by taking a version of the Browning Model 1919 that shot 1200 rpm, attached an M1 Carbine stock, a trigger and a modified box full of 30-06 ammo.

Welcome. Thanks for your service. My mom always said I looked like Magnum. Can't say anyone ever backed her up on that though. haha

The short version is that the little girl left the gun loaded and cocked while she went to look at the targets. Mom's boyfriend went to make the gun safe and shot her in the head. That is so completely careless that it makes me question whether it was an accident. https://www.seattletimes.com/seattle-news/12-year-old-girl-shot-during-target-practice-near-cle-elum-has-died/

I always say something if I see a gun pointed at me. The few times it's happened it has been accidental, so I don't get ugly.

Welcome. You'll find a very different culture here about guns. Of course, there folks here that aren't so nice, though nothing like California. How can a place that is so liberal have so many jerks. Also, thank you for your service.

There is contact info at http://gallatingun.com/ Membership is increasing to $200 per year and there is a one time $200 application fee. I'm guessing that the wait will be shortened due to all the changes.

I would encourage you to set the price rather than wait for offers. You can go to Gun Broker, Guns International and similar sites. Look for sales that have closed and see what the price was. I know that Gun Broker has filters that will allow you to do that.

Here is a Vespa scooter outfitted with artillery. I propose this as a modern day solution for slow drivers in the fast lane.

My understanding is that you can have a gun in your home and car with no carry permit, but you can't conceal carry without one.

I cut ties with BoA years ago because of their business practices. I have a definite problem with BoA, the rest of the retailers just as I do with the gun control lobby. The reason is that they are perpetuating the problem of gun violence by trying to force a solution that is devisive and won't work. The experts I've read that seem credible to me don't talk about gun control. They talk about reaching troubled students before they become homicidal. Most gun violence is inner city black on black. The experts that make sense to me say that rap music drives a lot of the violence and that efforts to help inner city youth understand that rap is a form of music and not describing real life wold help. That, combined with teaching folks about handling conflict. Instead of focusing on the types of solutions I just mentioned and working with the gun community rather than fighting it, I have no doubt that more progress can be made.

Nice find. I love those Russian guns

I've had good luck with them as well.