 hillbillyfab
Active Member
Posts

18

Joined

Last visited

Feedback

0%
Profile Information
Location
Gender
Occupation
Miscellaneous
Handgun Carry Permit
Law Enforcement
Military
NRA
hillbillyfab's Achievements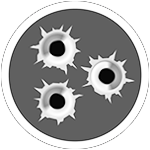 Just Getting Started (2/5)
I've seen that holster before, like you I wondered the same thing about the magazine being on the same side as your firearm. As for having the magazine and firearm together, I have a sidecar holster that I carry appendix and it works well. Firearm on my strong/right side, magazine canted toward my left/offhand.

I have lost two chickens over the years to possum's. They were silkies, which are know for being very gentle and tame. I actually had one of the "kills" on a game camera inside the coop. As for possums getting a pass because they eat ticks, not around here they don't. As long as they're raiding turkey nests, they'll get a rimfire round. I can't remember where the link was about them eating ticks, but what I read was it a controlled environment study. The possum was trapped and only feed ticks to survive.

My preferred setup as well. When I figure out this picture size thing, I'll share my 22/45 suppressed setup.

We use no less than #6 shot in our .410's when we're hunting. My son and I hunt similar to what you're describing, he shoots a .410, I shoot a 22lr and it's over the back of our cur dog.

Been following this thread, as I've been in the market for a .458 upper after my latest can purchase. Looks like I got more reading to do before I commit to a certain brand.

I'm not affiliated in anyway, but just wanted to share that I received an email that trex arms is having a sale on their slings and accessories.

I bought a box of it Friday morning at my local store.

Synthetic is all I use in my vehicles. My work vehicle just turned 410k miles. One owner, I change it every 10-15k miles. I made that decision after having a couple samples tested by an oil analysis. That's about the range I felt comfortable pushing it too. Good oil and a good filter and let it ride.

I've seen the Vickers on the shelf at Nashville Armory a few weeks ago.

Can't comment about the law folder, but I can on the sylvan. It has a detent that helps keep the stock in the stowed position. I have no complaints about it coming unfolded in the stowed position, but mine is usually in a bag if it's folded. So that might change things if you plan to carry it while folded.

Just ordered my 2nd sling from t-rex arms. Ordered the first a few weeks ago, as a trial. Really liked it after a few carry sessions. So ordered number 2 this weekend. I don't care for the single point carry method. It might work for some, but not for me

Just wanted to say I hope you find one soon. I've got one and it's a fun little gun to shoot.