Posts

1,565

Joined

Last visited

Feedback

100%
Profile Information
Location
Gender
Occupation
Miscellaneous
Handgun Carry Permit
Law Enforcement
Military
NRA
Recent Profile Visitors
The recent visitors block is disabled and is not being shown to other users.
Clod Stomper's Achievements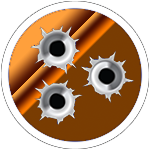 Prolific Contributor (4/5)
There really is no carbon. This was literally the first shot fired from a new barrel and bolt. I assembled it. I haven't bought a complete upper since the '90s. There is no obvious damage to the gas key, but I'll check it more closely. I am starting to lean toward severe over-gassing/high pressure as the cause. I didn't measure the gas port, but it looks a bit big for a pistol length system. That's why I'm going to use an adjustable gas block.

Good question. I need to check it. But I'm not sure that would have caused that. I also wonder about over-gassing. It's a pistol length gas system on a 10.5" 6.5 Grendel barrel. I'm going to drill and tap the gas block for a gas adjustment screw.

But, that's what I'm gonna do. I don't know what else to do.

Yeah. These were brand new. This was a first shot test fire.

Has anyone ever seen this happen before? First time it's happened to me. Locked that sucker up tight. Fortunately it wasn't in battery with the barrel. I have no idea how I would have gotten it apart if it had been. It was hard enough as it was. I thought I was going to have to cut the receiver open to figure out why it was locked up.

https://palmettostatearmory.com/psa-confirmed-15-stripped-lower-receiver.html?trk_msg=QCNL161Q9O1K96HIE9HI4R11TC&trk_contact=HB4SC4PLCKQJL0RPOK0F779OV0&trk_sid=78M0MD7ABM778UU4I4PPMO87IS&utm_source=Listrak&utm_medium=email&utm_term=https%3a%2f%2fpalmettostatearmory.com%2fpsa-confirmed-15-stripped-lower-receiver.html&utm_campaign=Daily+Deal+Email&utm_content=12%3a00+Email Get on PSA's email list. These were 30 bucks. Edit: sorry that the url is so long.

You must have never been in a courtroom where the judge didn't care about you or what is right. At at least I hope you haven't.

Stefan Molyneux http://m.freedomainradio.com/#2668 Chris Plante. I either stream or catch his podcast later. Sometimes The Art of Manliness, The Pat Flynn Show, or The Tim Ferriss Show.

Hey, I haven't been on in a while. Sorry, I wasn't intentionally ignoring anyone. I ended up getting the whole system replaced for a pretty good deal. My realtor knows a guy and the guy sold me a scratch-and-ding unit. I had to borrow the money, but it had to be done. The house isn't really a fixer-upper. There are a few minor issues that I'm working on. I'm trying to get some money out of it. Oldmustangjunkie, I'll send you a PM with the address. It isn't listed yet, but you can check it out on Zillow or wherever. I have a contract with a realtor and I'm hoping to get it ready to list asap. Thanks everyone. Will

Thanks everyone. Paying to replace the whole system right now isn't an option. Just can't afford it. It stopped working a few years ago. I just noticed that it wasn't blowing warm air (it was winter), so I went outside and it wasn't running. I called Hiller Heating and Air. That's what he told me. That the gas had leaked out and the compressor was probably bad. The outside unit was installed in '08. The inside unit, I don't know. But that's probably where the leak is. It would have to be fixed as well. I'll ask my realtor about the home warranty option. Or maybe we can negotiate with the buyer to replace it with the equity after closing. I got a number for another HVAC guy. I'll call him today to come out and check it again to verify the problem, then go from there. Thanks, Will

Hopefully someone willing to diagnose my system in exchange for gun parts. Circumstances are forcing me to sell my house, but the HVAC isn't working. It quit a few years ago. I heat the house with wood and cool it with a window unit, but the realtor thinks it will sell easier with a working heat pump. When it first quit working, I had someone come out and look at it. He said that the gas had all leaked out and the compressor was ruined. I want to make sure about that before I replace the compressor. I have a couple guns I can trade. Or gun parts, mostly AR stuff. Reply or PM me, please, and hopefully we can work something out. Thanks, Will P.S. If you want to give me suggestions about what to check, that's fine too. I don't have any specialty tools, but I can figure out simple things.

If there are any real estate agents hanging out here who wouldn't mind answering a few questions, please PM me. Thanks, Will

Bears are pretty fast, but they can't run 80 mph. I think any holster that drops below your belt will need to be tied down in some fashion, or it will flop around annoyingly. I haven't used a thigh holster very much, but I keep one in case I want to carry and wear a backpack. That's also what Park Rangers use when they patrol the backcountry wearing a backpack. Have you considered a chest holster? I've never tried it, but I think the shoulder straps and sternum strap could be arranged around the holster or vice-versa.

I have reformed .30-06 to 7.65x53, .308 Win to .300 Sav, and 7.62x39 to 6.5 Grendel. Here are some things I have learned. First, when pushing the shoulder back, or forming a new shoulder, it will be difficult to get the headspace short enough with a standard die and shellholder. My solution was to chuck the shellholder in a lathe and skim enough off the top to allow me to set the shoulder back properly. I marked that shellholder so I don't accidentally set the shoulder back too far on standard brass. Second, I think this was discussed above, the neck will probably be too thick, because what is now the neck used to be case body. So that will need to be addressed. I use this http://www.midwayusa.com/product/269638/forster-original-case-trimmer and this http://www.midwayusa.com/product/590193/forster-classic-original-power-case-trimmer-neck-reamer-308-diameter Third, because the case body is now the case neck, the new neck will need to be annealed. I was getting split necks and shoulders after a couple loads on my 7.65 brass before I figured that out. I learned these things through trial and error. Your mileage may vary.

Cheeez. Apparently, none of you have kids.