Posts

1,064

Joined

Last visited

Days Won

3

Feedback

100%
About Ramjo

Profile Information
Location
Gender
Interests

Guns of Course! I also like antiques, cars, ATV and offroading, and farming.

Occupation
Miscellaneous
Handgun Carry Permit
Law Enforcement
Military
NRA
Carry Weapon #1
Recent Profile Visitors
The recent visitors block is disabled and is not being shown to other users.
Ramjo's Achievements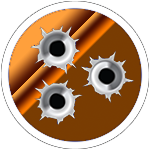 Prolific Contributor (4/5)
Nice graphic. Youre 275 miles from me. Can you hit the W4KEV linked repeater system from where you are?

Well that's pretty cool that your suffix is TEN for Tennessee. I wish I had a tree on my property that I could have run an end fed dipole to. Thats why im doing the inverted V g5rv instead.

I have had my ticket since the end of March of this year. I tested and upgraded to general licensee on Field Day. Currently, my main rig is the Yaesu 991a and have about 50' of Rohn 25 tower I am erecting to place my antennas on. I also have an old boat anchor Swan 700cx that I'm looking forward to hooking up and checking in to the moonlighters vintage radio net. Just curious to see what the overlap of gun and radio enthusiasts we have on here?! Throw out your callsign! Mine is N4JAB, Joe in Chuckey, TN. I am an active member of my local club, the Andrew Johnson Amateur Radio Club https://ajarc.org/ located in Greeneville, TN. We hold a net every Monday night at 9:00pm on 145.390 -.6 offset with a 88.5 tone for anyone interested in checking in with us. We also have 70cm and 6m repeaters linked to the 2m and those frequencies are listed at the bottom of the website homepage. Hope to hear from all of you out there!

Aw darn...I was always told he shot expert.

For me, especially with these SMG and LMGs that is something that doesn't really bother me much. I like having my own personal museum that I can go and pick something up and fondle it, just to own it is exciting for me!

Thought I'd give this a try. I'm not sure whether I want to make it semi auto capable or just have a display or dummy gun. Has anyone else on here built one of these or done similar work?

Here is some more info about my grandfather and the shooter card with the rifles serial number, 4,322,079. Looks like it was a Springfield.

Thank you all. I am not certain but I think he used to say that it was indeed an M1 Garand.

I was pretty sure there was a website dedicated to this, but I have not been able to located it online for some reason. I have his Marine corps shooter log with the rifle serial number and would like to pursue it further to see if it can be located.

Welcome. Greeneville milsurp nut here at your service.

For anyone on here that either owns or is even remotely interested in the development, use and improvements of the No 4 Mk1 T rifles, check out this book by Steve Houghton. There is a limited number of these being printed and I have found it to be a very useful wealth of information on my rifle. It includes rifles from WW1 all the way through to the most modern in British service. Here is Ian McCollum's book review and a link to purchase the book can be found in the description text.

I believe mine to be a cutdown long rifle. It's a Gustavs Stads Gevarsfaktori make. I have a blank firing device for the threads on the end but i picked up a muzzle cap to keep from boogering them up.

I have one dated 1900. Has the same micro adjustable rear sight insert as the first one pictured. Adds about $100 to the value of the gun.