Posts

2,573

Joined

Last visited

Days Won

17

Feedback

100%
About Handsome Rob

Profile Information
Location

Tullahoma, Tennessee, United States

Gender
Interests

Sidelock muzzleloaders, lever guns, traditional archery, knives, primitive skills.

Occupation
Miscellaneous
Handgun Carry Permit
Law Enforcement
Military
NRA
Carry Weapon #1
Carry Weapon #2
Social Media
Website URL

http://www.tngroomandboard.com
Handsome Rob's Achievements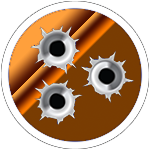 Prolific Contributor (4/5)
2
Community Answers
STOP IT!!! The word you're looking for is 'Sale' An item you want to sell, is 'For Sale' Do better.

6.5x55 Tikka, Norma brass, Winchester LR primers & IMR 7828SSC. 143 ELDx loaded to .0010 from the lands. 48.4, 48.6, 48.8 or 49? Working up a new load for my rifle & these are the groups I'm getting really promising results. I'm 99% sure i should pick something bang-slap in the middle (48.7) & call it good. 49gr is absolutely the maximum so going higher isn't an option. I'm seeing zero pressure signs on any of these loads but they're all over published loads. No tough extractions, no heavy web stretch, no extractor or swipe marks. But i really don't want our need to go hotter. I haven't run them over a chrono yet, because I don't want to get too hung up on velocity. I'll test them once I pick a load. From previous experience, I'd guess around 2790 up to 2840fps

I'm really not set on a 3/4 ton truck again & honestly, I'd prefer to drop to a half-ton. I guess i muddied the water by stressing over an 8 foot bed. It's not life or death. It just needs to be over 6 feet. As far as waiting a while, that's kinda ok, but my current truck is a '97 with 366,000 miles, several oil leaks, excessive duct tape, string & baling wire holding it together. It actually runs perfectly & I've maintained it very well, it's just getting a little old & swaybacked these days & needs to be put to pasture. Other than Jule's Challenger (my reason for wanting to avoid Dodge) it's also my only vehicle. To get it to last another 5 years is going to cost, at minimum, a $6k engine & I'd be surprised if I could sell the truck for that.

Looks like I'm going to have to suck it up & shell out for a vehicle this year. I've been driving the same 7.3 Powerstroke for 14 years & it's just got to the point where it's starting to cost more to keep reliable than it's worth & i'd like to move it on while it still has some value. Trouble is, I've never actually had to look at a vehicle before. My wife knew exactly what car she wanted & what we could pay for it. Found one at a dealership, test drove it, loved it, haggled on the price a bit & slapped a wad of cash on the desk. My truck was a case of: I had 4 days to find a vehicle when we first moved to the US before I had to return the rental. I saw my truck & bought it for cash on the spot. That was 14 years ago & I've never seriously considered changing it. Now, as a 48 year old, I'm having to look for, really, my first ever serious vehicle investment. My only criteria is that it's a truck, it absolutely HAS to have 4wd, second row seating & a bed longer than 6' An 8 foot bed would be ideal, but from the little I've looked around, that puts me into nothing but a 3/4 ton truck or work truck. I don't tow huge weights & I don't commute. From now on I'm guessing I'll probably average 10k miles a year. I do tend to find myself in the occasional offroad-ish situation & I've always used my truck as my camp base for hunting & fishing trips. It'll be getting a shell on the bed & I need it to be long enough to sleep in (I'm 6' 1") My budget is only $30,000 (only.....) so I'm obviously looking at used. I've also never financed anything before. I do have a 775 credit score, but I haven't really carried any debt whatsoever in 20 years. I'm honestly very nervous about this. I know nothing about different engines, what to avoid, what common problems different models have had etc. I have no real preference between gas or diesel. I don't want Nissan or Toyota & I definitely don't want Dodge. I know this is a really broad question & there are die hard fans in every camp but....... any advice?

Scroll left. The formatting is all hinky.

https://simpsonltd.com/new-long-guns/

Like new, unmarked, in box. Model number 200261 2-7x32 Ballistic Plex reticle. I mounted it on my M1a, zeroed it & immediately sold the bare rifle. $350 plus shipping, or $385 still mounted in the Leupold rifleman extra low rings.

I could maybe be talked into a CZ455/457

I'm looking for a good, used T1x. Either 16 or 20", it doesn't matter, I'm just looking for a trainer rifle so I'm not burning up too much .30-06 or 6.5x55 Only interested in Tikka, since that's the platform I'm used to & use most often.

I've got an ATI 6-position with pistol grip, if it's any use to you. $20+shipping & I'll throw in a matching forend. Or $50 shipped & I'll toss in a scope mount & red-dot!