Posts

1,358

Joined

Days Won

8

Feedback

100%
Profile Information
Location

You Can't Get There From Here, TN

Gender
Miscellaneous
Handgun Carry Permit
Law Enforcement
Military
NRA
Recent Profile Visitors
The recent visitors block is disabled and is not being shown to other users.
crossfire's Achievements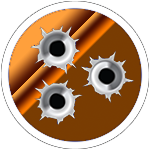 Prolific Contributor (4/5)
20

Of course this guy is a dipstick, but leave it to MSN to milk it for all they can.

msn and news shouldn't be used in the same post.

The CZ 75 SP-01 SHADOW ORANGE pistol differs in new procedures and operations added as a part of the serial production process (e.g. the manual fitting of the barrel, the lateral definition of the free movement of the bolt and the sophisticated trigger mechanism). The gun has a burnished barrel and its "orange 2012" name is based principally on its long thin and aluminium grips of that color. The weapon is presented in an identical case to that of the CZ 75 TS CZECHMATE. FEATURES: handmade barrel matching and precise slide side setting Improved trigger mechanism polished barrel metal polished recoil spring guide polished recoil spring + recoil spring set (13 lbs. And 11 lbs.) Polished main spring + main spring set (13 lbs. And 16 lbs.) Buffer set (3x thick, 2x thin) orange grips - thin, long (aluminium) 3x magazine with aluminium magazine bottom (orange) defender type rear sights and red fiber optic front sight 5,5 x 2,5 x 1 mm newly designed sa/da hammer cleaning oil, cd, polymer case better shooting comfort, increased accuracy. more stable recoil during shooting. Parts service life increased. smooth and precise trigger mechanism. http://oakhillguns.com/pistol/cz-usa/cz-75-sp-01-shadow-orange-9mm.html

Thanks to all that liked this joke. I try to post some fun stuff when I can, we need to lighten up every now and then. Some guys just take themselves to serious around here. Glad you enjoyed it.

It's a target gun, not a carry gun. Dave TN says it all.

A U.S. Marine Colonel was about to start the morning briefing to his staff. While waiting for the coffee machine to finish brewing, the colonel decided to pose a question to all assembled. He explained that his wife had been a bit frisky the night before and he failed to get his usual amount of sound sleep. He posed the question of just how much of sex was "work" and how much of it was "pleasure?" A Major chimed in with 75%-25% in favor of work. A Captain said it was 50%-50%. A Lieutenant responded with 25%-75% in favor of pleasure, depending upon his state of inebriation at the time. There being no consensus, the colonel turned to the Private First Class who was in charge of making the coffee and asked for his opinion? Without any hesitation, the young Private First Class responded, "Sir, it has to be 100% pleasure. The colonel was surprised and as you might guess, asked why? "Well, sir, if there was any work involved, the officers would have me doing it for them." The room fell silent. God Bless the enlisted man.

19

Your right , I talk of my own experience.

The U.S. Military hasn't been allowed to fight to win since before Vietnam.

The thread was sunk when that meme was posted.

Everyone is entitled to their opinion, and my opinion of ChuckT , on a scale of 1 to 10 has just reached "0".

The Washington Redskins finally drop offensive name. >> >> Dan Snyder, owner of the NFL Washington Redskins, has announced that the team is dropping "Washington" from the team name, and it will henceforth be simply known as >> "The Redskins." >> >> It was reported that he finds the word 'Washington' imparts a negative image of poor leadership, mismanagement, corruption, cheating, lying, and graft, and is not a fitting role-model for young fans of football

I used to enjoy reading all the posts on TGO, not so much any more.