 Posts

80

Joined

Last visited

Feedback

100%
Profile Information
Location
Gender
Occupation
Miscellaneous
Handgun Carry Permit
Law Enforcement
Military
NRA
Rambo84's Achievements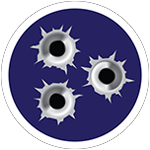 Established Contributor (3/5)
If you over oil a gun, brand won't matter.

The short answer is, yes they are worth it. The long answer is also yes, depending on your needs. 1. Ergonomics:. In my experience the ergonomics lends itself to a quicker first shot sight acquisition. 2. Quality: Their quality is at the top. The quality across the USP line, the P Series line, even into the striker-fire pistols is very consistent. 3. Accuracy: Accuracy is very consistent with different ammo (I've fired everything from range ammo to defensive ammo, w/ the same high level results). 4. Maintenance: They are low maintenance. Some HK firearms are designed to fire hundres of rounds between cleanings.The USP test fire was 85,000 rounds w/o malfunction. (Obviously, the average shooter won't fire near this many rounds and should clean on a regular basis after shooting). 5. Trigger: Triggers come down to personal preference (HK triggers break-in point is around 2,000 rounds. Their triggers become significantly smoother after the break-in point). 6. Value: HK firearms only go up in value. Recent state of affairs a side, the only other standard run pistols I've seen accrue value like an HK, is the older Colt Snake revolvers. 10/12 years ago you could find an HK P7 for around $800. Today they are in the $2k range. 7. Engineering: It's German engineering. What some call clunky, others called durable. HK doesn't make the most slim, smooth, compact pistol out there. HK's compact sized pistols are comparable to most other manufacturers mid-size pistols. 8. Price: HK products are expensive. It depends on your reason for buying (It's my personal stance that self-defense and protecting my family are the last two places I want to save money). Your reason for buying plays the biggest role in choosing an HK over another brand. If you're willing to buy used and are patient, you can usually find an HK between $500/$700.They are very durable, consistent, reliable firearms. Take a look at the agencies around the world that rely (not solely) on HK weapons as part of their arsenal. Israeli and U.S. Special Forces are two such agencies (if it meets their standards, that's good enough for me). HK's are not the perfect fit for every situation, that depends on your demands from the tools at your disposal. An HK pistol should definitely be one of those tools.

I'll take them. Pm inbound.

Bump. Now, for a limited time only......$750.00.