 DesertRanger
TGO Benefactor
Posts

22

Joined

Last visited

Feedback

100%
About DesertRanger

Profile Information
Location
Gender
Occupation
Miscellaneous
Handgun Carry Permit
Law Enforcement
Military
NRA
Carry Weapon #1
Carry Weapon #2
Recent Profile Visitors
The recent visitors block is disabled and is not being shown to other users.
DesertRanger's Achievements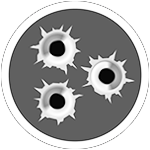 Just Getting Started (2/5)
I have had many chances to buy range guns where I'm a member, and I passed them all by with no regrets except one. At the start of the pandemic they put out a Sig MPX for $1,400. It had the stew shot out of it and I thought it a bit too much for what it was. I found out a year later that another guy bought it, sent it to Sig to be refurbished for $500, and sold it when it came back for $4,000- only one I regret not buying.

S&W Model 686 .357 magnum. I carried it on duty in the desert Southwest and then In the Rockies. Desert heat, forest fires, road patrol, dust, dirt, rain, mud , snow, and it always cleaned up good as new. More importantly, it never jammed or failed in any way, and it shot better than I did.

Winchester 1873, 3rd model. 44-40 cal. (44 WCF). Manufactured in 1888. Full octagon 21" barrel, buckhorn sight, tang sight, original everything and owned with great care- stock intact with original cleaning rod. I got her from a family member last year and have put 20 cowboy rounds through. The rifle is accurate, intact, and the rifling is strong with no pitting. Along with her will be 70 factory cowboy rounds and a leather, sheepskin-lined, vintage gun case. $2,300. .

Lowest price I can offer on this.

It seems odd that this scam warning was replied to my Sig post. Any particular reason?

In light of recent events, I believe I'll just hold on to what I've got for the time being. It doesn't seem so smart to do otherwise.

Sorry-out of town and didn't check TGO. Could you send a picture to me?

Sorry-travelling for work and didn't check TGO for two days. Mossberg says LOP is 14.5" and nothing about it being adjustable.

I told myself I was reducing the number of items in my collection; however, if you have something in mind for trade, I apparently am unable to refuse to at least consider it.