Posts

1,037

Joined

Last visited

Days Won

4

Feedback

100%
About Whisper

Profile Information
Location
Gender
Interests
Miscellaneous
Handgun Carry Permit
Law Enforcement
Military
NRA
Whisper's Achievements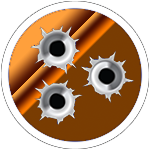 Prolific Contributor (4/5)
I wish you would. It keeps calling out to me, and someone needs to make it shut up. Cheers, Whisper

These don't come up often: The king of 1970s snubbies, a S&W Model 15-3, nickel plated, with 2-inch pinned barrel. SN dates the gun to 1975. I've taken the photos under a fairly harsh light to accent the fact that it has a few scuffs and scrapes in the nickel, but there's no rust and no bare metal exposed. Gun looks like it was carried but not abused. Nice action. The front sight has been colored red with fingernail polish or model paint, but you can easily remove it with acetone if you want (I wouldn't do it -- nickel front sights are hard to see outdoors on a sunny day). $850 to a TN resident legally able to purchase handguns. I live in Chattanooga but will drive a modest distance for a meet. I'm looking for a Sig P226 9mm with no front rail, so if you have one of those, we could talk trade. An HK P30L V3 might also draw my attention. Other trade offers aren't likely to tempt me, but asking is free. Thanks for looking, Whisper

Hmm. I'm skeptical my dad, who taught me how to change oil, would have trusted me to do it on my own when I was eight. I sure wouldn't have trusted my own kids to do it at that age. But maybe your kids are better.

For a kid, or for anyone else, #1 is always "Pay attention to what is going on around you." That one is far ahead of whatever is in second and third place. My opinion, and worth every cent you paid for it. Cheers, Whisper

I wish you had more than six rounds of ammo to go with it. Even as it is, I'm having a hard time resisting, so someone needs to buy this soon or else I might. Cheers, Whisper

Oh, my. I probably need this, although not enough to drive to Memphis. You aren't planning to visit Chattanooga anytime soon, are you? Maybe you want to see Rock City?

Sabre Red or POM. Cheers, Whisper

Same reason they put plastic sights on their pistols -- people who want something good will replace them, but for the majority of people who don't care, they're tolerable.

Hipower, they're N-frame Target Supers, checkered and engraved, in silverblack. That particular configuration isn't available right now, but you could contact Altamont and ask when they're coming back. Smith & Wesson | Altamont Company Cheers, Whisper

As far as state law goes, you're good if you're shooting more than 50 yards from a public roadway. As others have advised, check with your sheriff about any county ordinances regulating shooting. I doubt there are any. Lauderdale County seems to rank pretty low on the list of government oppression. Cheers, Whisper

Look at recent sale prices on Gunbroker -- not the asking prices, but what buyers actually paid for the guns. EDITED TO ADD: TripleGGG beat me to it. Cheers, Whisper

It needs a new home: Smith and Wesson Model 625-2, .45 ACP and Auto Rim, 5-inch barrel, excellent condition. These don't come up for sale often in this condition because many of them from this era have been beaten to death in bowling pin or falling plate matches. No lock, no MIM, just all-round revolver goodness. SOLD Thanks for looking, Whisper

If you mean a gun with the same bullet diameter but a shorter case length, then you're talking about the .45 GAP, which is essentially a shorter .45 ACP. It wasn't a success and I believe only Glock makes guns in that caliber now. If you're talking about a stronger case that's the length of a .45 ACP, then there's the .45 Super. Hope this helps, Whisper

It's not clear from your original post -- are you saying that this gun has the original shot-out barrel, or that the original barrel has been replaced but you're including the original barrel with the gun? Also, can't tell from the photos, but since you're shooting match ammo -- does this have the standard rear aperture or the hooded aperture? Thanks, Whisper

I hope you have better luck than I did. I never found anyone while I lived in Nashville.