Posts

2,164

Joined

Last visited

Days Won

15

Feedback

100%
About Snaveba

Profile Information
Location
Gender
Interests

Rocks, rock crawling, camping, shooting, bee keeping

Occupation
Miscellaneous
Handgun Carry Permit
Law Enforcement
Military
NRA
Carry Weapon #1
Carry Weapon #2
Snaveba's Achievements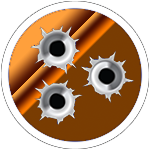 Prolific Contributor (4/5)
Well, the 450 Marlin is so new, it doesn't count in my book (LOL). If Marlin didn't produce it for pre cross bolt safety guns, well….. I know that in general, sub .40" is mid bore, but Winchester called their rifles chambered in.375 Win "big bore" so I'm going with that. Otherwise, I guess I can say I have a pair of big bore (.444 & 45-70) a pair of mid bore (35 Rem & 375 win) although I have multiple rifles chambered in .35 Rem.

Well….. I picked up the beat up old '54 336 RC that I want to turn into a trapper on Friday. It's actually not that bad. All the numbers match and the stock is in better shape than I first thought. But an hour ago, I won an auction for a three digit serial number 1972 Marlin 1985 (first year of the re-issue). So my trifecta of Marlin big bores (.375 Win, .444 Marlin, and 45-70) is now complete. The 1972 1895 has Ballard rifling instead of the usual MicroGroove rifling.

Hi, I'm Snaveba, and I'm a leveraholic. It's been 30 min since I bought my last lever gun.

I've been traveling for work. Meet is tomorrow. Thanks for the interest.

They were manufactured here in Nashville.

Still setting up the meeting.

I'm not hating, just agreeing with you.

Whelp, I picked up another Marlin 336 from 1957. It's gonna be a serious project rifle. TBH, it kind of looks like someone took a fine grinding wheel to a seriously rusty old 336. There are places the metal almost looks Damascus . However I looked it over and the bore is good. The action is smooth and the trigger feels fine. My plan (as of now) is to cut it down into a 16.5" Trapper, and thread the barrel for a suppressor. It's not going to be pretty when I am done, maybe a little more like a rifle from MadMax. I might try my hand at re-blueing, who knows. If anyone has a stock and forend for a 336, in bad condition (just not sanded upon) let me know. The stock that is with the "rifle" has been sanded pretty good and the tang (top and bottom) are nowhere near flush.

I don't think anyone (even an anti-gunner) is gonna call you out on that assessment.

The wood had been poly-coated and the finish was meh. I stripped it off with denatured alcohol and went back with a couple applications of Winchester Stock Oil (I like the red-ish color) and then Danish oil. the forend grooves were all junky with poly. the steel was pretty much as it is now. There was some light surface speckling I took off with 0000 steel wool and 1500grit with gun oil.

This one is not a lever gun, but not an automatic or bolt action either. And it is in 35 Remington. 1936 Remington Model141 GameMaster pump action rifle.

I might have a box. I'll check when I get back in town (Friday)

I was bidding on a 1908 Savage 99 in 30-30 but it went higher than the limit I set for myself. I need to just save up get the 45-70. Every time I'm about to pull the trigger, I either have a home (car) expense, then a different, less expensive lever catches my eye.