Posts

5,333

Joined

Last visited

Days Won

17

Feedback

100%
About GlockSpock

Miscellaneous
Handgun Carry Permit
Law Enforcement
Military
NRA
Carry Weapon #1
GlockSpock's Achievements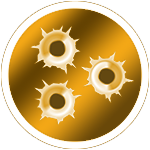 Postus Maximus (5/5)
1
Community Answers
Winner. You deposit $100,000, they keep $10,000 and then loan $90,000 to someone else. They spend it on firearms and then another person deposits that $90,000. They (the bank) keep another $9,000 of that and loan out $81,000. So on, and so on, and so on. A single $100,000 deposit creates so much more than that in deposits. This is of course an oversimplification of the big picture but in a gist it represents how it works. It is regulated by a reserve rate. So what happens when the bank that has $10,000 of your money and $9,000 of the next guy's has a run and both of you demand your $100,000 and $90,000 back?

But to what extent do CNN, MSNBC, and Fox truly only shill for themselves? Their main goal is to get you outraged about something, which in turn means you come back for more, same bat time, same bat channel. It's not about red vs blue but rather green, green, green baby.

I would like to point out that this statement stands above your opinion @bersaguy.

Well…Christmas wasn't that long ago.

So...maybe an actual weather balloon this time.

They are stating that this new object was much smaller, so maybe a drone or even manned plane?

https://www.cnn.com/2023/02/05/politics/chinese-spy-balloons-trump-administration/index.html

If you have access to Apple TV Plus (free trial), take a look at Severance. If you enjoyed Karate Kid in your younger years, checkout Cobra Kai (the first season is amazing, each subsequent season feels more like a soap opera but it is still worth watching). The number of original actors from original films that they got to come back for this show is amazing. Give Disney Plus a try and watch all the Star Wars shows if you haven't. Most of these shows rival the latest trilogy by tenfold. Notably, The Mandolorian. Same could be said about many of the Marvel shows, most of them "quick" series that can be binged. Going old school, look for Lost, Fringe, or Prison Break. Older than that: X-Files (which I'm currently watching for the first time). If you want someone wholesome and lighthearted, check out Somebody Feed Phil on Netflix. Phil was the producer for Everybody Loves Raymond back in the day, but on this Netflix series he travels and eats. It's a rather enjoyable show.

Sadly, I lost my Yojimbo a few months back. I've been meaning to replace it. What exactly are the benefits of "CruWear" over standard S30V?

I appreciate the thought and took a look as soon as you posted it. I cannot say purple is...my thing.