 Darrell
Lifetime Benefactor
Posts

943

Joined

Last visited

Feedback

100%
About Darrell

Profile Information
Location
Gender
Occupation
Miscellaneous
Handgun Carry Permit
Law Enforcement
Military
NRA
Recent Profile Visitors
The recent visitors block is disabled and is not being shown to other users.
Darrell's Achievements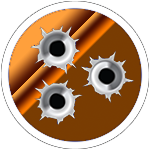 Prolific Contributor (4/5)
The whole point of the safety is to prevent an unintentional discharge. So long as the safety is engaged, your should be okay. Of course there is always a chance that something untoward could happen, but you should be fine. Take a look at the design of your particular gun to see how the safety works. That could help set your mind at ease.

That's one of the best I've seen in a while! As Curly might say, "Nyuck, nyuck, nyuck."

Hey Marvet. I'm fairly new to TN myself, having arrived five years ago. Also a jarhead, though a decade before your time, and also live near Crossville, out in the Crab Orchard boonies. Welcome to the forum, you'll find a lot of helpful guys here, and the odd smart ass.

I've had these two dies in my reloading room for over 40 years without ever really knowing what the heck they are. I finally looked it up on the internet, and apparently they're for forming brass for 401 Herter's Powermag, a caliber I'd never heard of until looking up these dies. I think the two dies are identical, as they are both marked "30-38-401 EXP". Only one of the two has the decapper and expander plug. Now, I could be entirely wrong on what these are, but I guess if you have a 401 Herter's Powermag you'd know better than I. At any rate, they're free to anyone who can use them.

That's interesting. I've always avoided even a smidge of zinc in my lead pot, and never considered casting with it. Have you recovered any fired rounds? I'm curious if they remain intact.

I think it was I who was confused. The news article I quoted was from Cumberland county, and didn't mention that either driver was a deputy. The story that Greg mentioned was from Macon county. Apparently these are two separate incidents. Sorry about that!

This from the Crossville News website: Two people were killed in a head on crash early this morning on Lantana Road about 11 miles south of Crossville. According to THP report, 51-year-old Randal Bartley was driving south in the northbound lane of the highway. 52-year-old Alfred Dishman was driving north in the northbound lane. The two vehicles crashed head on killing both individuals. The crash happened around 4am.

Cool! I didn't know that site existed. Thanks for sharing, and good luck to the OP selling that barrel.

And what a HUGE problem that is! I grew up during the Viet Nam war, which disabused almost everyone of the notion that our government was truthful, but I think the major news agencies were trying to get it right. Now they are trying to push their own narratives and agendas. We may as well read Tass or Pravada (and I actually do). And even when the news tries to get it right, they often get it wrong. I spent a lot of years volunteering with my local fire department, and three quarters of the time the news coverage of events of which I had first hand knowledge got many of the details entirely wrong.

Yeah, it ticks me off, too. As an aside, I sold a motorcycle to an out of state buyer last year. A few weeks ago I got a letter from the state asking me why I was no longer carrying insurance on the bike. So the insurance companies are notifying the state when people drop their insurance. It shouldn't be such a tough thing to suspend registration on uninsured vehicles.

And many of them have a serious drinking problem, as well.

I'd go get an estimate, then contact the at-fault individual and see if he'll come up with the money. But I find it doubtful that anyone who drives without insurance will be good for the couple of grand that repair will surely cost. I'd give the guy a fixed, short time to come up with the money, and if he does then I'd just deal with it outside the insurance company. If not, I'd go to my insurance company to get it fixed and sue the at-fault guy for the out-of-pocket costs, and maybe for the whole amount. My insurance company, Progressive, has some accident "forgiveness" depending upon how long you've been a customer. Does yours? It sucks, but insurance companies seem to care about CLAIMS, regardless of fault. You're better off avoiding a claim if you can, but are you willing to be out the cost of the repair if the at-fault fellow fails to come through? Driving without insurance should result in immediate loss of license and confiscation of the car's plates, in my opinion. Now you're stuck dealing with another man's mess. Sorry about that! And good luck!