 Posts

28

Joined

Last visited

Feedback

100%
Miscellaneous
Handgun Carry Permit
Law Enforcement
Military
NRA
Recent Profile Visitors
The recent visitors block is disabled and is not being shown to other users.
TSG's Achievements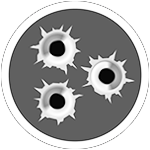 Just Getting Started (2/5)
Very nice groups! I believe the mystery ammo is Romanian from the Sadu plant circa 2007. They still produce ammo that can be found on the market- some new import tins with sealed primers had been selling about $300 not too long ago.

If you are ever in Nashville/Clarksville, let me know. Sadly I can't make it to Memphis anytime soon.

Hmm. I've heard the mags can be loose, and it won't be nearly as nice as a good milsurp Mauser action, but the hard to work, gritty action seems unusual, based on my experience and reviews I've seen of the Ruger American Ranch. At worst it should just take a firm grip and some force to open. My first thought would be to contact Ruger CS and ask. The second would be to try detail stripping the bolt, and make sure there's no grit or something interfering. Maybe a burr on the cam surface? (Also seems a couple of my comments and following this topic got lost in the kerfuffle. Oof.)

You could pick up a 20" threaded heavy barrel Howa mini action in 7.62x39 for about $450 and put it in a Boyds stock. Since you planned on replacing the stock anyway it isn't more than a Ruger and from what I've heard the Howa is a bit nicer. Ruger does have better mag availability and capacity and is a great rifle in its own right though. With the CZ 527 out of production the already expensive mags will likely just get harder to find and more expensive. It's hard to recommend what's almost becoming a modern collector's piece for frequent use and corrosive ammo.

Another +1 for Stones River. I've been going there while MCSC is closed despite it being a drive. I'll be very happy once MCSC is back open...

I reload the TX22 mags by pulling the mag tab down just a bit as I push in the next cartridge. Once I got the hang of it I had no issues with locking or misfeeds, and it's quicker for me than using the tool. Taurus has offered 6 mags in a soft mag case for $99 direct in the past, pretty good deal if you want more mags. Saw the Competition model in store at Outpost not long ago for regular model pricing (I think it was $250 or so). Could be a good place to look if people want it from a local shop.

From what I've heard Caniks are great, lot of gun for the money, reliable, comfy. I almost want one myself. Wait, you wanted to be talked out of it. Oops.

If you are ever making a trip to Nashville or Clarksville area drop me a message.

It's hard to pick favorites, but I have too much fun per dollar with my TX22. Cheap to buy and shoot, surprisingly great trigger, just works. My favorite purchase though is probably my Walther Model 7. Got a good deal on a pristine example, and I happen to be fond of pocket pistols and early 20th century firearms.

In my opinion, the best pocket rocket is the one you will actually carry and practice with on a regular basis. So ammo for practice needs to be affordable, carry ammo for testing and carry should be attainable, the size should be comfortable enough for you both for shooting and for carry, and a good holster for your preferred carry method should exist. Any other concerns come second. There's been a ton of good options over the years in small sizes many of which have been mentioned already. If you can find a place with your top contenders to rent, that'd be ideal.

RTI has had the Carcanos on sale as low as $110. Might work well for your project.

If Scotty doesn't take it I will.

I'll drop a +1 for AEAmmo. I use the "CF/F" filter on Ammoseek since I'm tired of trying to optimize shipping costs, and AE is usually among the cheaper cost per round options. They ship very fast too, I think I had my last order in 3 days. SGAmmo has been good for surplus ammo and some of the less common calibers for me.

If you needed something a bit cheaper, Winchester Wildcat is very similar to the 10/22, a bit lighter and handier, takes 10/22 mags, and has a rail for an optic built in. I've seen them at Academy for $230ish and you wouldn't need to pay shipping/transfer fees. Haven't had the chance to shoot one but seems to be reliable from what reviews I've seen. I don't think it takes all the 10/22 parts though if you/he were looking to upgrade it with all the fancy bits.