Posts

2,612

Joined

Last visited

Days Won

6

Feedback

100%
About tercel89

Profile Information
Location
Gender
Interests
Miscellaneous
Handgun Carry Permit
Law Enforcement
Military
Carry Weapon #1
Carry Weapon #2
tercel89's Achievements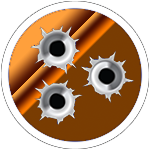 Prolific Contributor (4/5)
Price change for today SUNDAY only.

I WILL TAKE $500 SUNDAY (today) ONLY. This is my Glock 41 in .45acp. It's the long slide .45acp pistol. It has the narrower / thinner slide than the regular Glock .45 pistols . It's the size of a 1911. I have a picture of it next to my 1911 for size comparison. It is brand new in the box and never shot. I bought it new last year and it's been in the safe since. It comes with the grip back straps , 3 13 rd magazines , factory case and manual. I am in Clarksville but can travel up to 50 miles to meet a TGO member to buy it. Just selling to get something else that caught my eye. Thanks for looking.

Ok thanks all. I see the pros of it but the cons would be if it broke into pieces during the operation of the gun. I think I'll run some in my gun at the range and see how it goes and leave them out of my gun when I carry it for defense.

Are these worth putting one in a gun or is it just a gimmick ? I understand their intended purpose but just wondering if any of you guys use them in your Beretta's or 1911's ? I believe that most guns should be kept factory stock and that if they needed an extra part then they would gave came with it. But just seeing if anyone here uses one of these a and experiences.

This is a good deal. It's what the Glock 36 should have been. I'd get it if I didn't have one. Very thin , very reliable.

Dang what a deal !!!!!!!!!!!!!!!!!

Is this a JM branded Marlin or the newer owned company ? I am interested .

Thank you to all you guys and thanks for the information. I'm going to start looking but not get in a rush.

I had the chance to get an older Ruger Security Six a few years ago. Boy I was dumb by letting that chance go by.

Some of the Sp101's that i have been seeing lately , new and used , have the barrels tilted left or right. As if they are not screwed on properly . A few that I saw were new ones at gun shops. looking at the crane or main part of the revolver , the barrel wasn't straight and lined up.

I am wanting a 3 inch barrel and something in a .357 so I can shoot 38 when I want to. The old Security Six models sure seem nice. Ruger owners seems to talk about how they dont use screws to secure their revolvers and how S&W's use of screws is their weakness. Is there any truth to this ?