Posts

2,571

Joined

Last visited

Days Won

6

Feedback

100%
About tercel89

Profile Information
Location
Gender
Interests
Miscellaneous
Handgun Carry Permit
Law Enforcement
Military
Carry Weapon #1
Carry Weapon #2
tercel89's Achievements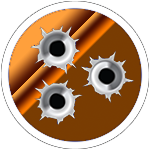 Prolific Contributor (4/5)
Dash cameras are awesome and they sure help officers that are working a crash. It sometimes shows who is lying and who is not. I was working a crash where one truck t-boned another. Both said they each had a green light. The victim showed me his dash camera and he clearly had a green light and the other truck ran the red light. The guy that ran the red light lied to me after I gave him another chance. I then showed him other guy's video and he tucked his tail between his legs after that.

Is that grip tape on the grip or has the frame been stippled ? Also , has the slide been cerekoted ? Any information is appreciated.

My daughter decided to go with the birdshead grip and the matt stainless look. I like the looks of it too. I figured that Ruger would be easier to contact with help in case there was ever a problem. Ruger sent me a very hard to find spring one time on a 20 year old pistol that isn't made anymore so that stands out to me about great Ruger customer service. Thanks to you members who provided information and opinions. It helped a bunch.

Which one would you pick and why ? I am looking for something simple for shooting steel for my 15 year old , nothing fancy or crazy. I am just looking for reliability . She is 15 years old and new to shooting. I dont want to have something crack or break. I know Ruger was king of reliability but the days of the Ruger P-Series reliability are over so that is why I am asking . I see the Heritage pistols all over the place but I have never had one. I am asking because they are cheaper which is good , but they also use Zinc and other metals and that makes a difference. I could buy here a Ruger Single-Six but that is in the $500 range. Thanks for any information.

Price changed to $430 FIRM. I have gotten a lot of offers by text that were ok and some that were lowball offers , so I think $430 for this pistol is fair.

Yes and you can use any 9mm Glock magazine in it . The 10rd flush mag , the 15 rd ,17 rd , 21rd and 33rd magazine.

How are the new Gen 5 .40S&W pistols running ? Are they still "Glock" reliable ? Also , I used a G22 gen 2 and Gen 3 for over 20 years at my work and on both I had the "peening" along the middle of the slide rails underneath. Are these newer Gen 5's getting any peening along that area at all ? Any information is appreciated.

Free delivery within 35 miles of Clarksville

This is a right handed Leather Shoulder holster for the Ruger p89 and P90. It is made by Bianchi. Only used by me a few times. I bought it new and trimmed a bit of the leather so that the different types of P89 and P90 rear sights would fit. It is fully adjustable. I am asking $60 by US Postal Money Order and shipping is free. Thanks for looking.