Posts

240

Joined

Last visited

Feedback

100%
Miscellaneous
Handgun Carry Permit
Law Enforcement
Military
NRA
Karnage's Achievements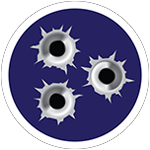 Established Contributor (3/5)
These are Swampfox's Wolverine brand, manufactured by Night Fision. It is a tritium front sight and black rear. They are made to co-witness with a Sentinel dot sight when mounted on a Hellcat. $60.00 Here is a link to the description on Swampfox's site: https://www.swampfoxoptics.com/wolverine-night-sights-hellcat

I have a new Swampfox Sentinel green dot auto adjust sight with Ironside protective cover for sale. I bought this, mounted it on a Glock 43 for 3 days and realized with my vision I would rather have a manually adjustable sight. No rounds were fired when this sight was mounted. The sight fits the Shield RMSc footprint. It's as new with everything included. I paid $288 plus tax and shipping. Here is a link to the Swampfox description of the sight https://www.swampfoxoptics.com/sentinel

I bought this knife, opened the box, admired the knife and then put it away. This knife has never been carried or used to cut anything. I am located in Johnson City and am willing to ship at your cost. I would like to sell it for $200

This is a Benchmade Balisong knife that was made in the 1990's.

Here are two books that may help: https://www.amazon.com/Building-Trauma-Kit-Gunner-Morgan-ebook/dp/B01GGN0BNU/ref=sr_1_1?ie=UTF8&qid=1516053975&sr=8-1&keywords=Building+a+trauma+kit https://www.amazon.com/Trauma-Care-Worst-Case-Scenario-ebook/dp/B01GGM7FXA/ref=pd_sim_351_1?_encoding=UTF8&psc=1&refRID=1W3080W3H97VEFWHRXGK

I would talk to the club about access. They may have something in place or they may have never thought about it. As mentioned earlier, a Knox box,containing a key to the gate, would be a good idea if there is a post, or other place, to mount it.

These are the ones that I carry: 1) http://www.liveactionsafety.com/military-elite-tactical-trauma-first-aid-backpack-full-kit/ 2) https://www.narescue.com/law-enforcement-tems-products/casualty-response-kits/tactical-operator-response-kit-tork (you can build these yourself for much cheaper) I was given this kit. I would not pay $225.00 for it. I always add items to my kits. The items I usually add are multiple CAT tourniquets (for the big kits), multiple compression bandages (for the big kits), chest seals, Quick Clot combat gauze, flashlights, headlamp (for the big kits), hand sanitizer and sanitizing wipes, steri strips (butterflies). These are the items that I put in my small built kits (like #2) 1 x Nasopharyngeal Airway 28F with Lubricant 1 x HyFin Vent Chest Seal Twin Pack 1 x Needle Decompression Kit (14 G x 3.25 in.) 1 x CAT tourniquet 1 x 6" Compression bandage 2 x 4 yards rolled gauze 1 roll 3m Transpore medical tape 1 x pair Trauma Shears (7.25 in.) 1 x package Quick Clot Combat Gauze 1 x small LED flashlight 1 x zip lock bag with steri strips and fabric bandaids. 2 pair nitrile gloves You can get basic first aid and CPR training online here https://nhcps.com/ they run deals on Groupon all of the time for their First Aid, CPR and AED training for around $20. Quick Clot has free online training for their products here http://quikclot.com/QuikClot/Off-Nav/Static-Content/Training-Education

I bought a chocolate puppy from http://www.aldermanslabs.com/ about three months ago. So far he's a great pup. They are located in Dana, Kentucky but they had the most reasonable price for what I wanted. In my area chocolate pups are selling in the $ 1,000 + range.

I found this in my swag from the NRA Annual Meeting. 25% off OTIS cleaning products expires May 31, 2017

I handled three different ones at the CZ booth at the NRA Annual Meeting. They fit my hand well and had the best striker fired trigger that I have experienced. Yes, better than an HK VP 9! I will have one in the near future.

Johnson City. There are a few of us on here.