Posts

1,810

Joined

Last visited

Days Won

6

Feedback

100%
About Alleycat72

Miscellaneous
Handgun Carry Permit
Law Enforcement
Military
NRA
Carry Weapon #1
Alleycat72's Achievements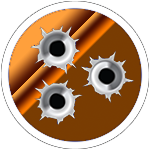 Prolific Contributor (4/5)
Not really loaded. I think that non-Christians sometimes assume everyone they disagree with is a Christian. It's almost like a poke in the chest. A lot of Christians don't realize you can be a good moral person without being a Christian. I've never really understood why some people dislike Jewish people either. I've never met someone that was Jewish that I disliked as a person. However my morality may not be the norm for a Christian or non-Christian and that's okay with me. I will continue to treat people of faith with respect until that person proves to be unworthy of that respect. My Wife happens to be a Christian. I adore and admire her with all my heart, but I just can't believe what I don't believe and I do not have the right to demand She change her beliefs.

Off subject, but how do you guys know someone's a Christian? I'm no one. So is there a secret handshake or something? I guess I've never looked for signs. I have zero issues with someone having religion unless that religion tells them to kill me. Just curious. I hear this a lot.

I have a picture of the thing that wants to try......, but.......uhammm...welll....

You can also form 1 the receiver without any of the other parts. If you want to save money and get the "good" parts as they become available. Your OAL part of the form 1 gets interesting as far as figuring it out, but that's not a big deal either.

You can change it all you want as long as you can put it back to its original configuration. If you decide you hate the original configuration, you can permanently change it and put in a change letter to the ATF. The lower cannot be changed out.

You'll need to at least neck size unless you've got it setup as a fitted case. That's not something a new reloader should ever try. I have a wildcat chamber that has used the same Lapua brass for 13 loadings.

It depends on the chamber and how hot your load is. If the oal is good, it'll go. After you resize it, check again. Most case growth will happen in the resizing

It's not hard. A bedding kit and a dremel will look good. Use clay for the locks and release agent.

LOL Memphis...... Everyone's a bad ass until they have to ride through the bad areas of Memphis.

It depends on the intended use. I tend to run 18" or 9.5" ARs. All suppressed. My home protection gun is a 9.25 inch 300 blackout SBR. I've killed enough deer and hogs to know what it's capable of. If I'm not shooting inside a structure, I run an 18" every time. The majority of my triggers are triggertech.

I may be able to get some. Let me check

I'm at 3 weeks on a form 1 e-form. I guess I'll see in the 1 month quote is true.

So there was this one time we were were all having a few drinks in a city in the US. We were headed out and encountered two drug dealers. That were aggressively marketing their product. I had a spirited discussion with them about selling drugs to kids. If I hadn't been drinking, I would have realized they were police officers sooner. We all decided to pretend it didn't happen. I've never seen a cop's eyes get so big.

I've been using trailboss in the 12.5 inch gun, but 220 gr is as heavy as I can go before I start a compressed load. I need some VV N32C if anyone has some they are not using. What to run the 305 gr 308 bullets in this gun.