Posts

2,169

Joined

Last visited

Days Won

9

Feedback

100%
About Alleycat72

Miscellaneous
Handgun Carry Permit
Law Enforcement
Military
NRA
Carry Weapon #1
Alleycat72's Achievements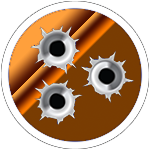 Prolific Contributor (4/5)
Savage 28 Nosler ultralite rifle. All the stock parts. Rugged muzzle brake. Titanium bolt handle. Carbon fiber knob. Redding bushing die. No seating die. I use a universal comp die. About 145 brass. Some loaded with 180 eldm. Some with 168 barnes tsx long range. 1 lb of h1000 100 cci250s 100 180 eldm. Less than 200 rounds on the gun. Probably 125 ish, but I'll say 200 just to be safe. Columbia area. Must be from Tennessee and be able to legally own a firearm. I can meet within a reasonable distance. Pics soon.

Simple.....Your church puts up a sign that says you can't carry a wepon on the property .

I assumed FBI....because FBI.

Got about 12 miles on the water and a 3.4 mile woods hike in this weekend. Picked up a drive for the Wife in Alabama. Found out about a 4 mile hiking trail not far from my home that I was told would kill me. I have 9 12 hour shifts in a row starting Monday and we will see if I die on the 23rd. LOL

37s with a gear change looks good. Probably going to 35s after the tires get a little worn down.

I wouldn't help the atf find lost starving orphans in the forest. I'd go find the orphans, but I wouldn't help the atf do it. LOL

I don't know about soup, but I'm down for white chili anytime. It's kinda like soup.

I've had an XDM for years with zero issues.

I will say this....the gun is extremely accurate with Federal or Sig 124 hp and slow deliberate fire.

I got it fixed and shooting the way I shoot. I need to put 500-1000 more rounds down range until it feels more natural, but I feel better after changing a few things. I was shooting the XDM the other day and that gun is amazing, but I've worked on it too. It's just hard shoving that thing down your pants.

I 98% finished the trailer today. Just need more tie-down points and padding. It'll hold 4 kayaks and we will have a inflatable tow boat for one kids.

My Wife wanted a tandem kayak so.....