Posts

3,802

Joined

Last visited

Days Won

4

Feedback

100%
Profile Information
Location
Gender
Interests
Occupation

State Level Law Enforcement
Miscellaneous
Handgun Carry Permit
Law Enforcement
Military
NRA
Carry Weapon #1
Carry Weapon #2
Patton's Achievements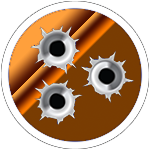 Prolific Contributor (4/5)
Never let your guard down. Criminals and psychos have cars.

It's a shame to scrap them, but if you don't get any takers they will scrap for about $15-20 each.

I have been with my agency since 2016, and we switched from Gen 4 23 to gen 5 19 MOS. The reason was a lot of our agents wanted 9mm. It wasn't so much the recoil, ammo cost, or anything other than people just wanted new guns and the 9mm because their BUGs and alternate weapons were mostly 9mm. We had Glock 23 since the early 90s. Supposedly, we were one of the first agencies in the country to have Glock 23s; I don't know how true it that is though. It was time for new guns considering ours were 10 years old. I carry a personally owned Glock 43x about 75% of the time. A few of our older folks have all three of their 23s. I do know the earliest Glock 23 gen 2 we had was from 1990. Most of our agents carry a personally owned weapon in plainclothes. Nowadays it is p365 or slimline Glocks. There are a few people hanging on to Glock 27s who don't care to switch, and I know of a couple of shields. Three non-gun types agents just carry a .380. There is one Ruger EC9 used by a female, but I don't believe she carries it often.

It's all across the spectrum. The Federal HST and Hornady Critical Duty are probably the most common. A lot of agencies are switching every year based on availability; mine has. Chattanooga PD has been running the 135 Critical Duty since going to 9mm two years ago. Every year I see less and less Speer Gold Dot in Tennessee, and I imagine it's for the lack of availability. I see a little bit more Winchester Ranger than Remington. THP does have Winchester Ranger though.

We are seeing a fair amount of optics. I only know of one agency in TN, Soddy Daisy, that every officer has an optic. Oddly enough they went with the Aimpoint ACRO. Otherwise, we are seeing mostly RMR and Holosun. Most agencies it is the firearms instructors, SWAT folks, or LE that bought their own optics, handguns, and holsters running pistol mounted optics.

What? How? I have been a member for over a decade with thousands of post. I have bought, sold, and recently shot on the range with this seller.

I can vouch for the seller and the condition of this rifle.

I don't suppose you are traveling to Chattanooga anytime soon are you?

We are seeing as many Glock model 45s in LE holsters as model 17s, or at least in TN. With so many going to pistol optics it negates the argument for a longer sight radius. We have seen a few agencies get Glock 17s and trade them in for model 45s a very short time afterwards. I've talked with many people who say they shoot a model 45 better than a 17 or a 19. Here is the funny part, some say they shoot a 19x better than a model 45. I'm serious! We are still seeing a lot of 40s for law enforcement use, or at least in TN. I am a firearms instructor for a community college's police academy. It's been about 55 percent 9mm and about 40% 40s&w over the last two years. I have not seen a single 357 Sig come through the academy since I started in 2020. There have been a couple of Glock 21s and a few Sig p220s. The last two cadets with p220s experienced a ton of malfunctions. It was extremely concerning, but they said their department was already looking at replacing them with 9mm Glocks. I would have no problem carrying a FN 509 on duty, but like most non-Glocks and non-Sigs, holsters are few and far between.

Modules and magazines dropped today on Sig's website.

Glock 19 gen 5 MOS, but W/O optics the last time I heard.

Yes, I have never seen that model before today. This may be a hidden gem.

Welcome to TN. With the exception of close family and friends that I take to the range occasionally, I generally train law enforcement that work for my agency and cadets that come though the local police academy. I have no clue where to even send people around your parts. It's not the best time to get into handloading. It may be worth it for someone doing it for precision rifle loads, but not worth it for high volume, common caliber pistol loads.