Posts

3,808

Joined

Last visited

Days Won

4

Feedback

100%
Profile Information
Location
Gender
Interests
Occupation

State Level Law Enforcement
Miscellaneous
Handgun Carry Permit
Law Enforcement
Military
NRA
Carry Weapon #1
Carry Weapon #2
Patton's Achievements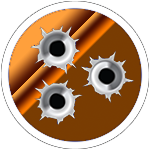 Prolific Contributor (4/5)
Not a bad package at all!

I have one that is NIBX. It's very nice. PM sent.

Cerakote holds okay on polymer frames. I don't think I will ever mess with another one though. It was kind of costly to just have it look worn after a year. Something I wish I would have tried is taking it back to black using Rit Dye when it showed heavy wear.

You need the biggest caliber handgun you are willing to carry, and can shoot, if you aren't carrying a rifle or shotgun. I would prefer to carry both. However, people tell me the 10mm has a huge following in Alaska to the point 10mm ammo is as common as 44mag nowadays. Luckily for you the bears on Montana aren't as big as kodiaks in Alaska. I think a 10mm semi made by a reputable manufacturer will serve you well loaded with the correct ammo.

I don't know how old your police magnum is, but a lot of newer ones had a dimple on the magazine tube that will bind a spring when used with an extension. Also, most 870s had a four shot magazine tube and not a five.

It's strange to me to think about going on vacation to Nickajack/Hale's Bar. I've lived around the area most of my life. The restaurants are very average and all maintain some weird hours. The unclaimed baggage in Scottsboro isn't what it used to be. A friend of mine e says employees, family members, and friends all pretty much get to pick through stuff before it goes on the floor.

I guess it never hurts to ask. Any trades you are looking for?

Those are amazing shooters, and I would never sell mine for that.

Which furniture store did you visit that offered wine?

No safety generally means it does not have a manual, mechanical safety. With an M&P it just means this is the model without the thumb safety; think like a Glock. Most modern firearms are going to modern internal safeties to prevent a firearm firing unless the trigger is pulled. This M&P will have a firing pin safety and the hinge safety trigger.

What did you have in mind? Are you looking for inside the waistband, outside the waistband, a paddle holster, leather, or what?

What is your caliber of preference?