Posts

1,395

Joined

Last visited

Days Won

9

Feedback

100%
Miscellaneous
Handgun Carry Permit
Law Enforcement
Military
NRA
Carry Weapon #1
ReeferMac's Achievements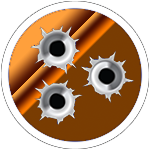 Prolific Contributor (4/5)
With all due respect... Its just two guys taking personal jabs at each other. Pointless, not germain to the discussion, and benefits nobody. Pointing out the rude behaviour is intended to curb it. FWIW, I thought the toes joke was funny, not what I'm talking about....

At the risk of coming off as an even bigger dick than the two of you, allow me to share some mothers wisdom: If you've got nothing nice to say, shut the fck up!

Ya know, to echo a lot of the sentiment here.. there is no shame, you feeling like a p____y is BS. After what you described????!!? Man. I was witness to (along with about 100k others) the Blue Angels having an accident at NFIAB during a show in the 80s. The two chase planes made contact during an overhead maneuver, tailfin from one plane went throught the canopy of the other. Both planes lost, 1 went into a flat spin and landed a couple hundred yards away. Canopy came down about 50 yds from me, pilot safely ejected, other one died instantly. I _still_ have a hard time watching that stunt, live or recorded. And I was just a spectator in the audience! To have gone through what you did? Man... Thanks for your service!

Thanks for the offer Jamie, I haven't been up there in a few years. If the snow ever breaks I'll probably have to go to work!

What's the difference between a regular and magnum primer? Admittedly I don't know. Just more of the good stuff inside to ensure a big boom on the main charge?

I recently acquired a 4" S&W 686 in .357. I have everything I need to reload 9 mm (press, dies, standard primers, boolits, titegroup powder), and have been doing so for a couple years. I bought some used reloading gear from a co-worker, and now have dies for .357/.38 (older, but in good shape). The used gear I bought came with some magnum primers and older powder the previous owner used for 357 mag loads. Handful of cast boolits, too. - Is it necessary to use magnum primers or can I use standard small pistol primers? - can titegroup (or other standard issue modern reloading powder) be used or do you HAVE to use a Magnum powder? I get that I may need a more powerful powder to achieve the pressures required for SAAMI 357 mag loads, but I don't have a chrono or anything, so... Just reloading pkinking ammo, really. Anything different reloading 357 mag vs. 9mm? I have a recipe for my 124 gr round nose 9mm I'm happy with (4.2 grains titegroup), but starting from scratch on the 357. Was going to try 4.5 grains titegroup and work up from there?

Yes and no..... At the risk of sounding like a bleeding heart liberal (most of you should know me better by this point!): For some individuals the threat of incarceration is not prohibitive. They don't care. Now the causes for that situation could be debated forever. Regardless, the way the system is setup isn't working: the threat of conviction and jail is supposed to disuade individuals from committing the crime. The punishment and/or risk involved in performing the action does not outweigh the perceived benefit. I find this argument illustrated perfectly with the debate sometimes used against the castle doctrine: you value your property over someones life. No, the individual in question values my property more than their life. If you live in a place where you might get shot trying to boost that TV, you're less likely to steal said TV. Statistic after statistic bears that out as the truth. If you live in a place where punishment for committing a crime is reduced, you see crime increase every single danged time (e.g. Chicongo, NYFC after Giuliani, San Fran, etc.) The latest salvo of DA's not prosecuting certain crimes under the guise of racism has got to be the stupidest argument yet profferred by these baffoons. Which frankly is fine with me, let them cook their own stew! I will laugh a thick hearty belly-laugh when they complain that the animals inside the cities are eating them alive. Yes, cut your police budget, that'll fix it!!! Send in the social workers!!! This trajectory is getting worse. The divisions within our society are becoming greater, and it will serve to fracture our country. Thats by design, btw.

At the end he makes a good point: write your s/n down on a piece of paper in your house. https://www.kcra.com/article/polk-city-iowa-arkansasgun-stolen-from-returned-26-years-later/38703367

That does seem odd... I'm reading that as a bore size reading "up to" whatever number, from the previous size. So in this case, from 9mm UP TO 50, meaning 40s and 45s inclusive?

Oh please, that was staged by the fbi... "Mostly peaceful protests" were more violent then that 'event' where people stayed inside the velvet ropes and took selfies with capital police. Irrespective, it has nothing to do with the events discussed, but thanks for distracting from the topic with partisan politics! It definitely helps the discussion.

Distract from the core argument about were crimes committed by turning it red/blue political. We have evidence of crime. Stop the debate right there, everything else is kabuki theatre that distracts from the need to deal with the crimes and treason.

...And knew damned well where it was going and what they were doing with it. His wife signed the check! He was the one that brought world health alliance in to run it since obummer told them they couldn't do it at Ft Detrick anymore, and DARPA said Nope, illegal as hell. That would be "Lying to Congress under oath for 25 to life Alex"

Project Veritas has an impeccable record. They have never been sued, nor retracted anything published.

Yessir, Karl Denniger has been an independent reporter for many years. I hear CNN has a pretty website. Maybe try them. They seem pretty trustworthy.