Posts

16,493

Joined

Last visited

Days Won

291

Feedback

100%
About TGO David

Profile Information
Location
Gender
Occupation
Miscellaneous
Handgun Carry Permit
Law Enforcement
Military
NRA
Carry Weapon #1
Carry Weapon #2
Social Media
Website URL

https://www.tngunowners.com

Instagram Profile
Recent Profile Visitors
The recent visitors block is disabled and is not being shown to other users.
TGO David's Achievements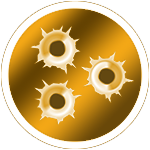 Postus Maximus (5/5)
10
Community Answers
Everyone claims that the Glock grip angle is as natural as pointing your finger at something. I used to buy into that, but personal experience says that my natural pointing position isn't quite compatible, and neither is most anyone else's. I can hand most people a trainer Glock (or empty) and tell them to look at something across the way, close their eyes and then point at it, and the Glock won't align for them. Tell them to do that empty handed and they can point their finger at the same object with pretty good accuracy. I think the real sauce with Gaston's design is that he figured out that his grip angle uses natural biomechanics to combat recoil. And he's not wrong about that. I've said it often: This is why we have so many different gun designs to choose from. There is no true one-design fits all. I carry my Sig P320 or P365 more than any others now, and I've shot Glocks for over two decades.

Honestly, most folks that I have helped and who have said that they initially have some trouble finding the dot on a Glock running an optic end up also finding out that they are cross-eye dominant (right hand and left eye, or left hand and right eye). If you are a right-handed shooter, try pivoting your head ever so slightly to the right as you bring the gun up to eye level. Pivot the other way if you're a lefty. If that improves your ability to instantly snap the gun + dot to alignment with your eyesight, surprise! Other than that, yeah, the Glock grip angle isn't as neutral or natural as the 1911, P320, etc.

I just updated the first post in the thread with mine. I took the IFAK off for the moment. Trying to find the best place for it on the belt since it's really for use on me, by someone else, if I get hurt. I added a basic tourniquet holder, though, since I might need to use that myself.

Sad. Yet another law enforcement officer who needs improved handgun accuracy.

I am resisting the urge to buy a ROMEO2 for my P320. The review that Sage Dynamics did on the optic is excellent.

SIG SAUER 'Soft Launches' the New P320 XTEN 10mm Pistol - The Truth About Guns Everyone knows that the best millimeter is 10mm, and now Sig Sauer is going to let you get your 10mm on in a P320 form-factor with 15+1 capacity. Dig it!

14

It's been a while since I had a legitimate "battle belt" set up for use in classes, so I am putting one together and would love to see what you guys are using. The basis of mine is a VTAC Cobra Belt wrapped with a VTAC Battle Belt for some weight distribution and MOLLE panels for hanging stuff off of it. I've added a Safariland Universal Belt Loop (UBL) and Quick Locking System (QLS) receiver for connecting a holster to it. The holster I am running right now is a T-Rex Arms (yeah yeah whatever) Ragnarok light-bearing Kydex holster for my Sig P320 X-Carry. It snaps into the Safariland QLS receiver with a QLS locking fork. I went ahead and added a T-Rex Arms thigh strap to the UBL so that the holster doesn't want to come up with the gun on a draw. I've also added three High Speed Gear (HSG) polymer "taco" pistol mag pouches to the weak-hand side of the belt, a Maxpedition Gear "Rolly Poly" dump bag just behind them. Last but not least I have a Dark Angel Medical Individual First Aid (IFAK) just behind the hip on the strong-hand side of the belt. I don't want to hang a bunch of needless crap off of the rig, but each of the items above has a purpose. Not surprising to me at all, this setup still feels lighter on my waist/hips than just trying to hang the dump bag, holster and spare mags on my carry belt do. I'll try to snap some pics of the setup soon. In the meantime, show me yours or at least tell me what you've got. Edited to Add... This is mine at the moment. It's pretty spartan.

My experience is that a Shadow Systems gun trigger isn't at its best until at least a thousand rounds of shooting. Dry fire helps, but grit and grime and shooting really smooths it up.

@MacGyver when did you stop liking guns?!?

You're set for the company Christmas party now!