Posts

16,757

Joined

Last visited

Days Won

305

Feedback

100%
About TGO David

Profile Information
Location
Gender
Occupation
Miscellaneous
Handgun Carry Permit
Law Enforcement
Military
NRA
Carry Weapon #1
Carry Weapon #2
Social Media
Website URL

https://www.tngunowners.com

Instagram Profile
Recent Profile Visitors
The recent visitors block is disabled and is not being shown to other users.
TGO David's Achievements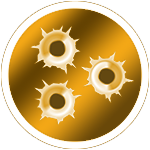 Postus Maximus (5/5)
10
Community Answers
Contact - Cloud Defensive I'd contact Cloud, tell them what happened, and ask for advice before I did anything else. If you go the gunsmith route, you just want it drilled and tapped. Taps form threads on the female portion. Dies form threads on the male portion.

SOLD! Grizzly G0863 Dust Separate Cyclone for Woodshop or Workshop This unit is virtually brand new. I hooked it up once to confirm that it would work, but then went a totall different direction with a homebrew setup. Go figure. This cyclone sits between your dust collector and your power tools (table saw, miter saw, router table, jointer, band saw, etc.) and collects the vast majority of sawdust or other debris so that it doesn't damage the dust collector's impeller or clog the dust collector's filter and bag. It works REALLY well. These are also used by knifemakers and Kydex holster makers to save their dust collectors from abuse. You can learn more about this thing here: Grizzly Growler Cyclone Separator at Grizzly.com Terms of Sale Retail price is $395 plus shipping. Will sell to a TGO member for $250. Price is firm. PayPal or Cash Local pickup near Franklin and Spring Hill. More Photos

Bumping back to the top. Past few sales have failed to come together.

Y'all need to sip your iced lattes and talk more about shooting your off with Sig P320s.

Jesus wasn't a fan of religion either. Religion gets in the way of an actual relationship with him. Just something to think about. Really glad to hear that things are improving!

I think you have to be a lawyer to come up with a term like that.

He is talking about the integral safety in a Glock's trigger shoe. Other manufacturers use different approaches. S&W uses a hinged trigger design that accomplishes the same thing in the M&P. He's still FOS.

I'm sure that the FOP lawyers coach them on what to say in these cases, and it's always "the gun".

These people are full of #### and the cops are blaming the gun rather than their own incompetence. Hard stop. Do you know who Bruce Gray is? Bruce is a master gunsmith and owner of Gray Guns. They have a very heavy focus on Sig Sauer firearms at Gray Guns and he knows a thing or two about the P320 and about how to test things. He recently did an exhaustive test on the P320 to see if it could fire out of battery. It cannot. P320 out-of-battery testing - Grayguns This video also addresses the recent ridiculous claims.

The only thing better than an incendiary device is a cheaper incendiary device!

What makes it the best? What have you compared it with?

Summary Upgrade of forum software for May 2023 Explanation IPS Community Suite 4.7.10 Released 05/09/2023 https://invisioncommunity.com/release-notes/4710-r121/

My first computer was a Commodore 64 with a 1541 floppy drive. I bought a 110 baud acoustic coupler modem for it with money that I made from mowing relatives' lawns. Later I got a 300 baud modem for and it started running a BBS at night on the family phone line. My parents barely tolerated that by unplugging their other phones. My first PC was an 8088XT clone, then an 80286, a 80386, 80486 and finally into the world of Pentiums. Somewhere in there I started another BBS running on a single dedicated phone line and eventually I had four lines on a BBS before the Internet took over. And then... forums! Such a damned nerd.

I know you haven't had the easiest time over the years. I'll add to what @Chucktshoes said and will offer my own prayers for whatever might be happening behind the scenes to inspire your post. You've got a good network of support here on TGO. Reach out as you need to.

I'm not very imaginative.