Posts

4,788

Joined

Last visited

Days Won

27

Feedback

100%
About Capbyrd

Profile Information
Location
Gender
Occupation

Digital Distribution Manager
Miscellaneous
Handgun Carry Permit
Law Enforcement
Military
NRA
Recent Profile Visitors
The recent visitors block is disabled and is not being shown to other users.
Capbyrd's Achievements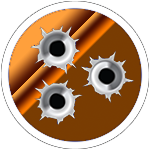 Prolific Contributor (4/5)
1
Community Answers
I know it's late, but… https://products.radacutlery.com/collections/kitchen-knives

You're starting to catch on.

Guess I ain't gonna make it.

That's both terrible and genius. I was just joking.

If you don't have eggs, it doesn't matter what happens to the basket!!!!

That looks less like they are providing protection than ensuring he does what they tell him to do. Generally providing protection requires looking AWAY from your protectee.

Oh I absolutely understand. But we are talking about 5-20 mph for usually less than a couple miles. I'd take that chance to keep the bike from overheating or myself from getting smashed by inattentive drivers. Tires are cheap. Engines and hospital bills are not.

I stopped by the shop Tuesday and ordered a new front tire. I haven't ridden mine enough cause it was dry rotted and cracked all over the sidewall. Hope to have it installed next week. Admittedly I haven't ridden as much I want to.

The shoulder bill was limited to interstate and highways. And it was only under very specific circumstances. And you couldn't go more than 5 mph faster than traffic, and only to the next exit. In my mind, it was a perfect bill to protect us and our bikes.

A few years ago they had a bill to allow us to use the shoulder on the interstate in cases of traffic Jams. It failed but I liked the bill.

They will be doing traffic stops on the interstate but unlike scorpion, I do not believe they roll as a unit. And no, they weren't recently deactivated. It's been several years at least.

STEU is not Scorpion Unit. All Scorpion officers were reassigned to OCU. STEU is the cars that you used to see with the flip up yellow arrow on the roof. They are supposed to deal with incidents on the expressway and assist with traffic control during critical accident investigations.

I had a high tower years ago and the trigger was awful. I used an excessive amount of electrical tape to take up some of the slack in it but it was still pretty bad.

https://www.maxpedition.com/collections/legacy Maxpedition legacy series all on a buy one get one free sale.

Put your readers on granpa!