Posts

15,061

Joined

Last visited

Days Won

122

Feedback

100%
About Garufa

Profile Information
Location
Gender
Occupation
Miscellaneous
Handgun Carry Permit
Law Enforcement
Military
NRA
Carry Weapon #1
Garufa's Achievements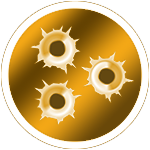 Postus Maximus (5/5)
6
Community Answers
It in no way stands for National Match. At one time it did mean that the majority of final production was completed in the US. I don't know if that still holds true or not.

Google tells me this is more common than thought. General idea is that the first round, being manually chambered and not under the full power of the action cycling as it is after subsequent rounds is not chambering the round fully, completely, or good enough. On that first round, try pulling the bolt all the way back and letting it fly home under it's own power. Don't ride it. Or maybe even give it a little nudge after it's loaded. I think it would be real easy to verify. When you're on the 9th round in a magazine, drop it and insert a full mag, then keep firing. Can't remember having this issue on mine but it's a good excuse to go out shooting and see if there is a difference.

Is the screw holding the action into the stock tight?

I'd Jethro Bodine it and tie some straps from the wheels up to that roof rack.

HO is the most common scale but there are several others. What size tracks do they go on?

Y'all trading the podunks for the boondocks? Haven't been there since I was a kid but the Shiloh National Military Park is not too far away. There was a significant battle fought there at one time. https://www.nps.gov/shil/index.htm

"Florida Man" is well known for his antics.

He's not going to sale anything looking at people like that.

From their FB page: "As of Friday May 12, 2023 we will no longer be accepting new transfers. If you already have one being sent you will be able to pickup it up. After five years of providing Mt. Juliet a fun, affordable range we are unfortunately shutting down the Range as our lease is set to end at the end of May. Our last day of being open to the public is Wednesday May 17, 2023. Movers will arrive on Thursday and start moving everything out."

I wonder how long until the government issues a subpoena for all FPC member records, including those who have joined since the temporary injunction was issued.

I saw a Lucid being towed from the parking garage today downtown where I park. Have no idea why but that car has a reserved spot, as do many others, but the owner of this particular car managed to have a Lucid charger installed in this semi-public garage. Those cars start at around $75-85k I think. Usually over $100k.

I see your mind is in the gutter as well.

Not until we get "saw" and "seen" resolved.

I'd you really want to sale it you'd put a price on it. How much you looking to get out of that sell?