Posts

5,763

Joined

Last visited

Days Won

34

Feedback

100%
About Omega

Profile Information
Location
Gender
Interests

Hunting, Fishing and the Outdoors

Occupation
Miscellaneous
Handgun Carry Permit
Law Enforcement
Military
NRA
Carry Weapon #1
Carry Weapon #2
Omega's Achievements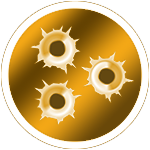 Postus Maximus (5/5)
For hunt camp, or tailgating. $127 https://www.walmart.com/ip/Blackstone-Adventure-Ready-22-Propane-Griddle-Gift-Bundle-in-Black/124068209 Just got mine in and it's a bit heavy, which is good, the griddle is quite stout and makes up the majority of the weight. The carrying case seems well made but is a bit tight when you first use it. I also ordered a hose to run a 20lb tank, though the 1lb runs it pretty good for about an hour and a half, enough to get through a meal or two I would think.

You can have it in an auto, take it to the range and buy ammo.

Not supposed to, I think there has to be more energy, 2k fps, to do so.

That looks like some serious pressure sign, possibly the infamous powder position detonation. Did the previous round sound right, and did it hit the target?

You mean the guy in the back with a woody?

Same here, and also ordered from these guys: https://ar500-targets.com/ they have sales quite often and some good target shapes along with the standard shapes.

Primers are hard to kill, even intentionally. I would use them to develop your loads, if one fails to go off, no loss, just pull the bullet and reuse the rest of the components. Just be sure to let them dry for a few days.

Was it really worth it? Apparently some are slow learners. https://gab.com/SomeBitchIKnow/posts/109083247057721817

1

Post the pic, maybe I or someone else would have better luck.

I use the pillows, and find them much more comfortable since I flip often. The VA started me off with the one you have, and it was ok for a bit, but the pillows are much better.

I do it on my phone with an app called photo compress. I reduce even the ones that are hosted on imgur because my phone takes 3 to 4 gb pics. Android: https://play.google.com/store/apps/details?id=com.saawanapps.photocompress&gl=US I am sure a like program is on Apple, but I don't have one to recommend.

I've always thought doing long range shots like this was maybe zeroing a rifle, then maybe doing a few calculations and a shot or two to make the hit, but that many?

What, you didn't catch the wall to wall coverage, gold coffin burial, of a felon who died of a drug overdose?

As a kids we used to drop ants into the funnels, it was cool watching the ant lion use its pincers to pull the ant under.