Posts

5,886

Joined

Last visited

Days Won

35

Feedback

100%
About Omega

Profile Information
Location
Gender
Interests

Hunting, Fishing and the Outdoors

Occupation
Miscellaneous
Handgun Carry Permit
Law Enforcement
Military
NRA
Carry Weapon #1
Carry Weapon #2
Omega's Achievements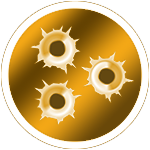 Postus Maximus (5/5)
Yea, same here, they must be heading south and just taking a break before they continue on. Last year, some stopped at my place on the way north and stayed, but usually it is only one or two that stay all season.

I got Tremidor from these guys and followed these steps when I found termites had infested a corner of my garage. Took care of the colony, cost a fraction of what the pest control guys wanted, and stopped any further damage to the frame around the old garage door.

I was the same way, but last week I noticed the feeder level was lower than usual, so started watching for more birds, sure enough there are now more.

Well sure, but there are not too many career military men left that will take one for the team when someone finds out.

Legit Black programs have congressional oversite, any program that does not is illegal because there is no appropriation to fund them. If the UFO/UAP programs exist, they should have a line of accounting somewhere, it may not be available to every congressman, but some committee or another should have knowledge of it.

Wow, sure glad she wasn't hurt worse, and that she didn't have any passengers, because it looks like it would have been bad for them.

I love my surface pro. You should check with the UPS manufacturer, many have warranties to cover equipment connected to their UPS. Sorry you had to go through that but glad your insurance is covering at least some of that.

Most Garmin units that mention Geocaching will have all the features you need, I have four units, the two with GMRS radios are pretty good, and they can send positions between the two radios. My units are a bit older but they still function fine, and I loaded the TOPO maps interlaced with the roads and trails map for utility reasons.

And the hits keep coming for the ATF

Those weird cold snaps may have halted their usual migration. Last year I started with just a couple here and there then towards the end of the season I had a bunch, figured they used me as a stop on the way south.

Not me, just have one as far as I can tell, he just sits there drinking without worrying about being buzzed.

Video at the link has been pulled, it's here, for now. https://townhall.com/tipsheet/juliorosas/2023/06/18/biden-might-have-said-the-dumbest-thing-about-firearms-stabilizing-braces-n2624635

Ah, now I get why they want to outlaw them /sarc https://twitter.com/Breaking911/status/1670168576571965446

Related to Kamala no doubt.