Posts

2,757

Joined

Last visited

Feedback

100%
Profile Information
Location
Interests

Things that go bang and things that go vrooom..

Occupation

They see me rollin... They hatin'...
Miscellaneous
Carry Weapon #1
Carry Weapon #2
Recent Profile Visitors
The recent visitors block is disabled and is not being shown to other users.
poak's Achievements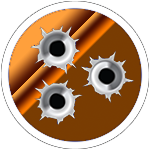 Prolific Contributor (4/5)
I'll definitely be buying one or ten.

Great book, look forward to reading his current release, "Service". I'll go see the movie for sure, it's got a lot to live up to. I read somewhere that Wahlberg wasn't going for a dead on depiction of Marcus... Seriously, how would a bean town boy accurately portray a Texan anyway, haha. For those of you looking for some other good reads, I highly recommend Horse Soldiers and Lions of Kandahar.

If you're on a budget, and its going to be a duty weapon: Aimpoint PRO. They work, they are built like tanks, and their battery life is unparalleled. I got mine for $385 shipped.

Man, hats off to the ingenuity some of these guys have got... However, this does look like stuff from some steam punk or scifi movie that wasn't meant to be held by humans.

Yeah but you're all fat and stuff. Haha, j/k. For ME (5'-8", 160lbs and fairly lean) it just didn't conceal that well. Full size glocks (though compacts are preffered) and their "slab-sided" feel always worked better, for ME.

I'll agree with those who have stated that diet is the most important aspect to consider. Check out the paleo/primal approaches to eating. The focus is more on quality than quantity (you aren't weighing/measuring EVERYTHING you put in your body) and largely aims to cut out excess sugar.

I owned one of these for a while a few years ago. Personally, I really liked it, BUT... If you want a pistol for concealed carry, this isn't it. It's a full size pistol and despite it's polymer frame, feels every bit as heavy as the rest of Sig's P series.

Yeah, Costa is starting his own training/consulting group. Costa Ludus

Looks like someone needs to take up milling Glock slides for micro red dot sights...

Oakley SI Gascan S and Oakley Ducati edition Gascans

I was really interested in the 556R when it first showed at SHOT. QC concerns have been ever growing of the rifles being pushed out by SIG USA, and these concerns have extended to the 556R. Military Arms Channel got one of the first production run rifles and he had a really hard time with it. Seemed he just couldn't get the thing to run with current production Wolf ball ammo. Now, if I buy a modern semi-auto rifle chambered for 7.62x39, it damn well better run whatever cheap crap I decide to run through it... If not, why not stick with an AK? The Kalash family are not picky eaters...

Unfortunately, most gun shop experts are not so much experts as people who read something somewhere one time on some forum from some other guy. There is a world of difference in a CAI kit build and an Arsenal.