Posts

2,393

Joined

Last visited

Days Won

2

Feedback

100%
Profile Information
Location
Gender
Occupation
Miscellaneous
Handgun Carry Permit
Law Enforcement
Military
NRA
Carry Weapon #1
Luke E.'s Achievements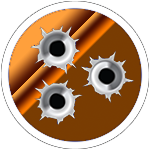 Prolific Contributor (4/5)
1
Community Answers
Yes, I totally get that. That's why I was hoping someone had bought the same stuff from David when he had it. I do remember roughly what charge weight he suggested so I'll back that down and start working back up.

Yea, one of the pulldown powders he sold (846) is really close to Blc but the stuff I'm questioning I a small stick powder.

That he was. I always enjoyed hanging out with him at his place and Gun shows.

I've got a thermal for hogs and yotes when I'm in FL and it's fun but I enjoy hunting yotes in the day better.

They will focus on the source of the sound and they are master at doing it. If you're using an ecaller they should focus on that as long as you're being still and have kept the wind right.

They are very responsive this time of year! Every Stand is different but generally I give howling a chance a few times to try to get a response and then will go into prey distress if the vocals don't get any traction. Cottontail and woodpecker are both good to try and if you get a response with the howling but nothing rolls in, vole squeaks can often times coax them in. if that doesn't work you can try some pup distress before leaving the stand. What call are you using?

Congrats on the deer! How have you been buddy?

I ordered tungsten shot to load coyote shells and got online to order empty hulls to load and pretty much everything is sold out. I certainly wasn't expecting to see that.

I've got a lab radar and I'm comfortable that I can find a safe starting point. Was just hoping someone was familiar with this particular powder to save some time and components. Not a huge deal. I appreciate the reply!

All in a good days fun I guess.

Thanks! I had actually read through those. David had given me a few loads he worked up for .223 using the powder and I feel like the comparable powder he mentioned was an Accurate powder rather than the imr 4895. I was just looking at the jug earlier wondering what all I could do with it. I'll certainly be cautious.