Posts

5,104

Joined

Last visited

Days Won

14

Feedback

100%
About rugerla1

Profile Information
Location
Gender
Occupation
Miscellaneous
Handgun Carry Permit
Law Enforcement
Military
NRA
rugerla1's Achievements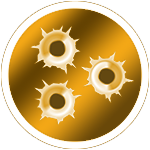 Postus Maximus (5/5)
First time hearing about this one, relatively new business?

At Primary Arms 48 HR Sale Andro Corp Industries ACI-15 5.56 Bravo AR-15 Rifle - 16" For $399 https://www.primaryarms.com/andro-corp-industries-bravo-556-ar15-rifle-16in

I haven't but that's a cool idea. I hope someone here did get one and noticed it!

Last Sunday I got out for the first time this year. Went out to my friends house to tinker with my NV and thermal scopes. We ended up heading across the road to another farm and called this coyote and another one that didn't stick around. 3" TSS load dropped this one as he was coming straight up the ridge to me, the call was between me and the coyote. Shot was at about 35/36 yards and he dropped like a sack of potatoes. I love rifle shooting and field hunting, but shotguns in the woods is a whole different level of excitement. Hoping to get out again tomorrow if things go right.

Thank you. I'll be taking my time for sure. I absolutely love the knife so far, already put a couple small drops of oil in the pivot point and spent some time working the blade back and forth. Honestly though, it's sharp, but I expected it to be more impressive out of the box. I've already learned that people get confused with "30 degrees inclusive" being both sides being sharpened at 15 degrees. Had I not read so much the past few days I'd have been confused too. Looking forward to learning more about sharpening not just for the new knife but for all of them.

That is another thing I will have to get. I've watched some videos over the years while searching simply for ways to sharpen. Some people really get scientific in their methods and some that are too complicated for me. While I respect their dedication and knowledge immensely, I just want to know how to put a good edge on a working knife and better edge on edc for emergency situations. However I'm going to make it a goal to try to practice more weekly and hopefully look back one day and think "dang, should have learned this a long time ago". Thanks again for the help MacGyver. I'm watching videos on that StropBros stropping setup now.

Thanks y'all. That KME Precision is the type of newer design I was interested in. Thanks for the direction on that. The Spyderco tool looks pretty nice as well. I've got a lot of knives to practice with so I'm gonna watch some videos on the types y'all recommended and do some planning.

I just ordered a Benchmade Freek (super freek). I know they have the Life Sharp program and will sharpen, clean, and lubricate if I send it to them. But from the standpoint of maintaining an edge I'd prefer not to feel like I need to send it to them all the time. I've never been skilled with sharpening my own knives even though I've been decently successful for the most part. It's a learned skill through a lot of trial and error for sure. I've seen a few of the modern sharpening systems and although they aren't cheap, it may possibly be worth it to me in the long run. Just curious what y'all use for maintenance of your edges even if most of you say you use a stone which is my archenemy some days haha I don't mind practicing on the stone with my old working knives but the thought of practicing on a better grade steel makes me somewhat nervous. It seems the M4 steel can be "harder to put an edge on" but holds the edge well once it's established. I feel like I need to look at one of the modern setups while still practicing more with my older knives on the stones. Especially since having that knowledge would be helpful in the field whereas a modern sharpening setup won't fit in my pocket. I'd appreciate any input on whether I'm overthinking this. I am however really excited about getting this knife!

Wow, that's definitely an eye opening audio clip. I hate that so many people are gonna lose money over this company's actions/non-actions.

Wow, hadn't heard that! Thanks for sharing.