Posts

2,508

Joined

Last visited

Feedback

0%
Profile Information
Location
Gender
Interests

Hunting, shooting, collecting, spending time with family

Occupation

Machinist in die shop at Cummins Filtration
Miscellaneous
Handgun Carry Permit
Law Enforcement
Military
NRA
Carry Weapon #1
Carry Weapon #2
Quavodus's Achievements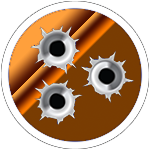 Prolific Contributor (4/5)
I need a rugged smart phone too. one that I can slam against the floor or ground, and it'll still work. Lol.

Yeah, there's a lot that are willing to pay ridiculous prices. My cut off is about $7.00 a hundred. Although I have to admit, I bought a few at $10.00 a hundred awhile back. Hope I never do that anymore.

He must've drank a lot of beer or something.

The "primer shortage" bothers me too. I look for primers almost every time I stop at a gun store. No luck for awhile now. Finding bullets for reloading are a problem sometimes too. A lot of the cast bullet companies are sold out a lot of the times.

Yeah, I saw a little .45 Today. Not great prices but, was some available. I've started loading some too.

Colt SAA and a Winchester 92? Movie, I have no idea.

Didn't seem to be a "hot" load. Looked at the brass after seating deeper and firing. Primers looked good, and shot good. My load is 5.0 gr. Unique and Winchester standard primers.

I bought a Promag 8 round magazine Yesterday at Academy. I've not tried it yet. But, everything I see online says it's junk. Nobody likes them. I'll just have to find out for myself.

Mine is the 4". I think it's a goodun for the price.

Probably Covid. At least that's what Falsey would say.

Yeah, you have to be careful these days, just being a helpful person. I don't stop anymore for anybody I don't know. Lots of people now are just crap.

Sorry for both of your losses. The 19th of this month will be the anniversary of my fathers death. 53 years ago. Bless you both.

Shot the Tisas 1911a1, and put about 60 rounds through it. Doesn't like 200 gr SWC at all. Had to do the old slide slap several times. Might have to seat a little deeper but, don't think that will help much. Probably have to get a different "clipazine". Shoots and feeds fine with 230 gr. FMJ and 230 gr. HP.