Posts

3,992

Joined

Last visited

Days Won

76

Feedback

100%
About Grayfox54

Profile Information
Location
Gender
Occupation
Miscellaneous
Handgun Carry Permit
Law Enforcement
Military
NRA
Grayfox54's Achievements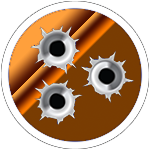 Prolific Contributor (4/5)
I'm afraid stupidity knows no boundaries.

The whole thing could have been avoided if the city had just let him build his road. Why would they not? "Every normal man must be tempted, at times, to spit on his hands, hoist the black flag, and begin slitting throats." ― H.L. Mencken

I got a e-mail from Gun Owners of America today. GOA has gotten a federal judge to issue a preliminary injunction protecting all its members from the brace ban. I'm a long time member as I suspect many others here are as well. However, I think I'll wait until this plays out in the courts before I put my brace back on.

I believe that EVs are the wave of the future. Some day that will be what everybody drives. But the technology just ain't there yet. I'd guess it'll be probably another 20-30 years before they're truly practical. Until then its just another greeny dream that they can fuss about.

I guess now along with the background check you'll have to pee in a cup.

12 gauge loaded with slugs. Put the first shot into the shoulder to cripple and slow him down. I read a book about bear attacks some years ago. Bears don't like people and generally try to avoid them. Most attacks occur when the bear is busy with something else, not paying attention and the human surprises them. Make noise when you move, sing, hum, do anything to alert the bear to your presence.

Well, y'all know me and Smith & Wessons. 17-5 17-6 Full Lug, a pair of 18-3s and a 34-1. One of my 18-3s was modified by the previous owner with a Red Ramp front sight, smooth trigger and a wonderful action job. I added a set of my favorite combat grips. I give this gun full credit for teaching me how to properly shoot a revolver in DA mode.

My favorite .22 revolver is the 4" S&W Model 18. Its a K-frame and very easy to shoot well. The 6" model 18 is also an excellent revolver. Often used for hunting and pure target shooting. Then on the smaller J-frame there's the Models 34 & 63. None of these are cheap, but they're well worth the money.

I have a 1964 Clark Longslide that's the best 1911 I've ever owned. His work is legendary. I'm sorely tempted. But its beyond my budget and too far away.

I can't speak for the Target model, but I had a 2" Pathfinder snub once that wouldn't hit the side of a barn from the inside. Charter Arms QC can be spotty. You might get a gem or you might get a turd. Only way to find out is to shoot it.

I guess next election I'll be exploring alternatives.

I'm confused. Like most politicians, he talks in circles. He seems to be opposing the bill, but then at the end, did he not say he was sponsoring it? Exactly what is he saying? BTW: Rose is my senator. I've voted for him and e-mailed him several times on 2A issues. He has always seemed very pro-gun to me.

I found this on another forum. A very thought provoking article. https://amgreatness.com/2023/05/17/the-hate-industry/

Prayers sent. Hang in there girl. They can do wonders these days.