Posts

3,193

Joined

Last visited

Days Won

57

Feedback

100%
About Grayfox54

Profile Information
Location
Gender
Occupation
Miscellaneous
Handgun Carry Permit
Law Enforcement
Military
NRA
Grayfox54's Achievements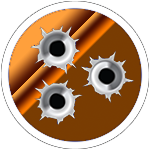 Prolific Contributor (4/5)
If anybody is interested, here's what I got: 28 rds 6.5 Jap. Norma cases Aprox 100 rds 7.7 Jap. Modified .30-06 cases Aprox 150 rds 9mm. Mostly 125gr lead but some 100gr SP (.380 bullets) The 9mm is downright dangerous! I tried it and had a couple of case ruptures! NO NOT SHOOT THIS ####!!!!! If you want it, all ya gotta do is come get it.

I have some unknown reloads left over after my best friend passed a few years ago. I have no idea where he got it as he didn't reload. Some I have no use for and some is just dangerous junk. Frankly, I just don't have the time or interest in breaking it down for components or trash. I've never run into this situation before. So what's the best way to dispose of it?

Mossberg did something similar a few years ago with their 464 SPX model. It even includes an AR style adjustable butt stock. I love lever guns, but I prefer the more traditional styles. Not the least bit interested in a tacti-cool version.

Many years ago, I had a coon take up residence in my attic. I called TWRA who put me in touch with a local trapper. The trapper set live traps and caught the coon fairly quickly. No charge either. I can only guess that he made money on the pelt, but he never really said what happens after they're caught. I honestly don't know if anybody still does this, but it won't hurt to ask. One thing that trapper taught me is always cover your trap with something. A small tarp will do. He had wooden boxes built the perfect size for the trap to slide into. He said that raccoons are smart. They know a trap when they see one. However, they're so curious that they will investigate any dark hole they find.

I ain't about to part with any of mine. Aside from GunBroker, you might also take a look at the For Sale section of S&W Forum. You can probably find what you're looking for there. But its gonna cost ya.

Erich, I wasn't really trying for groups. Plus read my disclaimer in the review. So maybe, I'm not the best to speak of just how accurate these guns can be. I can say that I'm more than pleased with the accuracy as a self defense firearm. The 10 yard target shows that. I can say its on par with my other Hi-Powers. I am certain that in steadier hands and with better eyes, the gun is capable of shooting much better than I did.

My serial number is in the 65XX range. I hope they got the bugs out before mine was made. I also suspect that SA is using a bit stronger recoil spring or at least it feels that way to me. The two failures I had, the case cleared the chamber, but was caught on top of the mag. Anyway, I'm happy!

Range Report : Disclaimer: I'm old and not in the best of health. So don't expect precision shooting. I got it to the range today. Beautiful day. temps in the mid-70s and a light breeze. I decided that rather than just stand there and punch holes in paper that I'd take it to the action range. There I could draw from the holster, shoot steel and move around. Give it a good workout. ;) Here's the range bay as I set it up. 9 targets ranging from 10 to 25 yards. Ammo was mix of what I had on hand. Winchester White Box 115 & 124 gr FMJ Remington Golden Sabre 124 gr. Handload 124 gr LRN Handload 124 gr plated FP. All told I put about 300 rounds through the gun. Overall, I'm very pleased with the gun. Its no tack driver, but plenty combat accurate. The trigger is a bit heavy, but Hi-Powers generally are. It is quite smooth though. The sights are excellent. They give a well defined sight picture and are easy to pick up. I really love the shape of the thumb safety. Positive clicks on and off, big enough to easily work, but not so big as to be bulky. Springfield hit a home run with this design. I did have three malfunctions. Two failure to fully eject and one feed ramp jam. All of these were with my reloads, so I suspect it was the ammo at fault. Generally I started from the draw and just ran the targets until the mag was empty. The steel was easy at all ranges, just couldn't miss. I got good A & B zone hits on the silhouettes at all distances Although they were scattered about a bit. Here's the paper target which was at 10 yards Bear in mind that this was with several types of ammo. It does seem that I need to adjust the rear sight slightly right. I also manged to chase an empty Dr. pepper bottle around the range a bit. Conclusion: Its a Hi-Power with all the desired upgrades. I like it!

CMP isn't currently taking orders. But it is the best and cheapest way to get a pure G.I. Pistol. Keep watching, they'll sell more sooner or later. Monkeylizard, you'll just have to keep your eyes open and hopefully get lucky. G.I. pistols are getting harder to come by. Also be prepared for sticker shock. They ain't cheap.

Well Chuck, I'm glad you changed your mind. Thanks again!

True, but that ship sailed a long time ago.