Posts

4,823

Joined

Last visited

Feedback

0%
About molonlabetn

Profile Information
Location

Tullahoma, Tennessee, United States

Gender
Miscellaneous
Handgun Carry Permit
Law Enforcement
Military
NRA
molonlabetn's Achievements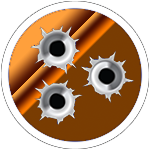 Prolific Contributor (4/5)
Good shoot today guys, I had a blast. Thank you. Next time I'll zero my optic beforehand, who knew that would be so important... Heh.

I had hoped my review would begin under different circumstances... Customer Service... Sigh. First, here is the product in question: http://www.holosun.com/index.php?route=product/product&product_id=63 Ordered on 6/20, received on 6/24. The sight appeared well built and finished. Decent mount, bright reticle, solid glass... Very light and streamlined profile (more so than an Aimpoint micro). Mounted it on an AR and let it sit a week 'on'. Checked on it today and it was dead as a doornail. Tried changing the battery... No dice, plus, the battery compartment hex-screw heads started to strip after a handful of disassembles... Called Holosun at 6:30 CT today and left a message detailing my experience thus far and requesting a return label. Got a call back within 5 minutes from 'Dale', he promised me an overnighted replacement by Thursday that I could wring out and keep, or return both units if I was still dissatisfied. That's where I'm at thus far... Their 21st order for this sight sitting inop in my range bag, and another on the way. I'm gonna wring the piss out of the new one and then either follow up with a glowing report for Holosun products and service, or defecate all over them throughout the interwebs. More to follow.

http://www.sgammo.com/product/federal/50-round-box-9mm-luger-federal-hst-147-grain-hollow-point-le-ammo-p9hst2-limit-5 http://www.sgammo.com/product/federal/50-rd-box-9mm-federal-hst-124gr-hp-hollow-point-le-ammo-p9hst1

Cool, so bring 2 boxes each of pistol & rifle, 3 boxes of birdshot and one of slugs and we're covered. Is it still $20? I'm psyched to get back into this after so many years.

I had a missed call from a Nashville number a little while ago... No message.

If you're shooting something that will blow through 5ft of dirt, be sure to invite me over to watch! Even .50bmg will only go in a couple feet.

Never used an illicit drug ever in my life... And have no interest in doing so. But as far as I am concerned, possession and private use of marijuana should have no more bearing on gun ownership than alcohol does. Penalties for causing harm to others while under the influence should be stiffer than they currently are, however, and public intoxication charges should still apply when not on private property.

That means it was a 9mm assembled in 1981

I'm no collector, but I'd consider $650 a great price for a BHP from that era, provided it's in good condition function and appearance-wise. I've seen pristine early model BHP priced upwards of a grand.

I'm intrigued by this pistol... I'm not a fan of the paddle style magazine release on the h&k and Walther, but if it shoots anywhere near as well as a p30/hk45, with a striker firing mechanism, odds are good that I will buy this instead of another Glock. H&K does have bragging rights on making the very first polymer framed pistol ever, which was striker-fired (VP70). Good to see them getting back to their roots.

http://www.browning.com/customerservice/dategun/detail.asp?id=35

Only way I'm leaving my house is in an evasion or disaster evacuation scenario... Otherwise I'll take my chances with every resource at my disposal until I am forced to leave... And if that be with only one pistol, it will be with whichever one I have the most ammo for, remaining. As far as 9mm vs. 357... Finding ammo will be a crapshoot at best, but if it gets so bad we're still wandering around after expending most of the ammo we started with, you bet there will be U. N. 'peacekeepers' on the ground who will 'provide' 9mm more readily than 357, if it came to that.

I use a 20mm can to hold all of my boxed premium JHP pistol ammo... 10x 50rd boxes each of 9mm & 45acp, with room to spare. I'd like to get another one for stationary storage of 5.56, surely it would hold 2500rd or better, loose.

I did the same thing back in college, got a ticket in Kentucky and forgot about it completely... Months later rummaging I happened upon the ticket and called the court clerk. They told me I had a warrant out and had luckily not been pulled over in the meantime. They let me pay the ticket and it went away. All they care about is the money.