Posts

326

Joined

Last visited

Feedback

100%
Miscellaneous
Handgun Carry Permit
Law Enforcement
Military
NRA
ken_mays's Achievements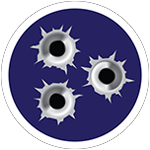 Established Contributor (3/5)
Hollowpoints can have issues as the feedramp depends on an ogive surface hitting and camming up. With a strong recoil spring and less than strong mag spring, the round can nosedive and get caught on the ramp. A rough feed ramp and weak mag will make the problem more common. Excessive extractor tension can contribute too, since the round being forced up the feed ramp is what levers the rim under the extractor, but you'll generally see that later in the feed stroke.

I'm using a B5 SOPMOD which seems to work pretty well.

When I realized I couldn't consistently get enough finger on the Glock trigger without resulting in Glock Knuckle, I went to another gun entirely. 9mm is OK for me but the larger framed Glocks tend to be a problem. Placement of the backstrap squarely in the middle of the thumb knuckle / index finger knuckle is where the correct grip starts, IMO. If you can't reach the trigger (and safety, if you have one) adequately when your gun's in the middle of that web, it's time to get a different gun.

Some of my personal picks for underappreciated handguns: Beretta PX4 - These are excellent DA/SA platforms and they offer a real reduction in recoil over their tilting block counterparts. Quite accurate too. SIG PRO line - Another polymer DA/SA that's a solid platform with some agency issue and track record behind it. Unfortunately I think it's being jettisoned in preference to the P320. S&W SD9 / 40 - While this model plays second banana to the M&P line, and is also tainted by lingering negative associations with the Sigma, it still remains a capable and affordable offering. Stoeger Cougar - Beretta abandoned this predecessor to the PX4 line, but Stoeger continues to manufacture them. They are a bit bulky for what they are, however. Steyr M9A1 - The "other" Austrian striker pistol, the Steyr is a design that gives up nothing to Glock on the engineering front. However, its adoption rate is microscopic due to Steyr's uniformly horrible US marketing efforts.

Compared to the PPQ, the PDP has: Several grip and slide length options Straight frontstrap instead of finger grooves Redesigned slide profile to provide wider base for optic mount Narrower notch on rear sight (though mine do not cowitness with my Holosun 507 Stiffer mag catch spring More aggressive grip stippling pattern with more coverage I see the PDP as a minor but worthwhile upgrade to the PPQ. My PPQs don't get a lot of action since I got my PDP.

Tagging in case of fall-through

Since this thread is now the walking dead, I will say I have a 1911 that was done by ECG and I'm pretty pleased with it.

.308 for me. It's a very well thrashed-out chambering, and is equally at home in battle rifles or precision bolt actions. There are gazillions of .30 caliber bullets available and it's a caliber you can shoot rather inexpensively if you want to. it's got some good legs and a punch that will do the job when it gets way out there. There are better choices for specific scenarios but .308 is pretty much ubiquitous. It's not the new kid on the block or hardly sexy to talk about, but its effectiveness will cover 95% of everything on this continent. Plus I like to shoot battle rifles!

My opinion for what it's worth, is that if you're going to buy into the rather shaky rationale behind the .45 / 410 revolver, you should at least stick with a decent manufacturer. Full disclosure, I do have a previously-owned S&W Governor somewhere in the safe that has been to the range one time.

1911s in .45 are more likely to run out of the box, but they are more expensive to shoot. In 9mm, they tend to be improperly setup out of the box (depending on manufacturer) but cheaper and more pleasant to shoot. Springfields in particular often require some spring swapping and tweaking to run reliably, but the good news is these are cheap and easy things to fix.

Back about 20 years ago I was following the LTW crew (Yost, CT Brian, Chen, Christanensen etc) and was amazed by their work, which was some of the best going. Over time you began to notice that most of the people who bought these guns were more collectors than anything. You'd see the same gun pop up for sale, unfired as it was when the previous owner had bought it. Almost nobody was carrying them or doing competitions with them. The occasions where someone did send in a beat-up custom for refurbishment were noteworthy threads on the forum. Most "real" working guns were the realm of lesser known smiths (but not necessarily less capable) whose work could actually be afforded by most of us. I always had a lot of respect for the smiths in the competition world because they constantly saw high round count guns and knew what worked and they learned how to build guns that would stand up.

I've been waiting for them to figure out if they dropped the SAO action into something that wasn't a 4lb steel behemoth, people might buy it.

When I'm wavering on a gun purchase, I ask myself, "will I regret walking away from this gun right now? Will it be easier or harder to get it later at this price?" You can always get more money but is your opportunity to buy this gun right now one that you'll regret if you pass it up?

True gun- and metalsmithing is a dying art. There are a variety of skills to master: machining, finishing metal and wood, making small parts and springs, heat treating, and of course mechanical diagnosis. Not to mention a good knowledge of the legal requirements and licensing. Today there are easier ways to make better money. Cylinder and Slide was planning on closing their doors because they apparently couldn't find anyone willing or able to take over the business.