Posts

286

Joined

Last visited

Feedback

100%
About ken_mays

Miscellaneous
Handgun Carry Permit
Law Enforcement
Military
NRA
ken_mays's Achievements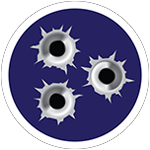 Established Contributor (3/5)
I've bought several used range guns. None of them were even on the on-ramp of the road to being shot out.

I finally got a few rounds through one of these and was pretty impressed with it. The trigger was something I could work with, and the sights and safety were a big improvement over even the MkIII standards. Accuracy was good too.

I usually tell people who have problems with Glocks to remember to point their support hand thumb at the target. This forces you to roll your wrists forward which gets the sights on target. People always say "lock your wrists" but that means nothing me to at all, my wrists don't have keyholes Over time, you just automatically tell yourself, "Pick up a Glock, thumb toward target"

Some 9mm 1911s have extended ejectors installed that will be too long to allow ejection of a loaded .38 Super round. From what I have experienced, you can often get by with just one shortened .38 ejector for both 9 and .38. Like someone suggested above, make sure the .38 case head will slide up the breechface. Chances are you may need to also purchase a new extractor and adjust it for .38 as well, since an extractor that will put sufficient tension on a .38 case will not put enough tension on a 9mm case for reliable extraction. You'll need to figure out what ramp style the Garrison uses for the barrel. Generally Springfield uses Wilson/Nowlin style ramped barrels but it's always a good idea to check your personal gun.

I've probably carried too many guns. I still have a bad habit of carrying about anything I have a holster for, but have more or less settled on the M&P, IWI Masada, and SIG P365 at the moment.

I like .40 pretty well and have shot a boatload of it through 2011s and polymer guns. However, I find the Glock 23 and 22 are quite uncomfortable to shoot, especially with factory ammo. The greater recoil seems to magnify all the ergonomic problems that I have with the Glock frame. Service pistols like the M&P for example are just about as easy to find in the $350 range and are far more comfortable to shoot for me.

Hi, I will take this... DM incoming

I'll take it, DM incoming

I have never sent anything out for refinishing personally. Now that Robar is gone, a few other shops seem to be offering NP3, but use at your own risk and check reviews before doing business with anyone. If hard chrome plating is on the table, I've heard good things about APW / Cogan and Ford's Guns, as well as Mahovsky's Metalife, but again it's just hearsay.

How does that Ruger shoot? I admit I've been tempted...

The options are specified when you place the build order. Such as, I want this kind of sight, this kind of slide serration, this kind of grip texture, single side or ambi safety, etc. Infinity doesn't have standard models, every gun they make is from a customer order where the customer specifies the configuration.

Thanks for the kind words! It's been a couple years since I shot a USPSA match, so if anyone locally has one I haven't had a chance to shoot one. And at any rate (just my personal taste), I have zero interest in the Atlas offerings. I like the styling of the Infinity guns more, and at this price level, let's be honest, aesthetics are a big part of it. They offer a bewildering set of options via their Gunbuilder app, including some exclusive stuff they have patents on like the interchangeable trigger system, interchangeable breechface, etc. They make every part in-house including barrels and sights. And it's worth mentioning the fact that Sandy Strayer helped invent the darn thing back in 1993, so why buy from a Johnny-come-lately? Not a knock on Atlas, I hear great feedback from their owners... it's just my somewhat old-school opinion. At that level, you are really looking for something done exactly the way you like it; there is no reason to settle for something you might not be 100% thrilled with. I do hear that Atlas is probably little more flexible and a little less my-way-or-the-highway than the Strayer clan, and the wait time can certainly be a factor.

I would resell to collectors and buy more rounds of Wolf or Brown Bear or whatever modern steel case you can find the cheapest.