Posts

6,043

Joined

Last visited

Days Won

40

Feedback

100%
About btq96r

Miscellaneous
Handgun Carry Permit
Law Enforcement
Military
NRA
btq96r's Achievements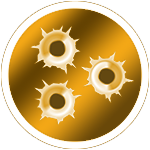 Postus Maximus (5/5)
$2.969 in Hendersonville this morning. #ThanksBrandon

Easily one of the best upgrades I put into my ARs, and it was sale periods I took advantage of to do it. I know the price is hefty, and I can't honestly say they are abundantly superior to say a LaRue option at about half the price...but I'm not regretting the money I spent on my Geissele triggers for one moment.

Oklahoma State ruined a six team parlay I had at +1817 by completely failing to cover against a MAC team.

Enjoy it until Saturday, September 24th.

So painfully obvious that it's been done again and again over history. Having a FRED account lets me play around with this stuff, so I took a quick few minutes to chart the two basic metrics of the Federal Funds Effective Rate, and Inflation on an annual frequency. Basically anytime inflation has gotten out of control, or in some cases even out of line, the Fed has had to raise interest rates up to or higher than the prevailing inflation rate. So, I don't know what hopes people have for some magic wand solution instead of tough medicine by the spoonful. Here's a spoiler of how the Fed meetings are going to be for a while longer.... As "Joliet" Jake Blues said, hit it.

Sooooo many shenanigans have to be afoot. https://www.zerohedge.com/markets/sureal-story-20-year-old-student-acquires-6-bed-bath-beyond-makes-110-million-3-weeks

Depends on risk tolerance and goals. Long-term, the US market is where it's at, and that's where the vast majority of my capital is parked. I just don't think we're done with the bumpy ride yet. But I've made peace with that.

Yup...misread what you had typed. Yeah, if you're hitting 21 on day trading, or riding the order flows...you're likely to have a good supper tonight to celebrate.

I think it's a bit of a premature celebration, and could be a dead cat bounce kind of thing. Some of the reason inflation seems to be plateauing comes from the price points of consumer and commerce being maxed out. People can't spend more, and business can't keep a profit margin if they stay in the consumer limits. Both of those things portent a broader economic slowdown (ie: a recession) coming up on the horizon. As much as bonafied recessions can suck, we probably need one to help sort out all the shenanigans of the last decade plus. The markets need to get back to sustainable health after binging on the Fed's near zero interest rate policy for way too long.

That's a looker for sure. Enjoy!

Condolences to his family and friends.

Wanting to update this with my decisions, and thank @MacGyverfor helping me find a great monitor. I went with the BenQ PD3205U, and it's about perfect for what I need. I had considered getting a 24-27" companion to have in portrait mode, but I don't think that will be needed. I also got an Uplift adjustable desk and while that was a chore to setup, it's already feeling great. Once again, this site delivers as a place to bounce ideas, and get new one. Here's what the new setup looks like. I have the built in KVM working my work laptop via USB-C, and my personal desktop through HDMI (I may get froggy and try Display Port).

Great memories of watching Star Trek as a kid...and adult. She inspired a lot of young women from that generation. The story of how MLK asked her to not quit when she felt the network wasn't treating her fair is worth looking up. He made her realize the impact she was having, and the rest is history.

Beautiful looking couple, and event. Congrats to both families on the big day!

I admit I was wrong on the chances the prior gun bill would pass...but that one was little and less to worry about. This one is essentially the wet dream for an anti-gunner. I really can't see it passing the 60 vote threshold. If somehow it doesn't get subject to cloture, it could pass if Democrats really wanted to have a win on this. This close to a mid-term election they're on the defensive, but have some windows with recent court actions...it could really hurt. I think they want the issue to campaign on more than the win here (for now). The no sunset was a lesson from the 1994 bill. The severability part is standard legislative fare. Requires congressional actions to die by a few blows. Basically trying to avoid a thermal exhaust port scenario.