 Posts

169

Joined

Last visited

Feedback

0%
Profile Information
Location
Gender
Occupation
Miscellaneous
Handgun Carry Permit
Law Enforcement
Military
NRA
Recent Profile Visitors
The recent visitors block is disabled and is not being shown to other users.
swiley383's Achievements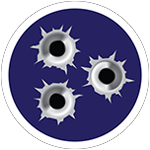 Established Contributor (3/5)
Built mine 2x6 frame 3/4 in plywood top and a 2x6 underneath my press with the bolts through the plywood and 2x6. Make sure it's level. Mine has no flex or wobble at all. Mounted a sheet of plywood to the wall above it and use that for a peg board.

Looks like it was just me shoot again yesterday pretty much shot the center out of the target. Only thing I am going to do to it now is paint the front sight and possibly some VZ grips.

I tried 6 o'clock then moved to 12. When I aimed for head shots I hit center of the target. Those loads shot great in my XD 45. When I get a chance I try some HP38 load I think I have some left some were and go from there. Of course bugs were eating me alive so I didn't dig the factory loads out of the bottom of my bag to try those.

Update pistol ran great with my reloads no problem at all other than seems to shot low really low. May need load development.

By the way mine came with a KCI marked mag so I did go ahead and pick up a Kimber mag today just in case. That way if I have an issue I can swap mags.

I may get with you on that next week or do. I picked it up this morning. Spent about an hour cleaning all the preservative out of that stuff was everywhere.hopefully going to shot it Sunday

I found a Rock island at buds and purchased it. Hopefully it will arrive at my FFL late next week. I bought the FS non rail version in 45 acp. Just need to pick up some more mags for it.

I have some that I had to load around 1.09 if I remember have to check it was either 1.10 or 1.09 for a Glock and S&W to pass the plunk test.

Is it in 45ACP. Ant see the markings and any idea if round count?

Going to check bass pro tomorrow see what they have

That's what I am looking for FS or tactical model don't really want a rail on it. Maybe next weekend I can take a ride to Dover.

Well no Luck at the gun show. Did see a couple Tisan but prices seemed way high had some decent price on some Kimber LW but more than I had to spend. I will keep looking.

Hoping to hit up my local gun show this weekend and see what I can find. None of my local shops have had any 1911 that were not $800 plus range

The FS model is the one I think I will end up getting

That's kinda what I am hoping to eventually do some mild custom work. Seems like some good candidates to learn on.