 VERO1
Lifetime Benefactor
Posts

2,116

Joined

Last visited

Days Won

1

Feedback

100%
About VERO1

Profile Information
Location

Vero Beach, Fl / Jefferson City, Tn

Gender
Occupation

Unpaid Home Healthcare Provider
Miscellaneous
Handgun Carry Permit
Law Enforcement
Military
NRA
Carry Weapon #1
Carry Weapon #2
Recent Profile Visitors
The recent visitors block is disabled and is not being shown to other users.
VERO1's Achievements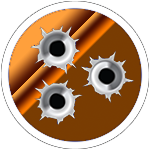 Prolific Contributor (4/5)
Does anyone have an idea of what a reasonable price to pay for a spam can of 7.62x54 would be? A coworker wants to sell me one, but I have no idea as what to offer. The last one I bought before the supply dried up was around $75.00 if I remember correctly.

So, I cashed the rebate check Remington just sent me for a DPMS Panther I purchased FOUR years ago. Opening the mail a day or two later I see a letter from the bank. Started to toss it thinking it was the complementary term life insurance they offer annually. I noticed it had first class postage so I figured I better double check. Inside I find a copy of my rebate check and a notice telling me my account had been charged back for the $50 rebate. Remingtons bank accounts have been "frozen and not recognized". In another 15 years or so I will probably get a $0.36 settlement for my rebate.

As much as I want one of those, I think the new Ruger revolver in 10mm will come home with me first.

They must have watched the Gators dump their coach a couple hours ago, and got their nerve up!

Sorry, I just purchased a couple boxes from Harbor Freight at a fraction of the cost of a Mac or Snap On, it will last my lifetime at least, after that, I really don't care

I'll watch College games, crap on the overpaid primadonnas!,

Was just reading Yahoo headlines, Johnson City resident was arrested with a couple unregistered, full auto rifles. Can't really imagine worse timing to do something this stupid if true!

I'll pay the transfer fee!

Just spoke with my family members in Vero Beach, they are fine currently. Lost power about 2 hours ago. Last hurricane it was out for 3 weeks. There was a tornado about 15 miles from them that took out a trailer park. Possibly one fatality.

Watching this one closely, 3 brothers, 2 children, and an 86 year old mom all in the projected path.

You're not that far from Hog Heaven Gun Club, take her over there and let her try a few different guns. That is what I did when my son wanted to start shooting trap. We watched a few rounds and then some of the shooters let him try their guns. He was able to try everything between budget autos and budget busting o/u's. Usually someone also has a deal for sale.

Thanks for posting Bersa. So many people are now under or unemployed that It is an embaressement. Hopefully someone can get a chance at a future.