Posts

2,645

Joined

Last visited

Days Won

2

Feedback

100%
About mav

Profile Information
Location
Gender
Interests

Golf, weight training, running, cycling, shooting

Occupation
Miscellaneous
Handgun Carry Permit
Law Enforcement
Military
NRA
Carry Weapon #1
mav's Achievements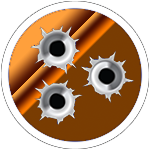 Prolific Contributor (4/5)
I have been making a few changes on my most recent XM-24. The stock XM is a great knife, but I like adding a little character to my knives that I use. Here are some before and after pictures. Thanks to Willis for putting a new edge on the blade after I did the acid and stonewash. It is very sharp.

They are nice. The Microtech guys crap all over them due to the expense. I own both, and the Exocet is one of my favorites.

I thought XM-24 and Brad Zinker turned out well. The Deadlock was okay. It is still better than the factory stonewash.

I had Lasik about 15 years ago to correct my 20:600 vision. That was the best $2500 I ever spent. My far-sightedness is still good from the Lasik. I figure in a couple of years I will have to use the readers on a daily basis.

I have never tried them. Actually, I never knew they made them. I have a bunch of FN mags for my Five Seven.

I think they are very tight too, but they aren't uncomfortable. Then again, I haven't worn them for an extended time period either. I think I would have done better just buying a $15 pair of reading glasses and use them only for reading. I can't wear the glasses while on the computer, so they were really a waste for me.

It has been quite a few years since I have posted anything. I honestly think I burned myself out shooting so much a few years back that I just walked away from the gun community altogether. I am slowly working my way back into it as time allows. That said, I went to a local gun show a few weeks ago and saw so many new things that I never knew existed. One of the things I saw that really made me smile was a CMMG Banshee 300 Mk 57. The FN Five Seven was my first handgun I ever purchased, and it is still one of my favorites. To have the 5.7 as a PDW on an AR platform was really cool. Does anyone have an familiarity with them or with the quality of CMMG? I am not all that familiar with them either. Thanks.

I no longer have any of Rick's stuff. I lost my last XM-18 skinner a couple of years ago. They were great knives. My EDC is now a Praetorian T. Greg's quality used to be pretty crappy, but the badassery of his knives still made you want one. Thankfully, his quality has improved tremendously. I have had three Praetorians, a G, a Ti, and a T. The G was too small and the Ti too big. The T was just about right for my taste. The quality on all three were as good as any of my other knives. They are still ridiculously overpriced, but good prices can be had on the secondary market.

It is an Elite Enforcer karambit.

I finally found a karambit that I would want. Here it is pictured with my EDC knife.

I have been looking for a robust karambit lately and I noticed that Emerson is coming out with a XHD karambit. The price point will be relatively expensive and since I have never owned an Emerson I am a little hesitant. Have any of you owned Emerson knives? What do you think about them in terms of quality...fit and finish...etc...?

I still carry a RHK skinner as my EDC. They are good knives and their quality has improved a lot over the years, but I am no longer a big fan. Still, if I ever got an opportunity to get a battle black XM-24 full Ti with a recurve (my favorite grind) or a warncliff at table price I would jump all over it. Ha.

I can send you a XM-24, XM-18, a ZT-300, and a large Sebenza. PM me your address, the total amount, and how you want paid. Thanks.