Posts

2,465

Joined

Last visited

Days Won

6

Feedback

100%
Miscellaneous
Handgun Carry Permit
Law Enforcement
Military
NRA
Carry Weapon #1
chances R's Achievements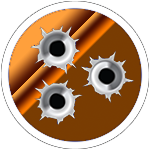 Prolific Contributor (4/5)
Nice buy. If you really get bitten by the sporting bug, look at the 725 30" bbl.

A300 beretta outlander. Semiautomatic will soften some of the recoil. I believe they come with shims to reduce lop if needed. Will last for many years.

not suprising and one should avoid carrying a firearm if that's the case anyway. In fact, illegal to do so in TN.

poly coated bullets would be a good alternative to Lead cast. Seems to me that a jacketed soft point would be a good choice.

Your son is an exceptional example, your input, training is what separates him from the norm. Society as a whole had to live with the other end of the spectrum- regardless of age.

In this case, stupidity has no age restriction. Plenty of older adults do the same thing everyday, one of the reasons I support training/education. And yes, it is a felony, and financially devastating.

While reading the above references, understand the difference between force and deadly force. Two different things. Force may be referred to as mere force.

Unconstitutional in one state would eventually mean all states....need to have some added privilege to the ECP hoping to encourage training to those that understand the need for it.

No, but would be nice if we did.

A little bit of / on Casado. He didn't go to trial, which saved him a ton of money. In FL there is a "Self Defense Immunity" law which worked like it was designed for. Still not cheap, but a bargain in this case. Another good example where Avoidance reigns supreme.

It will be hard to get a definite answer from your HO insurance. Doesn't mean you can't ask, but don't be surprised if you get a 'it depends" answer. Also, in TN, if you have an adjudicated case of SD, you cannot be sued by the other party in a civil case. Does not mean an inocent bystander/victim couldn't sue you though.

Buy a Dan Wesson first, doubt you will have to buy another one. 45 traditional, 9mm more fun and will shoot it more.

Chris Vittetoe 865=237=2547

without more details, impossible to address actions and reactions. A reasonably safe way to enter a garage is with an automatic opener, staying in your locked car, and closing the door behind your car with the opener as you sit in your locked car. Still one is vulnerable to attack with a gun pointed at you waiting for the door to open or close. Not everyone has an automatic opener. Elderly couples may have additional handicaps. No one is invincable.

all shots after the initial 4 seem unnecessary to me. If he called 911 at that point, we wouldn't have this conversation.