Posts

323

Joined

Last visited

Feedback

100%
Wheelgunner's Achievements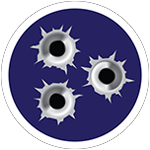 Established Contributor (3/5)
@ the OP - Both are good choices, but to me the 5-shot .357 is preferable. The flexibility to use .38, .38 SPL, and .357 Magnum ammo has value. Also seems like a .357 gun, used reasonably, should hold up longer. (Stronger top strap, forcing cone, etc.)

@ Chuck - Agreed on all counts. Tragic. Reminds me of what happened at Harry Beckwith's gun shop in Florida in 1990. Wish the situation in Georgia had played out more along those lines.

My family and I are fine and had no damage but we're still without power in our part of Hendersonville. We're staying with my in-laws in Cottontown (who do have electricity) and grateful to them.

I'll take the bait. For the marksmanship component of the score, do I understand correctly that we're scored by how long it takes to fully neutralize all targets? (Sorry to get in the weeds, but want to ascertain whether there's a penalty for using more rounds than minimally necessary.) Excited to come enjoy a great match this weekend.

Missing my buddy SPC Anthony Owens tonight. KIA in February 1, 2006 in OIF. Sometimes things hit you when you least expect it. It is not free, gentlemen.

As a guy who has had a couple bad days, I'd suggest any "bad day" kit should focus on stuff for a long walk. 1 - for feet: Comfortable shoes, several pair of socks, moleskin, duct tape, foot powder, extra shoelaces. 2 - hydration: containers w/ at least 3 quarts of water, filter or iodine for more. 3 - clothing: season-appropriate outfit for long walk outdoors, hat, sunblock, and bug spray. 4 - medicine: stuff to treat pain, diarrhea, fatigue, and itching, also a minimal first aid kit and chap stick. 5 - general: TP. Flashlight. Radio. Rope or cord. Multi tool. Map of your area. Compass. Protractor. Money. Some food. An inexpensive general issue assault pack or backpack will normally hold this stuff.

The more you value things outside your control, the less control you have. - Epictetus

Can't speak to Eotech specifically, but in Iraq and Kuwait I had an M68 optic on my rifle. Temps up to 120 pretty regularly, maybe a little higher. Never had a problem.

Primarily seeking input from parents and grandparents that have taught kids/grandkids to shoot, but others are welcome to chime in. At what age did you begin training a child with live fire? What weapon? How did you make it fun while teaching marksmanship and safety skills? What challenges did you face? When did you give the child a first firearm to own/maintain? Etc. Please discuss.

I sincerely hope that guy contacts the Firearms Policy Coalition - and that they get involved in the litigation.

I may give the jerk chicken chips a try, but they'll never beat Golden Flake Sweet Heat potato chips. If the store ever stops carrying those Sweet Heat chips, I might have to head down to the crossroad and cut a deal, Robert Johnson style.

Whether to carry insurance (like this or of any kind generally) is a decision driven by risk analysis. Here, presumably the two primary risk concerns are attorney fees and a money judgment against the individual in the context of a tort claim. There are some other steps that can probably reduce risk in these areas, relating, for example, to how you own real property, etc. Buying a policy is fine, but consider talking with your attorney before you decide that's the end of the analysis.

I'd point you to Rob Leahy at Simply Rugged. Not in TN, but I've bought from them and was impressed with the holster. Pretty sure he'll make anything you want.

Agreed on both counts. Our politics, the lack of an income tax, and reasonable cost of living already make TN attractive. And the TN Dept. of Economic and Community Development does a good job with incentives, etc. for these companies.