Posts

3,293

Joined

Last visited

Days Won

8

Feedback

100%
About 10-Ring

Profile Information
Location
Gender
Interests

Fishing, campinging, guns, hunting, fishing, gardening, keeping chickens, turkeys, ducks, etc..

Occupation

Safety guy, and it took a lot of stitches and broken bones to get there
Miscellaneous
Handgun Carry Permit
Law Enforcement
Military
NRA
10-Ring's Achievements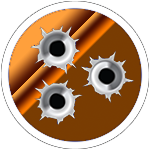 Prolific Contributor (4/5)
Interested in Python message sent.

I refused to sell anything for years. The first 20 years or so of gun ownership it seemed that every firearm I owned had some kind of sentimental connection. Along the way I sold off a few that I didn't have a connection with and later regretted it. Like the AK-47 I sold for $300 around 2007. I'd like to have one again, but can't justify current prices. Or the Marlin 336 in 35 Rem I sold for $400 or so about 5 years ago. I simply didn't have any interest in that gun then, but would use it on the regular now, and once again, the value of the gun has probably doubled since I sold it. Truth be told there is a lot of stuff I own that I haven't shot in a long time, but most has it's niche. I have a few that I just flat out don't use that don't make sense to keep, but as long as I don't need the money they will sit there. No different than stacking silver bullion in the safe. TLDR: I regret some of the things that I've sold so I'm not selling anything that I don't have to.

I have a 13 year old daughter that isn't really interested in much, but shows some interest in shooting. Anywhere around Nashville that may have some kind of opportunity for some casual youth .22 competition? And/or would anyone with kids in the Nashville area be interested in getting their kids involved in such? I'd be more than happy to organize if there were participants.

Grew up with an 870, was gifted a 12ga shockwave and now consider myself a Mossberg man. I think both platforms are fine, I just like the top mounted safety on the Mossberg. The shockwave, as others have mentioned, is not natural to shoot, but I took to it quickly. Training with it is compulsory if you plan to use it defensively.

Thanks for sharing. I have been interested in buying silver for a while and haven't because it's difficult to find a steady source at a good price. Apmex offers free shipping on orders over $200, that's hard to beat.

I haven't thinned down like that myself but it seems like I would start at the back of the safe and work towards the front in the event that I needed to. I have a lot of guns that I've never fired and at this point those fill a very small "what if" niche. The majority of those were given to me by my father in law when his mental health deteriorated. I don't feel that it is my place to sell them despite not having a use for most of them. I figure I'll just pass them down to my son eventually. Of course if you aren't selling to find another project, clean them up good, lube them heavy, and stick them in the safe. Let them be someone else's problem once you are gone. Especially if having them makes you happy. Just the musings of a middle aged man

I don't remember exactly what year, but it was within a couple of years of 2000, a state income tax was on the ballots. Most everyone who's opinion that I respected was dead against it, as was I. 20 years later I hate that it didn't happen. We were opposed to an additional tax, for the obvious reasons, but what we didn't realize at the time was not having that tax would bring so many businesses here that don't pay a living wage, along with refugees who hated where they lived and a state without an income tax was an important part of their criteria. Now I live amongst a sea of warehouses where farms used to be, in a house that I paid 3 times more for than it would have been worth 15 years ago so I can sit in traffic anytime I need anything. Tennessee ain't what it used to be.

I've killed a bunch of deer with a .270. .A 270 was my first deer rifle over 25 years ago. I've tried about every bullet on the market. Years ago the Winchester Silver Tips were great. About 10 years ago something changed and they didn't do as good of a job. Most recently I've run Hornady American Whitetail 130 gn with good success and it's a pretty budget friendly round. I've had two bad experiences with Remington Core-Lokt in .270. One was probably the biggest buck I ever shot at. I found a 2" long chunk of rib bone on the ground where I shot it, but the deer made it to a river and drowned. I spent several hours in a pair of leaky waders with yeppers in the teens trying to find that deer unsuccessfully. The second issue was a small buck at 20 or so yards. Didn't even act like he was hit. Slowly walked in around the tree that I was in and I put another one in him. Upon inspection I had hit where I was aiming both times. I've used Core-Loct in other bigger slower calibers, such as 30-30 with much success. As my rifle collection has grown and my hunting locations have dwindled I find myself leaving the .270 in the safe in favor of other guns. Mostly because my .270 is set up to shoot longer distances and I'm not seeing those distances in most of my hunting situations currently. The caliber excels in the 100-300 yard range, and 300 is my personal limit. Depending on the round, you will typically see around 6 inches of drop at 300 yards, and another 10 inches at 400. (Hint: a 200 yard zero will put you 1.5" high at 100 yards. A 200 yard zero will put you in the kill zone anywhere from point blank to 300 yards with minimal holdover.) I'm running a 6.5x20x50 scope, which makes 300 yard shots fairly easy. I have found that under 100 yards and particularly under 50 yards I have not had good experiences with a .270. The majority of deer I've killed in the 100-300 range have dropped. While the majority of deer I've shot with a .270 at under 50 yards have run a good ways. I attribute this to the bullet moving too fast and not expanding. I suspect a heavier bullet moving slower would remedy the situation, but I haven't messed with it, as I carry something like a 45-70 or a 12 ga slug gun when hunting in those situations.

I'm contemplating doing this with a new camper right now, but I can sleep in the camper if I need to .

I suppose it depends on how you look at it. Lot of facets there. When I left the profession in 2010 the policy had changed from "get then back in the store by any means necessary" to "ask them politely to give back in the store and if they decline, get as much information as possible but let them go". I too would hate to see a society where it's acceptable to just walk out of a store with whatever you want. But our society has become so litigious that retailers have found that it's cheaper to let the merchandise walk. Of course the alternative is to lock up high risk merchandise. I hate going into a retail store more than about anything, but I especially hate the thought of having to track down a key holder to make a purchase. There are no winners here other than the thieves.

I don't know if the store employee was loss prevention or not, doesn't matter. I spent a little better than 5 years working in loss prevention. I must say it's mostly a job for the young and dumb, which was fitting for me at the time. I've had shoplifters threaten to shoot me and I just fought them harder. I was in more physical altercations then I care to count. And for what? A couple of hundred dollars worth of a giant corporation's stuff that they are going to write off if it walks out the door, while I was earning $7-11 an hour. I count my blessings daily that I was never seriously hurt doing that job. I enjoyed the hunt, and the capture immensely back then, but wouldn't do it for any amount of money today. When you do that work you eventually pick up a 6th sense for when someone is going to shoplift. I often get that feeling when I'm out shopping and I'll post up and watch from a distance. I have absolutely no intention of doing a thing, there is just some satisfaction watching my hunch play out. Not my circus, not my monkeys.

Wife works nights and worked last night and works tonight. She got a hotel room next to her hospital instead of making the drive. I got out this morning and drove from Lebanon to downtown Nashville to pick up a friend that works nightshift. By far the roads are worse than I've ever seen in Middle Tennessee. Couple of pictures from that adventure.