Posts

3,215

Joined

Last visited

Days Won

8

Feedback

100%
About 10-Ring

Profile Information
Location
Gender
Interests

Fishing, campinging, guns, hunting, fishing, gardening, keeping chickens, turkeys, ducks, etc..

Occupation

Safety guy, and it took a lot of stitches and broken bones to get there
Miscellaneous
Handgun Carry Permit
Law Enforcement
Military
NRA
10-Ring's Achievements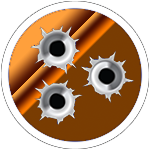 Prolific Contributor (4/5)
Airstream makes the finest trailers out there. Not uncommon at all to see 50+ year old Airstreams still being used. I have a 20 years old Coachman that is on the opposite end of the spectrum and being held together with duct tape and bubble gum. I admire the Airstreams from afar, way out of my budget.

Highly discourage relocation, you have to take racoons a long way for them not to beat you back home, much less get them far enough to not come back at all. And, once you get one in a trap once, you will never get it in a trap again.

No experience with the Ruger. I've owned a Heritage for 10+ years, it's never impressed me. The accuracy on mine has never been anything to get excited about. If it were me I'd save up a little more, buy a Single Six and never think about wanting something nicer again.

I think it's personal preference. I have an iPhone for work and and Android (Google Pixel 6 Pro) for my personal phone. I can't stand the iPhone interface. I've had the iPhone for 6 years and use it for work related phone calls and email. I use my personal phone for everything else, even work related Internet. I've found that most people are exactly the opposite. More than likely you would like some variation of an iPhone since that is what you are used to.

I think it's more about the case than the phone as all of the phones are pretty fragile on their own. I've had good luck with cases from Body Glove, Spigen, and Otter Box. Had a body glove on my last phone the entire time that I had it and it did well. On my second Spigen, my last one lasted 3 years, phone finally had a software issue. I've had an OtterBox on my work phone for about 4 years now. All of these cases have met or exceeded my expectations and I'm fairly rough on things.

I've never seen a knife that jams before I kid, I kid. I'm a big 1911 fan. This is one very nicely done piece.

It appears that although her accuracy was somewhat lacking, it was effective.

TLDR... Captured in Evansville, Indiana. She shot herself, but failed to kill herself during her capture. https://www.al.com/

I don't think that BB guns can be beat for a first gun for a kid. Great way to teach fundamentals and cheaply get lots of practice anywhere.

Beautiful shotgun. I have a 1964 A5 that belonged to my wife's grandfather. It is heavily used but still a great shooter, no where near as pretty as yours though. Wish I could justify this one. GLWS!

My previous post was somewhat tongue in cheek. I have a neighbor (curmudgeon) who prefaces everything he says with something to the effect of "Those idiots from your generation..." (Mind you some of my peers that I grew up with have grown children, so it's not like I became an adult last week). I just looked at him one day and said "why did your generation raise so many worthless kids?" that was almost a year ago. He hasn't spoken to me since. I'm good with that. Truth is, I know people who are retirement age that never contributed anything noteworthy to society, and I know people who are not yet 30 who have built successful businesses, provided jobs for others, and contribute very substantial amounts of money to worthy causes. I kind of wish this mentality that people have more or less worth because of what decade they were born in would just go away.

This generation thinks milk comes from the store.

You know I'm a Toyota guy. Looked at several 200k+ Tundras before my last purchase and drove several that I would have never thought had that kind of mileage. One of the downsides to a Toyota is that they are so durable that you will likely get tired of driving it before you wear it out. We currently own two and I have owned others in the past. The maintenance costs on all of them have been exceptionally low.

Find any reason you can not to. I'm native to middle Tennessee, lived in east Tennessee for several years and moved back kind of on a whim 7 years ago. I'd give about anything to move back to the pretty end of the state and at least somewhat escape these outrageous housing prices, congested traffic everywhere all the time, overdevelopment, and in your face progressiveness at every corner. I'm too tied in now to escape, at least for several more years.