 Jamie Jackson
TGO Benefactor
Posts

2,987

Joined

Last visited

Days Won

9

Feedback

100%
About Jamie Jackson

Profile Information
Location
Gender
Interests

Preps, self defense training

Occupation
Miscellaneous
Handgun Carry Permit
Law Enforcement
Military
NRA
Carry Weapon #1
Carry Weapon #2
Jamie Jackson's Achievements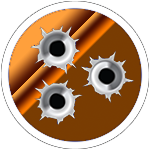 Prolific Contributor (4/5)
Thank you all for sharing the pics of your pups! Just a quick post before I head in to work a bit. Good on you @A.J. Holst ! Awesome helper you've got. I've had the pleasure of meeting Boo before and can confidently say she is a "Good Girl", but I would not want to get on her bad-side. My pups, 2 sets of Pekingese (Bastian & Lil then Buckley & Grace) over a 25 year period are in Heaven guarding my Bride. But I know Rhonda has her hands full with them! Entitled little devils but they gave us a lot of love in their time. (My son just sent this pic to me after I told him about my vicarious living through it). Thanks again to all! The little guy is Poe. He's resting on his sister Nala. Nala is a squirrel killer. Poe couldn't be bothered with such.

I don't even own a 10mm and this is tempting! Great price and a great guy! Restraint Jamie, Restraint...

I'm keeping my fingers crossed Ed. Caleb seems to honestly be trying hard to make improvements, or so it appears. I've either carried a RDS Glock 17 or 19 daily for a few years now. For me it's an advantage at distance especially. I ran XS Big Dot sites on my Glocks for several years and using the intended "Lollipop" viewing they were designed for, they were pretty decent for me at that time. I recently, as in September of this year, broke the slide on my G19 again (had a Holosun 509t on it). I carry AIWB with my shirt covering my gun and other than the occasional lint the lens stayed pretty clear and clean. Again, for me. As that 19 had a high round count, and it was the 2nd time this happened (1st time 2015), after sending it back to Glock and long talks with them, I purchased a new slide and barrel. Glock put the Ameriglo Suppressor height sights on the new slide for me, and Damn! I actually like running the 19 with them My apologies for the drift. I've been shooting my LCR's and K-Frames at least once a week, usually twice the past few months and think I would really appreciate carrying one of the RDS equipped 856 Toro's. But I want to actually handle and shoot one first. But I think I'll take my Taurus 85 to the range with me tomorrow... Being on a pretty much fixed income tends to make one "frugal". LOL Learned that Needs trump Wants. Here's that break on the 19. Apparently that weakness in Glocks has been remedied as they evolved through Gen 4 to Gen 5. Mine was/is a 1997 Gen 3.

Just an FYI: As I mentioned earlier in this thread, I primarily shoot 9mm and .38 spl. and increasingly .32 H&R Mag (and .32 S&W). I don't shoot a lot of 5.56 these days. I crunched a few numbers this morning as I prepare to go downstairs and load up some more .38 spl for tomorrow. These numbers are based on current pricing of bullets, primers, and powder. My components are from way before current pricing, but I take into account I'll have to replace them eventually. Currently: For .38 special mid-range target load: (750 fps on my chrono from a K-Frame) Hoosier 158 gr Hi-Tek coated 158 gr .38 spl = $104.00/1000 shipped Winchester 231 powder (7000 grs/pound) 1 pound = $35.00 (obviously there's usually tax. If you order it then HazMat and Shipping. Bulk or combined costs with a friend help mitigate the cost). It's sometimes challenging these days. Primers: Seeing Small Pistol Primers somewhere around $75.00/1000. Again, it depends on whether or not you purchase local or have to endure HazMat, shipping and taxes. This particular load would cost me: $0.198/rd, so right at 20 cents a round. Ammoseek shows me either stuff I've never heard of, or remanufactured at $0.38/rd (plus Tax and Shipping usually...). Crunching the numbers for 9mm, even assuming you are paying $50.00/lb for powder. 9mm still runs around $0.20/rd. (I have never paid $50.00/lb for powder, but this world is getting crazy...). But most importantly I tailor my handloads to my wants, needs, and any idiosyncrasies of a particular gun. Please take into account I already own, and have owned all of my reloading equipment for a very long time. $0.22/rd 9mm or less allows me to use my already owned powder and primers for much more costly rounds like .38 spl, .357 mag, and the aforementioned .32 family. (BTW there were some decent deals this past Black Friday on 9mm range fodder). I enjoy handloading. It therapeutic for me! Allows me to get into my "Zen-State" man-cave focus. Then I get to go shoot it. How can things get any better? Just some thoughts. Gonna go handload some. HAVE A GOOD DAY FOLKS.

My experiences in the past mimic those already shared, kinda hit or miss. I still have a model 85 from 1987 that's has really nice bluing and a good DA trigger. I've only owned 1-2 others. I'm hopeful for Taurus going forward because I think I would like an 856 Toro RDS capable revolver. But definitely as a holster carried sidearm. Patiently waiting to see how those do over a bit of time. Taurus hired Caleb Giddings as their General Marketing Manager a short while back and Caleb is a shooter and has been very responsive and accessible to customers on other forums (Pistol-Forums). I've read good things from 856 owners the past several months as well. Glad to read you had a decent experience with your @JustEd.

Trade options increased in you favor. I'd really like some Alliant 2400. What little is left in my 2400 container is stamped "Hercules 2400". Help a brother out please.

Not to mention loading for .38 spl, .357 and .32. I still run 9mm on my 550, but I've been shooting a decent amount of .38 lately and couldn't even begin to afford it if I didn't handload. Think I'll load some wadcutters now. I enjoy reloading too.

Memories that last a lifetime @deerslayer. They are a blessing, but darn they grow up quick. Thanks for sharing.

As messy as this old world can be there's still so much to be Thankful for, just gotta look around for it sometimes. Wishing a Happy and Blessed Thanksgiving to all!

Thank you my friend. All 3 pictured are $400.00 or less guns purchased within the past 4 or so years. Well seasoned but obviously well cared for by their previous owners. ( Disclaimer: I mis-typed, mis-thought. Those 2 revolvers are both S&W Model 10's...I was thinking I needed to grab my 15 as I headed, out so I guess that's why I typed that ) (I'll edit the above pic post...) I'm fortunate to have hoarded back a few Tyler T-grips (4" Model 10) over the years and have also been using BK Grip Adapters (2" Model 10) which serve that role well. My budget is tight, Isn't it for us all these days? But there are wheel gun bargains out there if we're patient. So these are a few of the many things I'm Thankful for today and every day.

While not necessarily a gun I seek out each range trip, it's one I pocket carry an LCR .38 spl each and every day, so it makes every range trip with me and I shoot it pretty much weekly. My LCR in .38 spl that I was fortunate to purchase from a member here a few years ago. (Range=ORSA) My Model 10 snub and Model 15 are frequent companions. Especially the past few months. The 10 snub is in my AIWB holster as I type this and prepare to head to the range. (ETA: The below revolvers are both S&W Model 10's. 4" and a 2"...I just told myself to grab the 15 before I left for the range...)

What a great group of people! Really glad Ms. Brandi was there to wrangle you all! Extremely happy for you guys and very proud of you Randy. Thank you for sharing this. I live vicariously through your adventures

1

Thanks @TripleGGG! One of my favorite scenes from Good Fellas... actually I have several favorite scenes from Good Fellas. That doesn't speak well of me does it? But Thanks!

Just stumbled across your edit/update in your OP @Fencersms. Glad they are taking care of you and best of luck with the remaining concerns.

Ha! @aknifemaker posted what I read this morning as I was typing my reply. Thank you.