 Jamie Jackson
TGO Benefactor
Posts

2,901

Joined

Last visited

Days Won

8

Feedback

100%
About Jamie Jackson

Profile Information
Location
Gender
Interests

Preps, self defense training

Occupation
Miscellaneous
Handgun Carry Permit
Law Enforcement
Military
NRA
Carry Weapon #1
Carry Weapon #2
Jamie Jackson's Achievements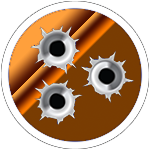 Prolific Contributor (4/5)
Prayers sent for all touched by this. This has got to stop.

I went over to Range USA around 1230 yesterday to function check some handloads. I know the folks there pretty well as I'm in there shooting at least once a week. They said TICS had just come back up but that they had processed several sales yesterday morning via phone with no issues. Apparently TICS had extra folks manning the phone lines. Obviously I can't speak to anyplace else.

It's what I thought cornbread should look like LOL. Never knew any different. My father and his family are from Soso,MS. His father was named "Boss Jackson". Mean old ####! Ethel Knight was my great aunt. She wrote "The Echo of the Black Horn"...one of the many versions of my mongrel heritage. I enjoyed the movie as well. Jones County is it's own kind of special. My MIL, Winnie Sue, has a 12 foot gator in the finger lake in her back yard. Fish and Game have removed a couple like that for her. I personally never cared for gator, but I do love some mudbugs! They're easier to manage.

Jiffy Cornbread mix. I totally agree it makes great quick muffins. It ain't cornbread imho, but it makes darn tasty muffins.

Great thread! I and my bride (RIP) are from SW MS. All of our "people" are from the "Free State of Jones" , Cornbread has always been a staple in our house. I'm 69 and was given a cast iron cornbread skillet by my father that he said he'd had since he was 8 years old. That would have been 1936. My Mother was a terrible cook! Loved her, but she lacked skill. WTH? My Mother in law (Winnie Sue), as was Rhonda (my Bride), were/are great cooks. I learned from the best. I'm gonna list our family's standard cornbread recipe and our "Mexican cornbread" recipe below. The real key is preheating the cast iron skillet. The initial pour will rise and start browning as you pour. That's when you know you're doing it right. FWIW we use Martha White SR flour and SR Cornmeal. We, the People of the Free State of Jones, believe recipes are merely suggestions and open to experimentation and tweaking to suit your taste buds. At least that's my excuse in case I forget something that isn't critical. Winnie Sue's Cornbread Preheat oven to 350 degrees with greased skillet in the oven, 30 minutes. Mix in large bowl: 2 cups SR cornmeal 1 cup SR flour 2 eggs I put 2 tablespoons of sugar in it 'cause I can! Enough buttermilk to thin. That'd be a bit less than a pint. We really don't do exact measurements back home LOL Bake for 35-40 minutes, depending on your oven. As soon as you remove the baked cornbread from the oven, turn it onto a plate...otherwise the castiron skillet will overcook it. I make Hamburger soup or French Market soup at least once a month. It would be sacrilege to eat either without Winnie Sue's cornbread! I'd lose my "Southern Card" for certain! "Mama's Mexican Cornbread" Winnie Sue Brown one (1) pound of lean ground beef with a cut up onion – Drain Mix the cornmeal batter: 2 cups of self rising cornmeal 1 cup of self rising flour 2 eggs 2 tlbs "Wesson" oil Jalapeños to taste… make it real tasty. If you don't sweat a little under your eyes you aren't adding enough peppers. Open can of cream style corn and pour 1/2 into batter mix Add buttermilk to right consistency. It doesn't take much due to the liquid in the cream style corn...beware! Grease pan...preheat as above. 30 minutes. Pour ½ batter in the hot greased pan/skillet Layer with shredded cheese Add ground beef mixture on top of that Add the other ½ cream corn – spread on top of meat mixture Add a layer of shredded cheese Add other ½ of batter for next layer Bake at 375 degrees for 40 minutes or until brown I use a 9 inch cast iron skillet for the Mexican cornbread. It's relatively new and only about 60 years old. Leave the Mexican cornbread in the cast iron skillet. Slice and serve after it's "rested" about 30 minutes. It'll still be hot, I promise. Rhonda and I complied a folder of recipes I copied from hand written notes, envelopes, etc we collected over the 33 years of marriage( with which God Blessed me). That folder is pretty thick by now. Jamie Regular cornbread pic

Good grief. Well I wish him best and hope he heals quickly. I prefer to shoot at outdoor ranges, like the Action Pistol range at ORSA where it's only myself and or a few trusted friends. That said I do shoot several times a month at Range USA. Good people and good RSO's, but you definitely always have to be on the lookout for those shooting around you. It's a national phenomena. After 50 years in healthcare, ER/ICU I've come to the conclusion that there is a great deal more "negligence" than the is "accidental"...

Awesome story! What an honor to have the opportunity to meet him. I couldn't even guess at the number of articles I've read by or about him, especially about the .45 Colt. RIP Good Sir.

Just an update. I was able to get out to ORSA and shoot some steel with a bud yesterday. We shot another 100 rounds through his 2 Glock 19's and PPC 9mm. 100% ignition. Then another 100 rounds .38 WC (148 gr with Bullseye traditional load) through my old S&W Model 10, Model 15, and LCR. We only tried 15 rounds through the 15. 4 rounds took a second strike with the Model 15 (seating depth issue?) ... the Model 10 and LCR were 100%. All of the 9mm were loaded through my old Dillon 550. A firm seating during the priming stage seems to be the ticket! Would I choose these over Federal, CCI, or Winchester? Nope, but these days a fell can't be too picky and I am quite satisfied with them so far.

You're welcome. Looking back at my emails Kinfe Rights presence here at TGO was back in 2013. At least my emails to the State Reps were in 2013. Time flies!

Welcome from another Knoxville resident. I think @BigK is correct. You can participate in ongoing discussions. @TripleGGG @Chucktshoes will probably be along and correct me if I'm wrong

I believe it was Knife Rights that helped get the Tennessee laws brought into the 21st century. I know they were active on this site at one time. Links below: https://kniferights.org/how-to-find-local-knife-laws/ They are a good organization and I support them.

While an ORSA member I don't participate in these events. I primarily shoot pistol. Here's a couple of links that may prove helpful. Looks like it may be a drive from your listing. I do see people traveling and parking in RV's there from time to time. Welcome aboard. https://orsarandp.com/orsa-rifle/ http://orsaonline.org/index.asp

I agree with the sniff test. Discoloration may also be an indicator. I think a lot depends on how the powder was stored. I have a partial can of Hercules 2400 I purchased in the early 1990's and used it to load some .357 late last year. Worked fine and chronoed the same as previous loads from long ago. But my powder has been stored in a climate controlled environment all that time. I'm glad the gear went to someone that will appreciate it and put it to good use.