I edited this to say use Laquer thinner. It makes the process fool proof. It is amazing and the only variable is the amount of powder. I was able to use a lot less than when using acetone and with laquer thinner the coat was much nicer.
I decided to try the laquer thinner an it is fool proof. Add a little powder then swirl around to see if you have enough to coat the bullets. Then pour off the excess laquer thinner and pour the bullets out. Wait for them to dry then bake.
The powder coat powder does not stick to the plastic bucket and for some reason ONLY sticks to the bullets.
I am absolutely amazed at the results.
So I have been promising a write up with a few pictures.

Here are the items you will need
Powder coating powder
For the powder I have tried expensive powders and cheap powder. They all seem to work equally well. I initially used Harbor Freight red and it worked well so I order a few other colors from Powder by the Pound. They arrived quickly and they were cheap in 2oz sizes and it is a Tennessee company. I made sure to order the 400 degree powder from PBTP.

Acetone Laquer Thinner
The acetone laquer thinner is just like you find at any hardware store. Nothing special but I would caution against using nail polish removed that is acetone as they tend to have other ingredients that might affect adhesion.

Container
For the container I found some small buckets at Walmart for $2 each. They seem to work well with the size batches I am doing. I think any container will work providing the acetone doesn't eat it.

Screen
I used 1/4" hardware clothe that is available at most home improvement stores. I cut a piece just big enough to fit in the oven then I rolled the edges up to keep the bullets from rolling off. A word of caution. These are generally zinc plated and zinc is bad for you if it gets too hot. At 400 degrees there isn't any fumes but at 425 it was smoking.

Toaster oven
I bought one at Big Lot for $30 which is about the price for anywhere else. It needs to go to at least 400 degrees to work. Be careful as I have seen some that only went to 300 degrees. I will also caution against buying them used as the thermostat is what generally goes and you end up with a stove you cannot control the temperature on.

Mask
You need to have a filtered mask. Not a dusk mask but a mask that is designed to filter out fumes. I picked mine up a Harbor Freight for less than $20 and it works great.

Eye protection
I wear glasses so this is not an issue but I will say after every time I have done this I have spots on my glasses. So without eye protection you will likely get something in your eye.

*******************************************************************************************
Now onto the instructions

First I start by preheating the oven. I will put it on 400 degrees and set the timer for 15 minutes. It doesn't take 15 minutes to heat up that small oven.

I put on my mask and eyeprotection before opening either the acetone or the powder. The powder can be as harmful as the acetone until the powder is baked on so ALWAYS wear your mask.

Now I choose the color I want to use and add it to the bucket first. Here is how much powder I put in the bucket for ~100-150 bullets. You definitely want to add enough to coat the bullets. I normally add 2-3 scoops of powder using a 1.9 Lee dipper to measure. This is generally enough to do a batch of 100-150 bullets, depending on the size of the bullets.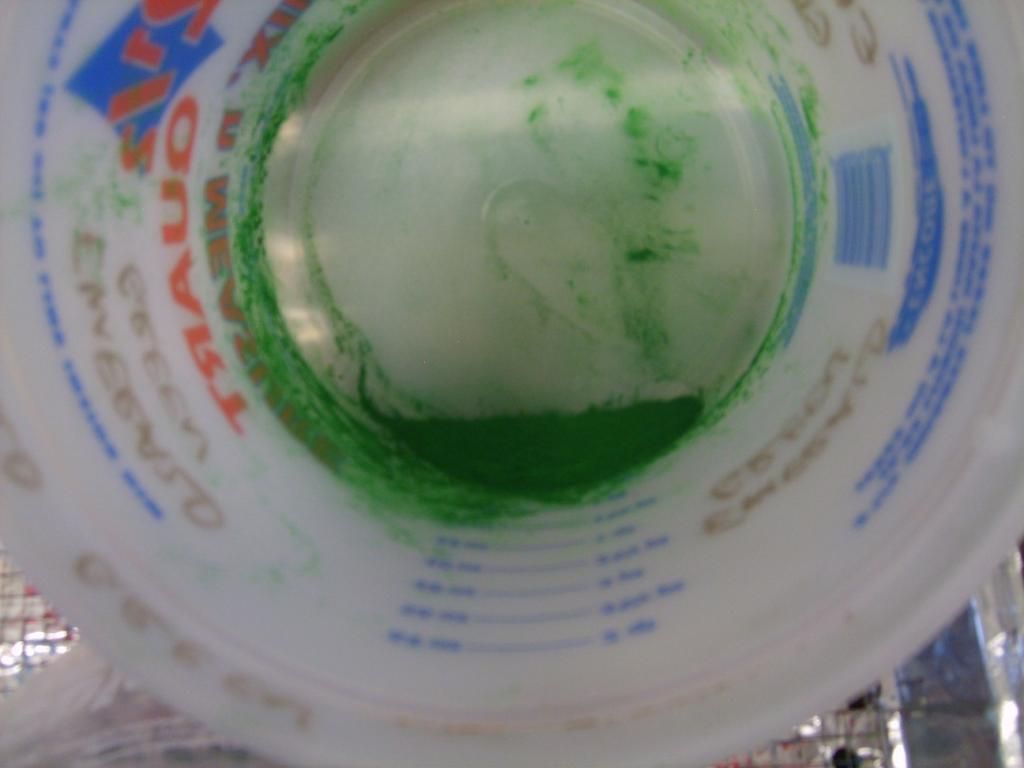 Next I add the acetone to the powder. This is generally how much acetone I use. There is no scientific measuring method for this but I will say you want too much rather than too little. If you have too much it adds a few minutes to the tumbling and evaporating time but if you add too little the bullets will come out blotchy and dull.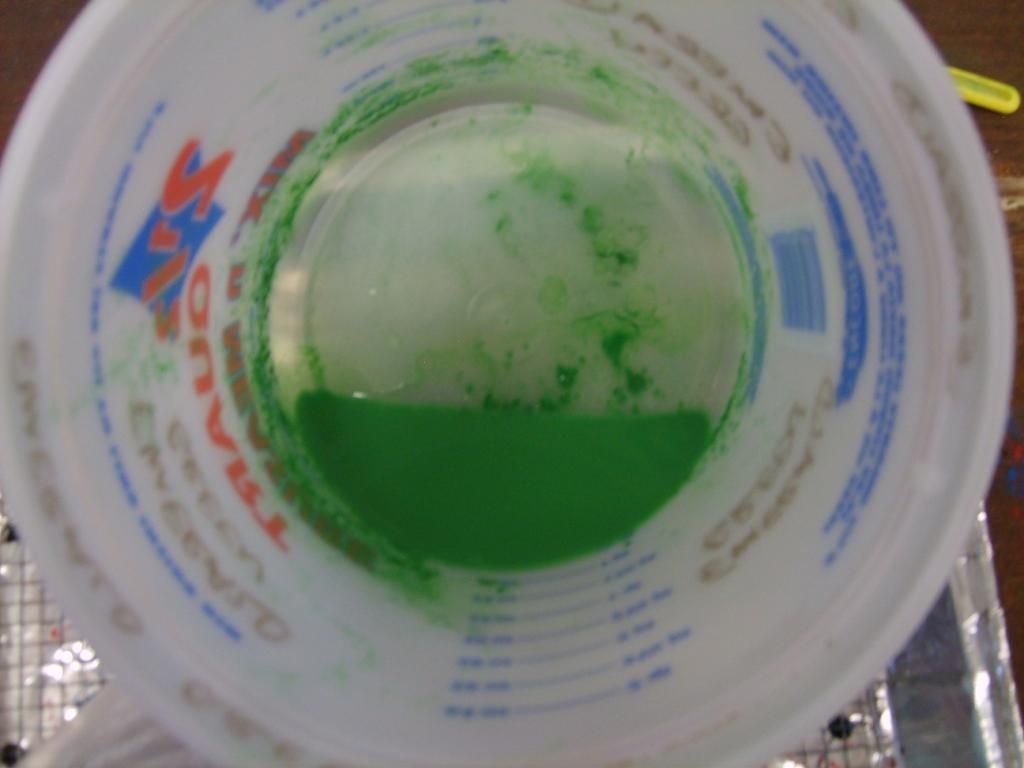 At this point I begin to swirl the mixture around. If you have some clumps you can add 5-10 bullets to help break them up before adding the rest of the bullets.

After the mixture is nice and uniform I now I add the bullets and begin tumbling by hand.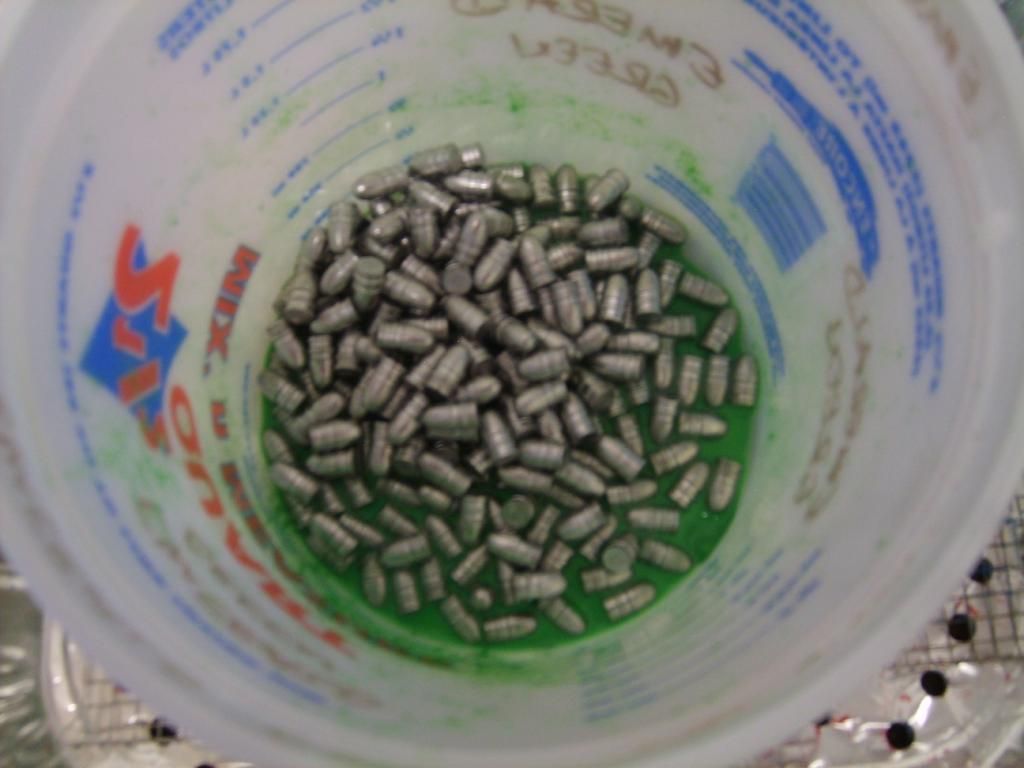 At this point I begin to lightly shake the mixture up. I generally do a back and forth motion with a swirl every 2-3 times around. I will also kind of flip the bullets end over end like you do when flipping a pancake.

You want to tumble them just vigorously enough to coat the bullets with the mixture. And you continue to shake, and shake and the bullets will not looked coated at all. They will have a light tinge of color but the silver is definitely shining through. Then finally the acetone begins evaporating and the amount of time is dependent on how much there is as well as the temperature. And it will not evaporate very quickly if you do not tumble. You can actually set the bucket down for 30-45 minutes and they will still need to be tumbled. But tumbling will evaporate the acetone enough within 5 minutes of constant tumbling. And as the acetone evaporates the bullets get more and more color.

And when the bullets seem to be holding on to the color this is a critical time. You want to dump the bullets while they are still wet, but not too wet, but definitely do it before they get too dry. If the acetone evaporates too much the bullets will not have a wet look and will actually have a dull, rough finish. It doesn't affect performance from testing but it does look like crap.

At this point the bullets should be uniformly covered with color AND still wet to the touch. There should be some of the mixture in the bottom of the bucket and on the bullets that is about the consistency of Testor's paint. It should still run from gravity and if the bulelts have color but the coating is still running in the bottom of the bucket then it is time to dump the bullets. Another big indicator for me is the sound of the tumbling bullets. The sound changes slightly as the bullets are trying to move agains the resistance of the thicker coating.

This is how they should look right before dumping them out onto the screen. Uniform in color, still wet to the touch and still shiny. (Sorry for the crappy picture).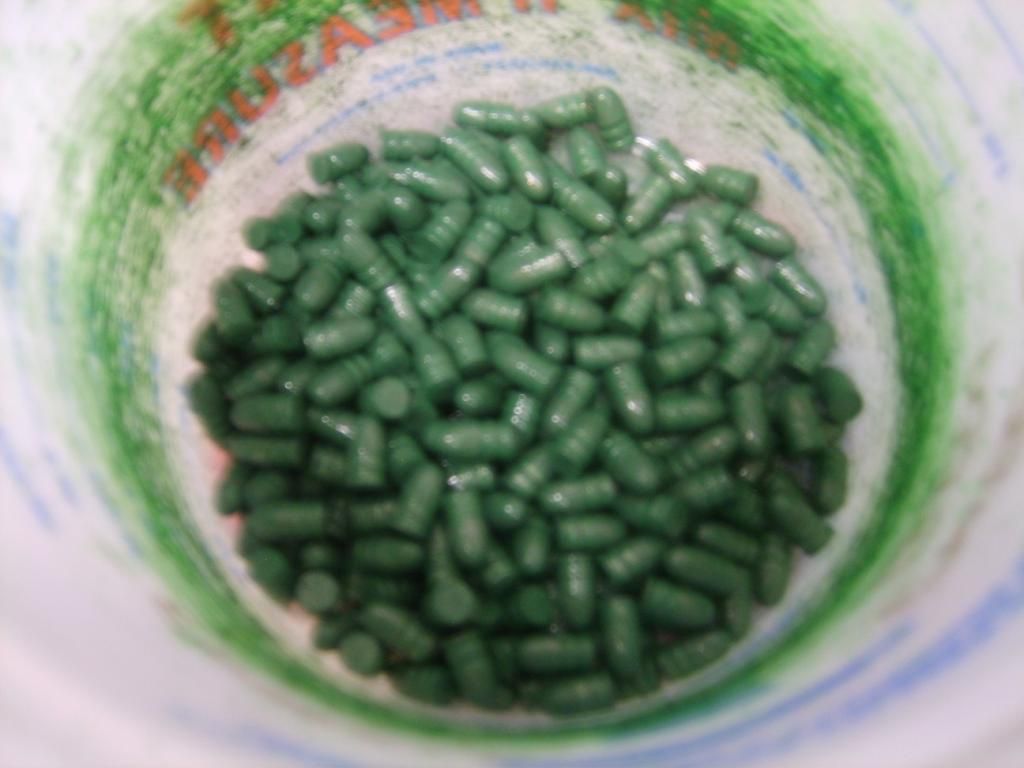 I do not have a picture but you dump them out onto the screen. Then I give them a quick shake to try to keep some from sitting on top of others. At this point the bullets will dry very quickly and I give them a quick shake every 30 seconds or so until dry. After about 2-3 minutes they will be dry to the touch and not be tacky. When they are I seperate the bullets as best as I can on the screen so none of them are touching while they bake.

Then I stick the bullets and screen into the toaster oven which is set to 400 degrees. I set the timer and let the bullets bake for 10-15 minutes depending on the size of the bullets and how they are looking. As they bake they will become a little more shiny than when they were dry. Once they are uniform in how shiny they all look I carefully remove them from the oven.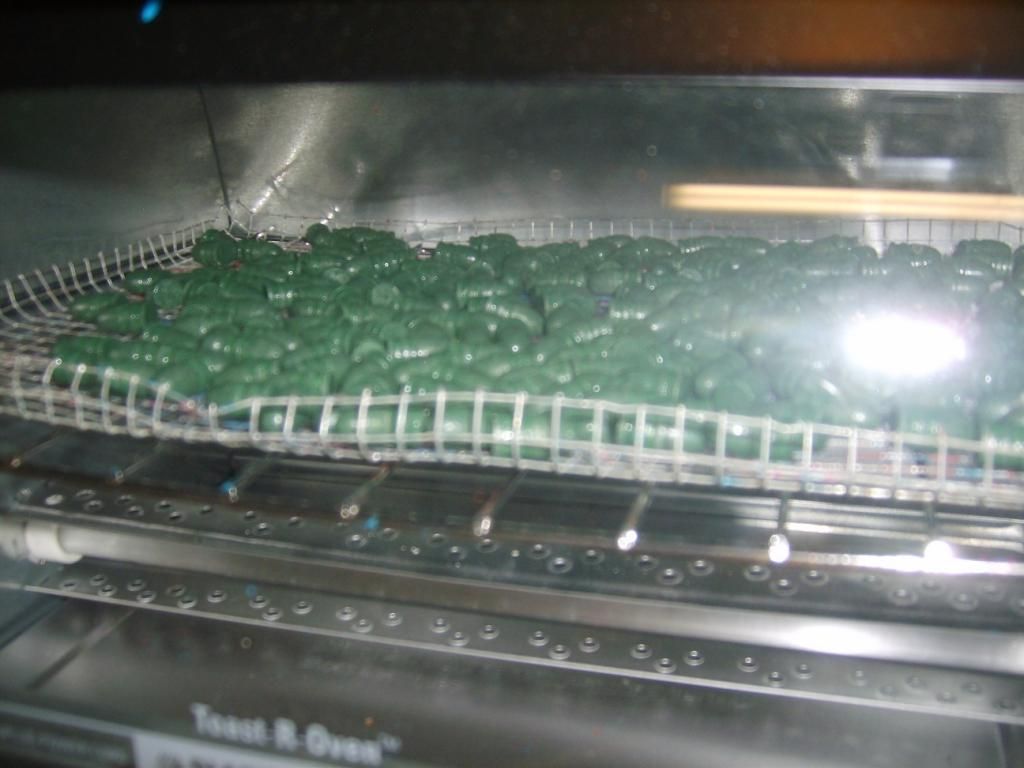 And this is how they will look coming straight out of the oven, shiny.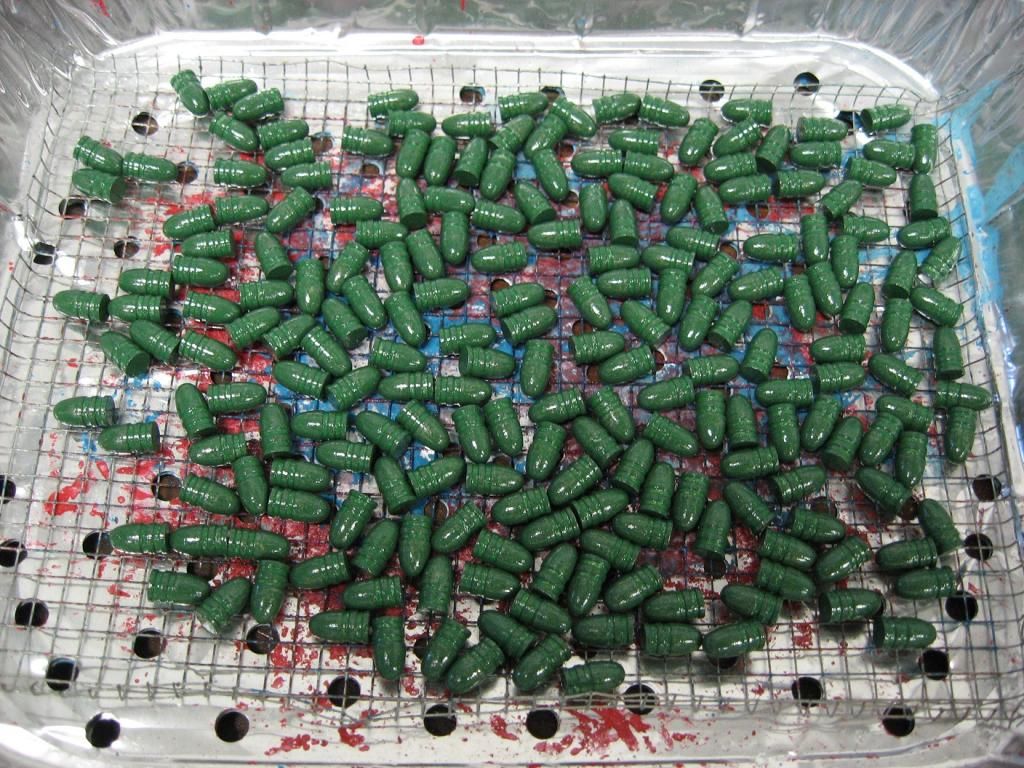 I set them out to cool for 10 minutes or so. The powder coat will be tacky when they first come out and will remain tacky for 3-5 minutes until they have cooled enough to allow the powder coat to harden. After that you can touch the bullets but be careful because they will still be extremely hot. And if you touch them while they are still tacky they can stick to your finger, ask me how I figured that one out.

After that you can either shoot them as they are or size them down dependong on your application. Sizing them does not remove the finish at all. The coating seems to add about .002" to the size of the bullets. So if you have bullets that are the same size or .001" over the bore size as cast then they will not need to be sized after they are coated. If the bullets are any larger as cast then you might try sizing them down to .002" over the bore size.

I have personally pushed these to over 2,000 fps without any issues. As a matter of fact the bore seems a lot cleaner than with jacketed or cast and lubed. I have read of people pushing them to 2,800 fps without issue.

The advantages are that the bore never leads. It is also cleaner. And the biggest advantage is it encapsulates the lead to prevent exposure. This si something I will be doing with all my cast bullets. And I am not 100% positive they need to be baked.

Here is a bag on its way back to Caster: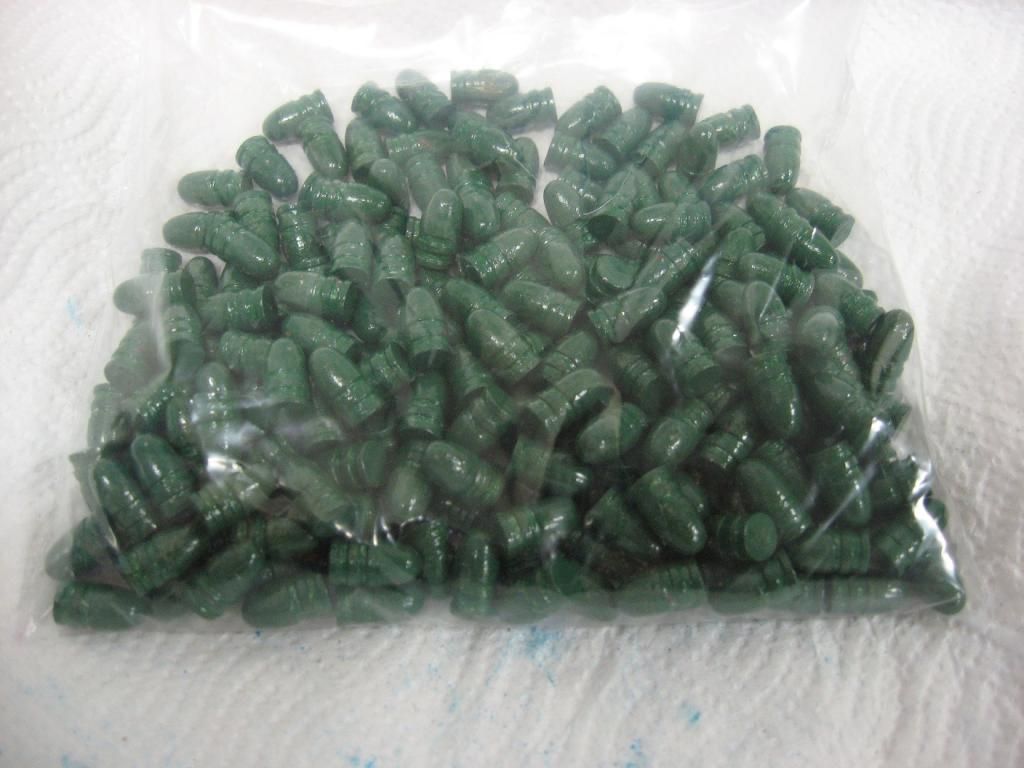 And finally, if you have ANY questions feel free to ask.
Edited by Dolomite_supafly, 02 July 2013 - 05:16 PM.