Posts

1,340

Joined

Last visited

Days Won

8

Feedback

100%
About MP5_Rizzo

Profile Information
Location
Gender
Interests
Occupation
Miscellaneous
Handgun Carry Permit
Law Enforcement
Military
NRA
Carry Weapon #1
Carry Weapon #2
MP5_Rizzo's Achievements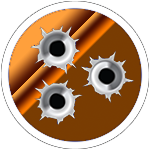 Prolific Contributor (4/5)
But it's too late, she'd already been incensed. Boogity, boogity…

Muskrat, otter, beaver or Nessie.

Getting that first match in the rear view is important. I was involved with Tennessee 4-H shooting Sports program for years and stuck with it after my kids aged out but finally had to make the call to step aside and let others find out how much time it really takes to do this and do it right. I still keep up with teams and scores and see Tennessee still struggles at getting results posted. Did they use Orion scoring system? What discipline is your son shooting, BB or air rifle? Who were the top 3 finishing teams? Charlie at Bend of the River runs great matches. Tell your son to breathe, relax, aim, squeeze and follow through keeping the head down. It all gets easier over time.

Is that a 21 on the table?

Everyone has an opinion about how the balloon situation was handled. That's fine, it's the American way. Anyway I stumbled across this story about an F-15 shooting down a Russian Satellite in 1985. I would have been in college at the time and if it was public information at that time I don't remember it. Does anybody else that was old enough remember it or read about it since? First Space Ace

Here's what some have sold for. https://truegunvalue.com/rifle/Marlin-39A/price-historical-value#newItems

Everything about the season, bag limits, legal methods and hunting on private and public land is here. https://www.tn.gov/content/tn/twra/hunting/migratory-birds.html#seasons

Type 03 FFL, Curios and Relics.

I have no idea as I acquired it used on http://barrelexchange.com I just looked and they currently have none listed. I haven't visited this website in a good while and their inventory is minuscule compared to a few years ago.

You could try the old rubber band trick. The way it's shown in the photo below traps the shell in the loading port but if you slide it back it will work something like the deflecting pin in the trap barrels.

Before I went to the trouble of trying this to save a few hulls have you tried replacing the main action spring? If it's several years old or been shot heavily the spring is probably not what it used to be and will cause ejected shells to fly out farther then a new one. I believe this would be a much easier fix the having a knock down pin installed. But if you are still determined to give it a try the photos below are what a Rem. 1100 step rib trap barrel with a knock down pin looks like. This barrel has 10's of thousand of rounds thru it as seen by the wear. I did not carefully measure anything as you stated your intentions were to modify a 20 gauge. I would think this will change the exact location of the the knock down pin. The pin itself is about .125" diameter and extends down into the ejection port about .0625". The pin is located on the flat that would be at the top of the ejection port. In this photo imaging the top of the receiver is facing you and you are looking into the ejection port.