Posts

3,258

Joined

Last visited

Days Won

25

Feedback

100%
About Hozzie

Miscellaneous
Handgun Carry Permit
Law Enforcement
Military
NRA
Hozzie's Achievements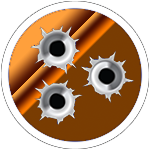 Prolific Contributor (4/5)
3
Community Answers
I would slap it in it and try it first. If it is decent (I would think 1" outside to outside) with decent ammo at 50 yards would be about as good as that gun will do on a regular basis unless it is an exceptional example. If it's worse than that, you could try bedding it, but I probably wouldn't put a whole lot of time into it if it doesn't shoot halfway decent to start.

Rimfires are absolutely affected by bedding, but like anything it depends on what you are trying to get out of it and honestly how well the bedding is done. Most use Devcon these days. It's simple enough to do, but unless you are going install pillars as well it's probably not going to be worth the effort. What kind of rifle are we talking about?

I won't speak for Greg, but I don't think he was talking about "gender identity" specifically as a topic, but rather the types of things that trigger people into completely absurd emotional responses.

For me it all started with the coddling of kids and everyone wins a prize mentality. We created this mess by our own doing as far as I am concerned. It's now coming home to roost.

I'll take it as long as it has a magazine which I am sure it does. I'll PM you.

I use Italian Dressing for quick stuff, but my favorite is a white vinegar, olive oil, melted butter, salt, and pepper mixture. Mix it half vinegar/half oil and then about a tablespoon of melted butter (for help browning), a tablespoon or so of kosher salt and as much pepper as you like. You will have to keep mixing it as you use it. Don't marinate the chicken in it, just brine the chicken and then start basting/mopping it on the chicken with the mixture as soon as you put it on the grill. I have yet to have one person that doesn't like it. It's best on chicken that has the skin on it, but works great on all.

Glad it was just them lying. Guess I have to go back to CNN, MSNBC, or one of the trustworthy networks.

10

I would use a small dowel and some super glue

I feel like I probably have to clarify. Obviously learning about history is good. Creating a project that seems to be deliberately designed to inevitably create a way to prove racism is just wrong. I would honestly not have my kid do it and explain why

Just do one of the white people who want to pretend they are black. Problem solved.

Is it limited to the 250 tickets or will it be as many as you can get? And do you have the QR code you can send for Paypal (PM is fine). Or the email address I suppose is fine to.

There are a lot, but anymore the #1 thing that seems to be lacking is the ability of kids to cope with adversity and failure. They need to learn how to deal with adversity and failure and even understand what is even worth caring about. Failure is a great teacher. Putting them in positions to fail is not all bad. They need to then use some reasoning to figure out why they failed and how they can improve next time regardless of the scenario.

Starline makes 32-20 brass (although it looks out of stock and the moment) and Missouri Bullet company has bullets. I bought 500 rounds of brass and bullets to have for my Winchester 1873. It's not cheap by the time you also buy dies, but it is a hoot to shoot.

Sold. This is an SEB Mini-X with F-Class products adjustable feet with a Rodzilla 5 Axis top installed. The original Mini top, bag, and feet components all come with it. I actually bought two of these because I wasn't sure which top I would prefer and for the style of shooting I do and the rules, I need to stick with an adjustable sandbag top which on on my other one. If you are familiar with the SEB products, you will know there is about an 8-12 month wait for most items. The 5 Axis top is great and if you aren't familiar with it, I encourage you to look it up. It alone is $600. Prefer to sell locally before I put it on one of the other national sites and have to ship it. $xx. Will meet within a 30 mile drive of Chapel Hill. Any questions, just let me know.