 Posts

68

Joined

Last visited

Feedback

0%
Miscellaneous
Handgun Carry Permit
Law Enforcement
Military
NRA
Frog4aday's Achievements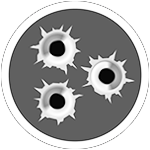 Just Getting Started (2/5)
@Rob112o, that is quite the transformation on the BMW! I do like the more simplified look, but the seat on the original pic looked pretty comfy. Looks vs practicality is always a balancing act. That '82 Honda FT500 strikes a cord with me. Those old, light, simple air-cooled bikes were just the ticket for casual days exploring the backroads. Looks good, too.

Well dang, that gun is a shooter! You have to be pleased with those results after all the work you did. If you can't find a cape buffalo nearby, a trip to Texas to shoot some hogs could be a good initiation.

I test rode a Zero electric street motorcycle & I liked it a lot. It was light, quiet, and simple to maintain. It handled well. It was simple to ride (just gas & brake; no clutch or shifting gears.) If I was just commuting back & forth to work with short 30 to 45 min rides on the weekend, I could see getting one. But as a streetbike the way I like to ride, their range is just too short for me. But as a dirtbike, like @Erik88 is getting, I think electric is a perfect entry level ride. The range is adequate, maintenance is minimal & it will be quiet. It will also be fun & that's the real point of having one. It's going to get his foot in the door with riding w/o freaking out the wife. It seems like a solid plan. I had friends test ride some KTM dirtbikes in CO & they were really impressed with them. These were hardcore ICE-type guys who came away wanting the electric KTM if there was a way to swap battery packs or do a rapid recharge like over a lunch period. They liked to ride a lot when they went out & needed just a little more range but they were not "average" riders either. Electric dirtbikes make sense to me if you aren't doing the Pan-American trail or something like that. I look forward to hearing how it goes @Erik88.

That does look good. Nice work.

Great job Rob! You got your first one done & behind you. That's the hardest one. I think H&H called but were asking about your car warranty first, to be sure you had reliable transpo, and you hung up on them old chap. Bad form. Missed opportunity but everything happens for a reason. I think it means you start your own custom shop?

So far, so good! Taping ALL the stock is correct, so good job there. Whatever you leave untaped will get bedding compound on it (Murphy's Law.) Good luck with bedding the stock. I hope it goes well.

It's always bad / evil people that kill. The tool chosen is just incidental. In this case, defenseless people are still defenseless regardless of whether a knife or gun was the tool chosen. I bet the bad guys used fully semi-automatic assault knives with high capacity grips.

Posting just so I don't miss out on internet history. RIP Tanker - you may he dead (or not) but your wackiness lives on. Banned but not forgotten. Better to burn out than fade away... I feel compelled to get a SS Tisas 1911 just to 'live the moment' & experience the genius / disaster of the gun (as the chips may fall) for myself. This thread may have sold more Tisas than the original Guns & Ammo article. Now THAT'S saavy marketing. Well done Tanker, well done.

He doesn't look too confident with his setup...

I vote getting the 20" barrel. Stoner had it right at inception. Rifle length gas system is reliable & gentle on the bolt & brass and the velocity gain is a bonus. Might even be a tad quieter, but not enough so to put a big checkmark by that in the "pro" column.

OMG...what could possibly go wrong? Early Darwin award candidate?

Ban cars & trucks. 1) No mass shooter ever got to their kill location w/o a vehicle 2) There is no constitutional right to a car or truck 3) 37,000 people died in motor vehicle accidents in 2016. No cars or trucks = tens of thousands of lives saved. 4) Cars & trucks are weapons. 84 people killed in Bastille Day parade in France. Seven killed in Wisconsin Christmas parade w/SUV. Many more incidences of the same to support the point further if in debate. Vehicles are the common denominator - can't get your guns & ammo to kill locations without one. Besides, if it saves just one life...we should all be willing to be inconvenienced, right?

I clicked thinking the tang-safety, red buttpad Ruger M77 was resurrected. Exiting stage left...