 Posts

207

Joined

Last visited

Feedback

100%
Miscellaneous
Handgun Carry Permit
Law Enforcement
Military
NRA
scatman's Achievements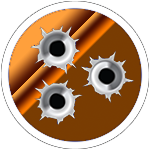 Prolific Contributor (4/5)
Don't think he is looking to sell.

I bought an aftermarket G19 barrel that had a too much of an angled feed ramp, what you're describing as the "mouth", had to file it down some to solve the issue. Polishing your barrel may help, but I would compare feed ramps more closely, perhaps use a caliber to measure thickness of the ramps, the aftermarket could have a thicker feed ramp that is too tight in tolerance for your model.

Where did you find RIP? I haven't been able to for over a year.

Accurate might have better options, either no.7 or no.9, I can't remember off the top of my head and currently all my load stuff is in storage. Might also look into titegroup.

I have one that holds my shotgun, a single heavy barrelled 12ga.

Knowing you, I'm assuming this is a 9 and not a 40?

Get a blackhawk Omnivore.

This is listed in the wrong area sir, you might have better luck in the "Non-firearm Classifieds."

From my understanding, and this is after discussion with a buddy of mine who is a LEO, the blanket method, in wording is viable, but has known some officers to still press a charge, and sometimes it gets tossed, sometimes it doesn't. Not worth the legal headache. JMHO. This stuff really should be clear cut and simple not all the nonsense we have to go through every 6 months because of some idiots who can't tell the difference between 9mm and 9x19.

What that article doesn't tell you is that the "loaded rifle" in your vehicle must remain hidden. I.e. in your closed trunk or in a storage case. Not exactly easily accessible. As a "pistol" it doesn't have to follow such strict nuisances. It is treated just like a handgun. Once the stamp is applied it is officially a rifle and subject to the laws and regulations of such. #4 on my original comment is a bit of outdated information, because I have always known to use a trust and have had one set up for 6 years now. Points 1-3 are still rather valid. Yes, TN allows the carry of a loaded long arm, so sure, you could still keep it in the car, but again, it must be hidden at all times.

The cons: 1) your gun is officially known about by the government. 2) Only you can be in possession of them unless you have them transfered into a gun trust, at which point any executive of the estate or beneficiaries that pass the checks can be in possession of them. 3) they could no longer be used as car guns as they wouldn't fall under the laws of handguns. 4) If you don't have a trust set up, at the time of your passing on from this life, they would be forfeited to the government.