 Posts

197

Joined

Last visited

Feedback

100%
About scatman

Miscellaneous
Handgun Carry Permit
Law Enforcement
Military
NRA
scatman's Achievements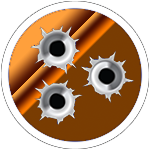 Prolific Contributor (4/5)
That is honestly probably the best route. The slightest risk of a malfunction in a defense scenario isn't worth it.

The EZ is great. Its larger than the standard Shield, so .380 feels like .22 mag out of a snub. Bought one for my wife as her first introduction into semi autos. Started her on a .38 special. Now she carries a Kimber micro.

PM sent about the first light listed.

What ya need to know about planes? I use to build battery motorized models and gas engine models, helicopters and planes. Both are a lot of fun, the gas powered ones are better for windy days. Also beautiful shotgun! Good luck with your sale!

Bump, added some projectiles I don't use anymore.

I've never used them in 1911 because I used them in Berettas and had the issue the first reply did, but, like Grayfox said, routine maintenance is key to avoid major failures.

I mean @Thurstyhas a .50 Beowulf build up on the listings, just sayin.

If the above doesn't work out, shoot me a Pm, I have an offer.

Try Reddit maybe? I saw a couple get sold on there back in July, maybe someone still has one? Everywhere online they're sold out individually. I believe if you buy a handguard kit from K.A.C. they send the wrench with it, I'm sure that doesn't help you out much, but it's an option, or you can modify a wrench like RED said, hell, maybe even have someone 3D print you a wrench.

OP edited and added it to the post

Found the Agent. Just kidding. You do have a point, automatic paper trail already started with this post.

Do tell, what does "Glock Leg" mean?