Posts

1,718

Joined

Last visited

Days Won

5

Feedback

100%
About 1gewehr

Miscellaneous
Carry Weapon #1
Carry Weapon #2
Recent Profile Visitors
The recent visitors block is disabled and is not being shown to other users.
1gewehr's Achievements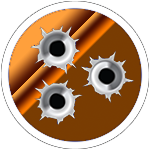 Prolific Contributor (4/5)
It's an Australian Owen SMG. I don't know the movie.

Fake Thompson too. At least she has her finger off the trigger.

I've handled it a few times. It's a heavily modified and lightened semi-auto Browning Automatic Rifle. It balances well considering it's weight (12 lbs). Those who have fired them like them a lot.

I met him several times at Knob Creek. He was truly a legend in the NFA community. There aren't many of those guys left. I was hoping that he would finish Cold Resolve. I hope it will get published; finished or not!

Around 1200 meters with an M2 from a M113A1. Just 800 meters using the M-21 and M1D. Plinking clay pigeons at 200 meters with the Sterling 9mm.

I have an XDS .45. It has been very reliable with most ammo I 've tried (solid copper, not so much). My rule of thumb is to pick the caliber that lets the blood out fastest. While there are excellent 9mm loads that expand very reliably. There are .45 loads that expand much larger than that. And a .45 that doesn't expand is till a .45. While a 9mm that doesn't expand is only a .36. Neither is my choice for Grizzly. But, I'd rather have the .45 than be looking for a rock or stick!

Never heard of "shoe 'shine"?

Possibly one of these two guys or a son? LOCKE, H. — Pennsylvania; Kentucky rifles. LOCKE, James — Born 1790 in New Hampshire or Vermont; moved to Wellsborough (now Wellsboro), Pa., before 1820, and soon made rifles; died ca. 1870. Made unique Miguelet-type percussion locks. A walnut halfstock with part-octagon barrel marked "J. Locke" in script; lock, marked "J. L." in script, has external mainstring and parts mounted in a boxlike brass casting. Also a fancy inlaid Kentucky rifle with identical but unmarked lock, marked "James Locke Wellsborough" in script on barrel. Found info here: https://www.earmi.it/USA Gunmakers/L.html

I've got an older RIA Commander clone that has been very reliable with ball ammo. I polished the feed ramp and it handles pretty much anything reliably now. Excellent buy for the money!!

Ammoseek reports that .45acp is the 9th most searched caliber. Ahead of .380acp, .38spl, 6.5 Creedmore, and .357Mag among others. They show lots of new brass-cased FMJ ammo at $.47 to $.50 per round in case lots. I still shoot it and use it in my carry gun. Bigger holes are always a good idea.

Workers at John Inglis Co in Canada who made Bren guns during WW2. Hair was rwapped to A) keep it our of machinery, and B) Keep it clean. Interesting that they posed with the 8mm Bren guns made for China.

They've been making them in batches of 100. Word from SHOT Show is that they took orders for several hundred at the show. My original needed tweaking to run reliably. The original mags sucked until I opened the feed lips a titch to get the rounds to sit a hair higher. The new guns were totally debugged and the new mags are supposed to fix the feeding issue. The Automag is about as sexy as a pistol can be. And it always gets a lot of attention at the range. I got my last couple of boxes from Midway. So, the ammo is out there again. But, it ain't cheap to shoot! If you want to, you can cut down .308 cases and resize for reloads.

Meatloaf, of course!!! Thank you for the great songs!

One of the best concerts I ever attended!!! A great entertainer who is missed!!!

Alexander Arms is a premium brand. Bill Alexander runs a tight ship. I have one of his guns (in 6.5 Grendel!) and it's very nice. He also stands behind his products. All I know about Franklin Armory is that I see them advertise models for 'restricted states', as well as their trigger.