Posts

4,814

Joined

Last visited

Days Won

3

Feedback

100%
About BigK

Profile Information
Location
Gender
Interests

Shooting, motorcycles, leatherworking, reloading, woodworking

Occupation

Senior Database/ETL Developer
Miscellaneous
Handgun Carry Permit
Law Enforcement
Military
NRA
Carry Weapon #1
Carry Weapon #2
BigK's Achievements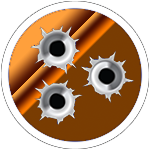 Prolific Contributor (4/5)
1
Community Answers
Now I know who to blame for every roll of packaging tape I've ever bought

I'm your Huckleberry PM incoming

I love the Claymore series of knives, especially the mini version. I like the tip-up deep pocket clip and the shape of the handle and how slim it is. I really dig how the lock locks it closed AND open too. One thing that scared me off was that it would be accessible for daily use, but wouldn't be my EDC. So, I was worried it'd rust if I didn't wipe it down good every few days and it'd be out of sight, out of mind unless I was using it more. Another was that I'm not the best or the most patient at knife sharpening and I understand CPM-D2 is pretty hard steel. I figure anything that holds an edge that good has to also be hard to sharpen.

Thanks for posting this. I grabbed enough to use the discount too. I haven't bought anything but bulk .22 in so long it'll be nice to have. Hope to have a new rifle for my grandson to shoot these thru too soon. Life is good.

The title basically sums up my question. My church got licensed to start a daycare. On Wednesdays it's possible the daycare may still be open when church members start showing up for service. So, someone could possibly carrying concealed in another part of the property while the daycare is open. Some things I've read says the church could lose their license if they allow firearms anywhere on the property at any time. That seems to mean that the church can't allow members to be armed on the premises at any time, even on Sundays when the daycare is closed. I'm having a hard time telling the difference between how Lee's anti-gun bureaucrats are interpreting the law vs what the law for daycares actually says. Apparently, daycares operate under DHS and most of the laws Lee's cronies are citing only apply to schools which operate under DOE. Does anyone know the actual law I'm looking for? I don't want to cost my church their daycare license, but I also refuse to give up my rights.

Am I the only one to find it odd that we all seem to want a lock/safety on an auto knife? I keep telling myself that makes it slower than a manual folder, so why pay for an auto when you could deploy a regular folder by the time you release the lock. I haven't convinced myself this is sound logic yet though because I still love autos.

I bought/traded for with a forum member for a Pro-Tech Magic. It's the only expensive auto I own. I didn't get cut the 1st time it opened in my pocket, so I wasn't smart enough to stop carrying. The 2nd time I got cut and learned my lesson. Never happened w/ anything else except my Kershaw Leek (assisted, not auto). I'm realized I'm not tough enough to carry knives that open that easy, LOL.

Are you interested in selling the Kadet kit separately? If so, what would you ask for it?

My dad and both grandpas warned of the same thing..."never eat summer squirrels or summer rabbits"

If they blame guns and present a bad plan that takes guns away from innocent people and I blame crazy people, but don't don't know how to stop crazy people, that doesn't make them right. In fact, it makes them even more wrong.

Nobody with a brain, including the ATF, thinks this will have an impact on crime. This is just another way to control us.

I often have to make flowcharts at work to explain things when spreadsheets don't work, LOL. I complain about it, so they keep paying me to do something I enjoy.

Hollywood is a cesspool, no denying that. Aside from the poor judgement, I never held that first charge against him. It seemed like a lot of rock throwing from folks in glass houses to me. It was that 2nd charge that is unforgivable.

I hate that it's come to that, but you nailed it.