Posts

1,123

Joined

Days Won

1

Feedback

100%
Profile Information
Location
Gender
Interests
Occupation

Doing that thing, in that place
Miscellaneous
Handgun Carry Permit
Law Enforcement
Military
NRA
Carry Weapon #1
Carry Weapon #2
173rdABN's Achievements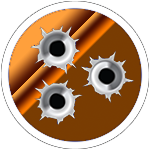 Prolific Contributor (4/5)
No, they are not. Its M80 ball.

Mark, I ran M80 ammo all day in it. She didn't see any training ammo. Looks like they need to mine for lead again. HA.

I'll be there with Mike Dresner. We are bringing some of our machine guns, mainly belt feds for a red carpet entrance to the after party on Saturday for all the big named companies (vortex, eotech, etc). They will be taking pictures with our guns. Pretty excited to say the least.

Wait..... What..... I beat you?! muahahhahahahaha.

We started putting tannerite in the car for people to shoot and blow the car up throughout the end of the day. I think next time we will put more and more in it throughout the day and keep it going. It's way more fun that way. We have some good stuff planned for the next event. Hopefully in April we can have another event up at Strategic Edge again. We should have quite a few more guns by then as well. If anyone else took pictures please post them up. I am going to try and upload more videos and pictures as I get them in.

My favorite picture of the day. For those that don't know my wife, she hates guns. She is just there to support me. I asked her to shoot my minigun and she said yes just to shut me up. I made some poster board with a couple pictures of the guns we brought so people could see what they had the option of shooting. I only posted a generic picture of a gun, even though we brought multiples. Drone footage of the range.

My brand new 1919A4. Saw its first rounds Saturday.

I'm going to try and post pictures soon. Been swamped trying to play catch up in the shop.

I don't blame you. I never carry cash anywhere. Glad you're bringing someone!

Pretty much all my helpers, Mike and myself are cops. And we have machine guns. I think you're safe. Lol see ya tomorrow!!

We will be taking cash and cards.