Posts

17,781

Joined

Last visited

Days Won

165

Feedback

100%
Profile Information
Location
Gender
Occupation
Miscellaneous
Handgun Carry Permit
Law Enforcement
Military
NRA
DaveTN's Achievements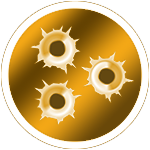 Postus Maximus (5/5)
I'm a Toolmaker and could get that screw out, but I wouldn't do it on my own gun. If you find it cross threaded or the threads are damaged, retapping it won't make it right. They won't make it a different size, they will just replace it. Send it in. I have always been a S&W fanboy and still am. Somewhere in the forum is my story about a run in I had with them on a Performance Center gun over a trigger. I took it all the way to the Top of S&W. I wrote letters and mailed them to the CEO, and VP of firearms. I immediately got a call telling me to send it in, it would be fixed. It was returned to me with nothing done and I replaced the trigger with an Apex. Smith & Wesson was always the gold standard of service all others were measured by. That just isn't true anymore. And that's a shame for an American manufacturer. But then who does have good customer service anymore? Sure, we all have stories of what good service we got from different manufacturers. Like I did about S&W. But then something like this happens. I've owned over a 100 S&W handguns and had to send three in. They were all turned around within a couple of weeks. They did tell me that they shut-down for a couple of weeks during the summer and that really backs things up. So with stoppages due to the latest drama I would guess it could take awhile. I wasn't mad about sending the gun back. I was furious that after being a loyal customer for so many years, they turned their back on me. I was also mad that I paid extra money for a "Performance Center" gun that had a POS trigger. I think they are just putting "Performance Center" on most everything now. I told them that if my gun was in the performance center it was just on a cart passing through. I know how mad you are though. Been there, done that, got the T-Shirt. Take deep breaths.

Freedom Munitions shows 100 round value packs of new WWB for $48 in stock. Says they have 11,600 in stock right now. https://www.freedommunitions.com/winchester-45-acp-230-gr-fmj-value-pack.html

I have both gages. I'm in Murfreesboro in you want to borrow them. But based on your pictures and your price, this will be unnecessary as this will be sold within hours.

Thanks Greg, that's a heck of a deal for someone, the belt by itself is worth more than that. I placed an order with John at J.M Ross in Bulls Gap. After I emailed him, he called me, and we talked for about an hour and a half. He answered every question I had and gave me suggestions for the requirements of what I may want to use it for. His rigs are very popular in the SASS community. I'm stoked, I should have it in a couple of months.

Okay, one more bump before I have to order something to get it by next year. I've found a couple of local makers, but they didn't have anything to show build quality or leather quality. So far it looks like if I have to order, maybe Black Hills or Mernickle.

I have a LNIB Kahr MK40 I'd trade for that. But if interested, it would have to be in Murfreesboro. Thanks

I'm actually less than a mile from it, but I'm too lazy to go look. I might go tomorrow.

Has anyone been? Is it packed? Is there parking in their lot? Last time I went there was a huge line out the door, nutz to butts inside, and you had to park out in the surrounding neighborhoods.

Well… I'm kinda leaning towards Black Hills leather. But not really decided yet.

Thanks for that link. I haven't left, I'm still here. Just had to slow my roll.

You guys in East Tennessee have all the good gun stuff. But hey, we have guitars and whiskey!

Thanks Leroy. I've looked at his rigs before. I want a low ride like a "Drop Loop" or I guess sometimes called a Buscadero? It appears he doesn't do those since he has a link on his website to someone that does, and appears to be in Corinth MS, actually closer to me than he is.

Thanks, Do you think the Black Hills is better quality than the Triple K? The Triple K #40 & 41 I'm looking at is $533 at Americasgunstore.com, (if they have it) and over $660 on the Triple K website. https://www.americasgunstore.com/products-page/single-rig/triple-k-40-41-texan-lined-holster-and-buscadero-lined-drop-belt-for-gun-group-15-guns-colt-saa-ruger-vaquero-etc-5-5/?nb=1 The only drop belt holster combination I see at Black Hills is The Hunter. Its $400. https://www.blackhillsleather.com/shop/western-rigs-leather/western-rigs/bh73-the-hunter/ (Black, Basketweave Tooling, New Model Blackhawk Convertible 0463, 5.5" .45 Colt, Size 44" on both options)

Thanks guys, it looks like El Paso Saddlery and Triple K are the only options that have reasonable pricing and delivery times for what I want. (El Paso could take 4 months. I'm spoiled with same day or 2 day shipping most everywhere. But I understand they don't make a lot of these anymore ) Seeing holster quality on the internet is impossible. I'm still hoping to find someone local that makes holsters. But no luck yet.